The next-generation Vauxhall Corsa will offer more interior space when it arrives in 2018, as well as gaining technology from the new Vauxhall Astra.
Autocar's spy photographers have again spotted a five-door Opel Corsa hatchback running on the Continent, showing how the rebadged British model will look.
The development car's heavy camouflaging hides smaller details, but it looks as though the front grille has been raised and made slimmer, likely giving it a look similar to that of the new Astra. There's a bar across the middle of the grille, which will presumably be a chrome strip with the Vauxhall badge in the middle.
Inside, a light refresh has increased the size of the infotainment screen over the current model, although much of the trim and materials appear similar to before.
The car's headlights are also well covered, but the outline of a more aggressive design can be seen, suggesting the Corsa will get an angrier face.
The front wheels of this development car sit significantly closer to the front than the current production model, suggesting both axles of the 2018 Corsa will be pushed out into the corners in a bid to increase cabin space. However, the car's bonnet looks shorter than that of the current Corsa, meaning overall dimensions might not change that much.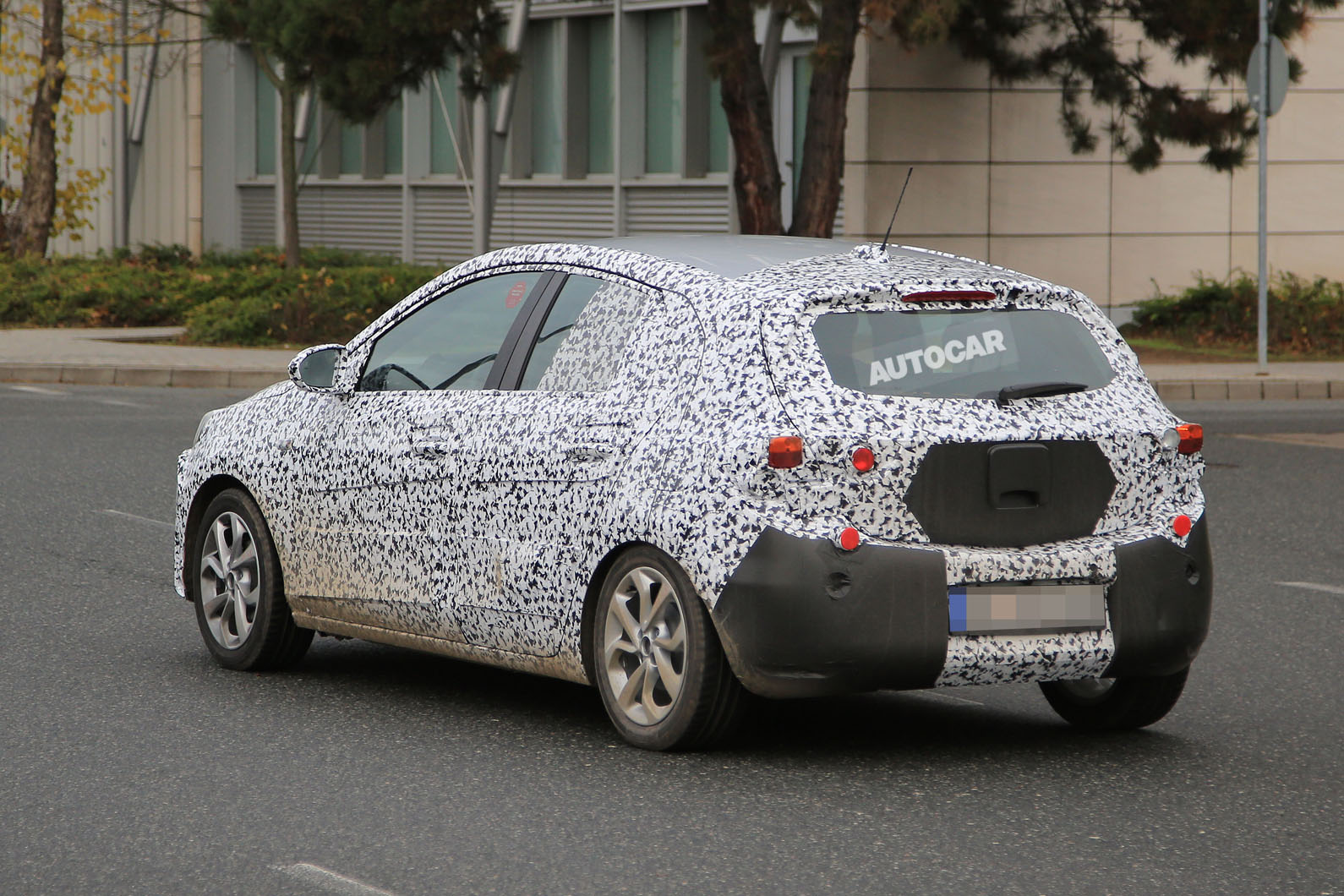 At the back, the outline of slimmer tail-lights can be seen, but covers prevent any other design details from being seen at this stage.
Inside, the Corsa will follow the lead of Vauxhall's other models and feel more premium with more flashy and decorative foils on the dash and door covers. The touchscreen infotainment system will likely use software first featured in the Astra and it'll come with optional Apple CarPlay/Android Auto.
All variants of the new Corsa will be built upon a smaller version of the new Astra's underpinnings, meaning both the hatchback and saloon will benefit from significant weight savings over the predecessors.