German engineering firm Schaeffler has produced a 1180bhp electric concept that's based on the Audi RS3 but uses four Fomula E motors.
Described by Schaeffler as a showcase for how quickly high-performance electric drive technology can be integrated into a series production model, the 4ePerformance can accelerate to 124mph in less than seven seconds — that will make it at least six-tenths quicker than the upcoming Ferrari 488 Pista's time of 7.6sec.
The car's four electric motors are identical in specification to the one used in the 2016/17 ABT Schaeffler FE01 Formula E car, which was driven by Lucas di Grassi and won the series title before the racing outfit was taken over by Audi (hence the use of an RS3 for the concept). Each motor produces up to 295bhp and 236lb ft of torque.
The two motors of each axle are packaged tightly within a single gearbox housing to create a pair of electric twin axles, but with each motor connected to its own wheel via a straight-cut gear, it enables four-wheel torque vectoring. Power for the system is provided by 64kWh batteries.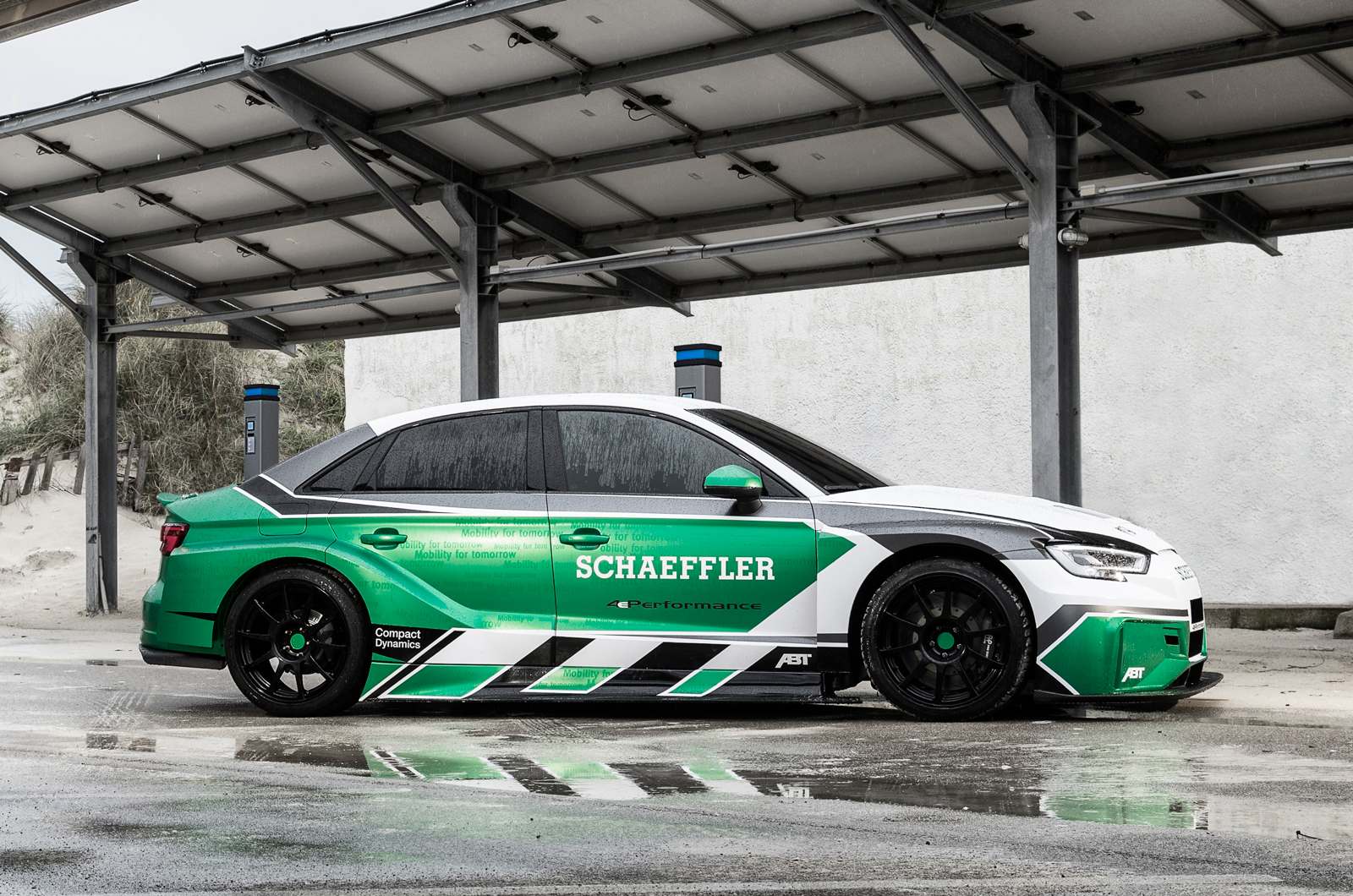 Although the concept will not make production, its technology and packaging are already integrated into several Schaeffler products. The company's special motorsport projects director, Simon Opel, said the car also acts as "a test laboratory on wheels, thanks to its free scaling options for the drive power".
Schaeffler chief technology officer Peter Gutzmer said: "In the same way as Schaeffler has contributed its technical expertise to Formula E from the very beginning, it also plays a pioneering role and is a partner for components and complete system solutions when it comes to applying electric mobility to volume production vehicles and putting them on the road."
The company, which remains title sponsor to the Audi Sport ABT Schaeffler Formula E Team, as it is now called, said the electric technology it is developing can be integrated into existing volume models. These include 48V and high-voltage hybrid systems, as well as fully electric powertrains.