With 212 victories from 529 motor races, Sir Stirling Moss's career was packed with incredible performances.
The British hero is best known for his efforts in Formula 1, often delivering giant-killing performances in underpowered cars run on limited budgets, but also turned his hand to numerous other motorsport categories, with success in sports cars, rallying and touring cars.
Sir Stirling Moss obituary: the life and career of a racing legend
Moss died on Easter Sunday at the age of 90. To continue our celebration of his career, here's our selection of five of his finest victories.
5: British Grand Prix, 1957
Moss was proudly British, and long dreamed of winning Formula 1 races for a British manufacturer. That wish finally came true with Vanwall in 1957 – and even at the British Grand Prix. But his success at Aintree was far from simple: he was leading after 20 laps when his VW 5 developed terminal engine problems, seemingly ending his hopes.
It wasn't over. His teammate Tony Brooks was running in sixth place and unable to perform to his limits while driving through an injury, so he was called in to hand his car to Moss (which the rules then allowed). Moss rejoined in ninth, but with a string of fastest laps took the lead with 20 laps left. Moss and Brooks shared the victory, and secured the first Formula 1 World Championship race win for a British manufacturer.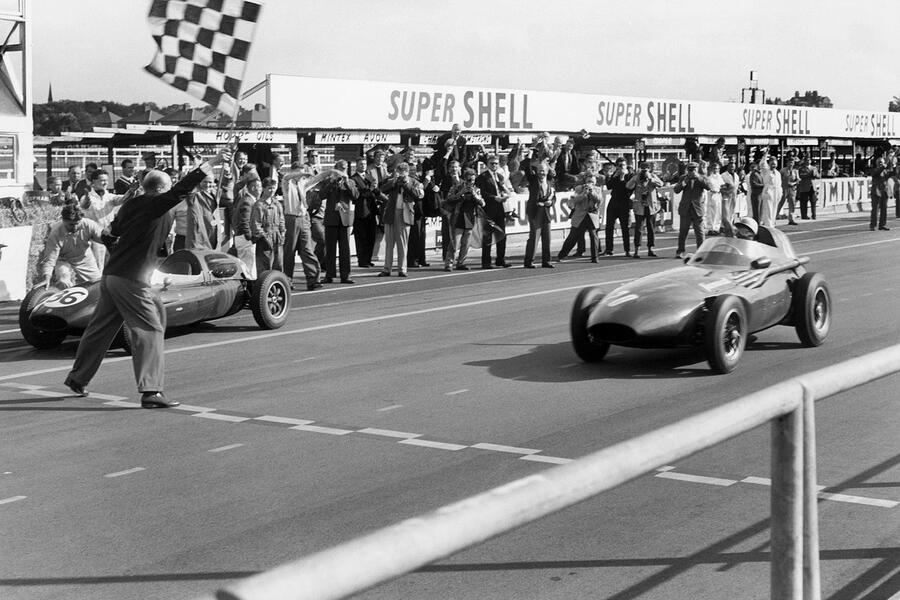 4: Nürburgring 1000km, 1959
In this epic on the demanding 14-mile Nordschleife, Moss built a clear lead in a works Aston Martin DBR1/300 before handing over to teammate Jack Fairman, who was gradually reeled in by the pack of chasing Ferraris before sliding off the road and into a ditch.
Moss returned to the driving seat of the Aston trailing by more than a minute, but quickly overcame the deficit and built another lead of more than three minutes before another driver swap. Fairman soon lost the lead again, and was quickly called back in so that Moss could finish the race. He put on another charge, battling past Ferrari's Phil Hill to secure the first of three consecutive Nürburgring 1000km wins.
Notably, on his charge to victory Moss lowered the Nordschleife's sports car lap record by 11 seconds.