Formula 1 is set for a record 23-race season in 2021 – pandemic permitting – as grands prix stretch from the Bahrain season opener on March 28 to the Abu Dhabi finale on December 12.
That means wall-to-wall racing through most of the spring, summer and autumn (with a short breather in August) which is great for TV viewers, but makes for a punishing schedule for the hard-working teams. Ex-F1 driver and top Sky F1 TV pundit Karun Chandhok will be at most of them and offers Autocar his expert view on each of the tracks, covering individual circuit characteristics, set-up tips, the best overtaking spots, the key corners to bank quick lap times and what we've called 'The Talent Zone' (in other words the hardest bits).
Catalunya | Monte-Carlo | Baku | Montreal | Paul Ricard | Red Bull Ring | Silverstone | Hungaroring | Spa-Francorchamps | Zandvoort | Monza | Sochi | Singapore | Suzuka | Austin | Mexico | Interlagos | Melbourne | Jeddah | Yas Marina COMPLETED RACES Sakhir | Imola | Portimao
4 Catalunya, Spanish GP (May 9)

Character: A circuit everyone knows too well! But it's a track that's got everything: high speed, slow-speed corners, a long straight, heavy braking – which is why it's a great test track.
Set-up strategy: You need downforce, downforce, downforce!
Best overtaking spot: It has to be Turn 1. There are not many places to pass here.
Key corner for a quick lap: There are quite a few. I'd say Turns 7 and 8.
The Talent Zone: The whole of the last sector because the rear tyre temperatures get hot.
Most wins: Michael Schumacher, 6 (1995, 1996, 2001, 2002, 2003, 2004)
5 Monte-Carlo, Monaco GP (May 23)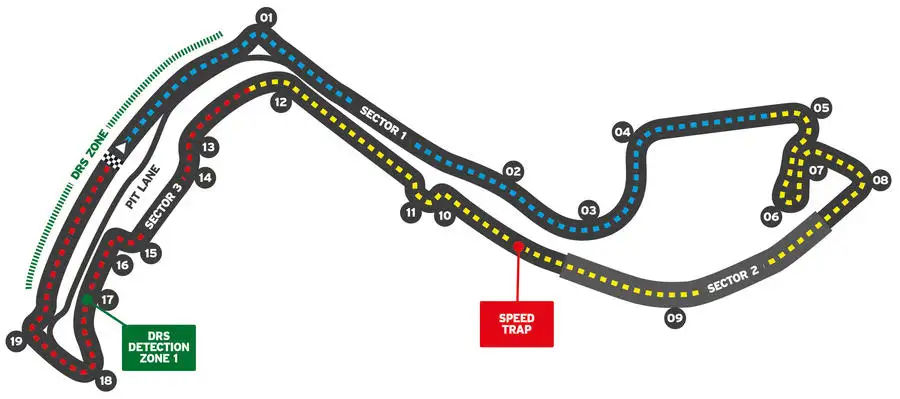 Character: The first street track of the year. It's obviously historic and iconic, but it's sanitised from what it used to be. Still a great driver's challenge though.
Set-up strategy: High aero – absolute every last ounce of downforce with no consideration for drag. Anything that is going to give the driver confidence to get close to the barriers. Making the car predictable is important at Monaco.
Best overtaking spot: The chicane – if you are brave. It's not easy here.
Key corner for a quick lap: Getting around Casino Square and the Hotel de Paris.
The Talent Zone: All of it is difficult! Nothing is easy at Monaco.
Most wins: Ayrton Senna, 6 (1987, 1989, 1990, 1991, 1992, 1993)
6 Baku, Azerbaijan GP (Jun 6)
Character: A really interesting track layout because you have to compromise in terms of set-up for straight-line speed and braking stability for the middle sector of the lap. A real challenge and it produces some very exciting racing.
Set-up strategy: It's a massive compromise. You see drivers and teams constantly having to evaluate what's the best approach: taking downforce off for high-speed performance versus improving their braking with a bit more aero.
Best overtaking spot: The biggest one is Turn 1. We've seen overtaking into Turn 3, so those two are the main areas