The Genesis Mint concept is a premium city car that promises to be "highly manoeuvrable and exhilarating to drive," according to the Hyundai-owned luxury car brand.
The two-door electric Mint, revealed at the New York motor show, is claimed to offer 200 miles of range and is capable of 350kW fast-charging.
If it were to make production, an intention not yet confirmed, it would be an unusual move for a premium car maker. The majority of makers are opting to produce larger electric vehicles, which answer the ongoing demand for SUVs, better suit the requirements of a battery pack and can justify a more expensive price tag.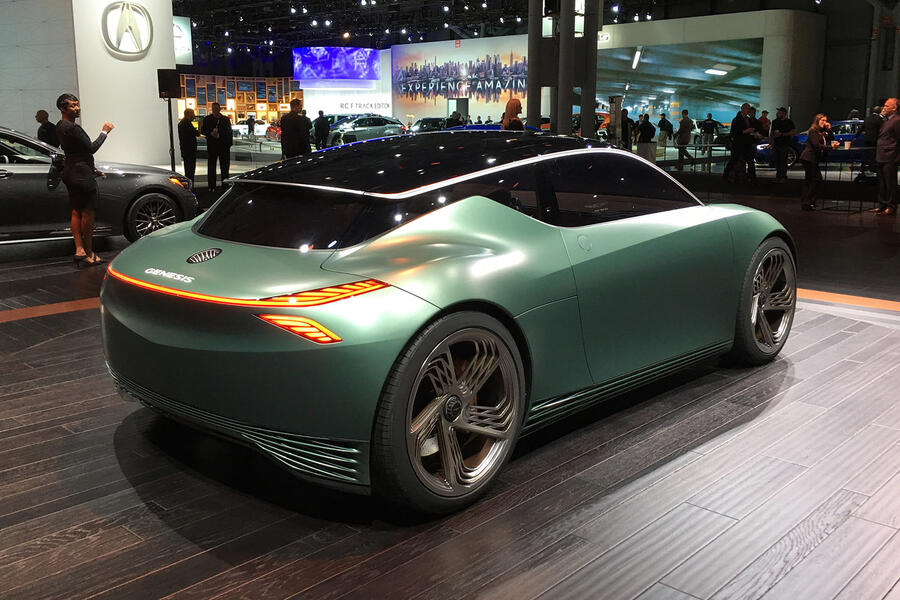 The Mint's closest rival is the upcoming Honda E, which the Japanese manufacturer says will become its flagship model, thanks to innovative technology and a high specification. Launching next year and expected to cost around £35,000, it will be more practical than the Mint, with four seats and a boot.
The Mint ditches a traditional boot in favour of a parcel shelf accessed by scissor-style side openings, which have been built with a low load-in point for easy access.
The concept's three-box design features short front and rear overhangs, wrap-around light bands and a 'crest' grille with a slight opening to cool the battery pack.
The G-Matrix pattern is also used for efficient cooling and airflow around the lower half of the vehicle and forms the basis for the aerodynamic wheel design, says Genesis.
Inside, the Mint is simplistic, inspired by the Korean tradition of embracing empty space. The centre console, which features a control knob, can be folded turning the front bench into a settee. There is also automatic swivelling of the instrument panel and bench seat for easy ingress and egress.