Volkswagen has pledged that the production version of the new ID Life crossover concept, which will go on sale in 2025, likely branded the ID 2, will feature some 'radical' new concepts - and will gain a GTX-branded performance version.
Revealed at the Munich motor show, the ID Life previews the first model built on the specially adapted MEB Entry version of the VW Group's bespoke electric platform, and the firm has pledged that it will be priced from €20,000 (£17,000) to €25,000 (£21,500) when it goes on sale.
The platform will also be used for forthcoming models from Cupra – previewed with the UrbanRebel concept – and Skoda, with the Group aiming to produce around 500,000 units per year at Seat-Cupra's Martorell factory in Spain. Within the Group it is understood Volkswagen took the lead on developing the new version of the MEB platform, with Seat-Cupra leading development of the cars and production processes. But each brand will style and design its own models.
Munich motor show 2021: all the news and updates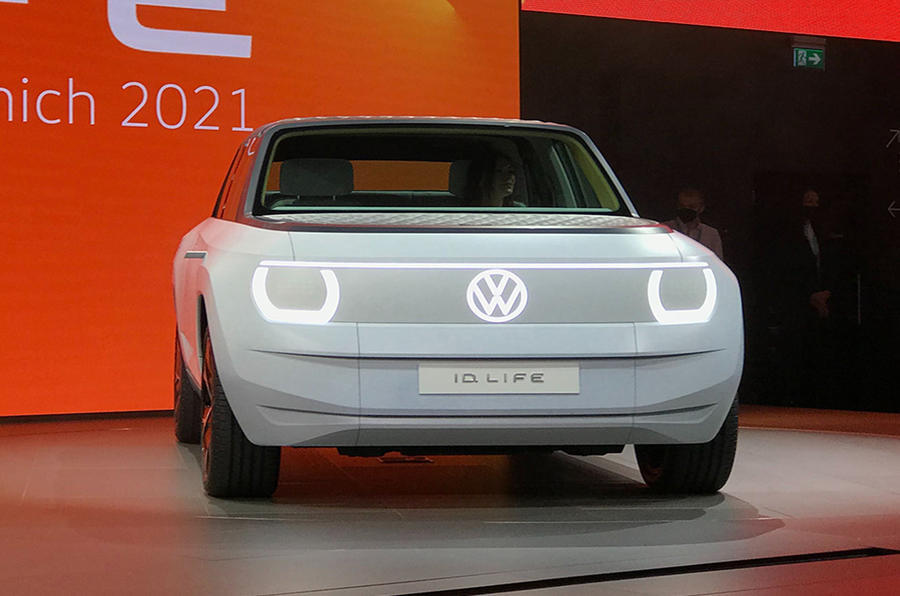 The car features familiar ID design cues, albeit with a more boxy, crossover-oriented design than has been seen previously. The concept features a detachable roof, which can be optioned in a range of materials including GTI tartan.
The minimalist interior features most of the controls mounted on the steering wheel, with the displays using a head-up display. It is designed for the infotainment to be operated via a smartphone, with Volkswagen claiming that it will offer "a completely new level of integration". Phones can be attached to the dashboard magnetically.
The concept also makes extensive use of recycled materials as part of Volkswagen's sustainability push, including recycled seat fabric.
The ID Life was created by a dedicated team within Volkswagen. Company boss Ralf Brandstätter said the brief was "to create more than just a show car. We told them to create the future of urban mobility."