Infiniti is bidding to crack Britain with its new QX50 – a car design boss Alfonsa Albaisa believes will finally show "the true potential of the brand".
The Audi Q5 and BMW X3 rival, which slots into one of Europe's fastest-growing segments and is on display at the LA motor show, will be the world's first production car to feature a variable compression ratio petrol engine.
Autocar has already driven the QX50 prototype. Click here to read the review
The turbocharged 2.0-litre four-cylinder unit, called VC-Turbo, promises up to 35% improvements in efficiency compared to the old QX50's 3.5-litre V6. It can seamlessly shift its compression ratio from 8:1 (for performance) to 14:1 (for economy), essentially giving the 268bhp and 280b ft engine the best traits of petrol and diesel engines.
The technology works by continuously raising or lowering the pistons' reach to adjust the compression ratio. The movement is controlled by a multi-link system, the world's first in a production car, and an electronic motor with a Harmonic Drive reduction gear that can move the crankshaft to alter piston position.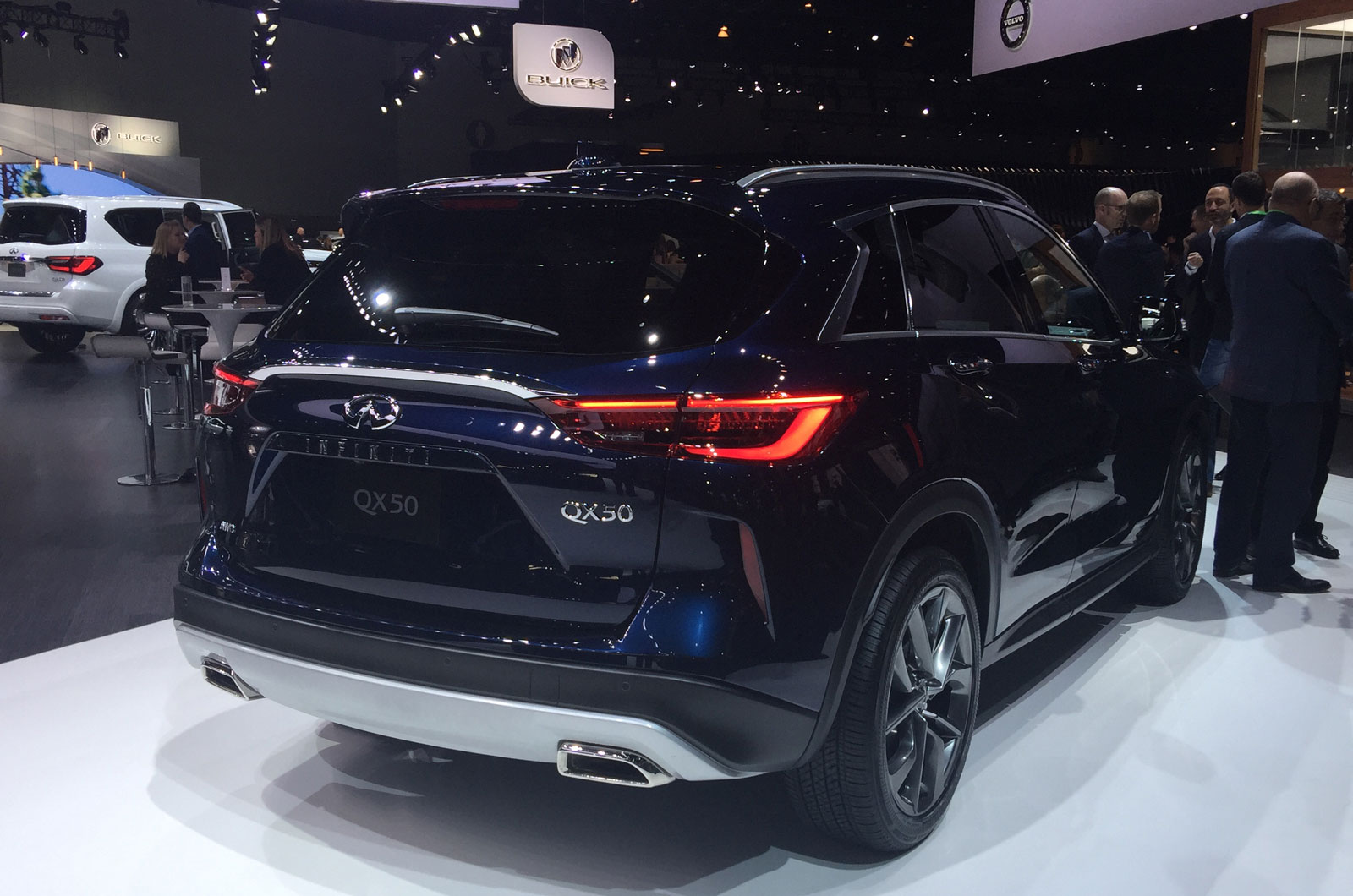 This new high-tech engine comes mated to a continuously variable transmission – the most efficient gearbox type – and drives the front wheels in standard form, although all-wheel drive is also available. The engine can accelerate the QX50 to 60mph in 6.3sec and on to a top speed of 143mph.
Infiniti's sleek new model, inspired by the QX50 Concept of 2016, features a new platform the brand claims offers best in class cabin space. Boot space is 895 litres with the rear seats up, which is 345 litres more than the X3 and Q5. Space grows to 1048 litres with the rear seats forward, when they also offer the maximum 838mm of rear leg room, and 1699 litres with them down.
The torsional rigidity of the platform is up by 23%, improving refinement, while a noise-cancelling system reduces external sounds penetrating the cabin. Wind noise is also down thanks to a 6% more slippery exterior.