Infiniti is bidding to crack Britain with its new QX50 – a car design boss Alfonsa Albaisa believes will finally show "the true potential of the brand".
This new high-tech engine comes mated to a continuously variable transmission – the most efficient gearbox type – and drives the front wheels in standard form, although all-wheel drive is also available. The engine can accelerate the QX50 to 60mph in 6.3sec and on to a top speed of 143mph.
Infiniti's sleek new model, inspired by the QX50 Concept of 2016, features a new platform the brand claims offers best in class cabin space. Boot space is 895 litres with the rear seats up, which is 345 litres more than the X3 and Q5. Space grows to 1048 litres with the rear seats forward, when they also offer the maximum 838mm of rear leg room, and 1699 litres with them down.
The torsional rigidity of the platform is up by 23%, improving refinement, while a noise-cancelling system reduces external sounds penetrating the cabin. Wind noise is also down thanks to a 6% more slippery exterior.
Inside, there are four monitors: a head-up display, instrument display between the speedometer and rev counter, as well as two touchscreens in the centre console. The upper 8.0in screen displays navigation, while the lower 7.0in screen displays apps, climate control and the car's entertainment menus. It can also show the car's 360-degree surroundings.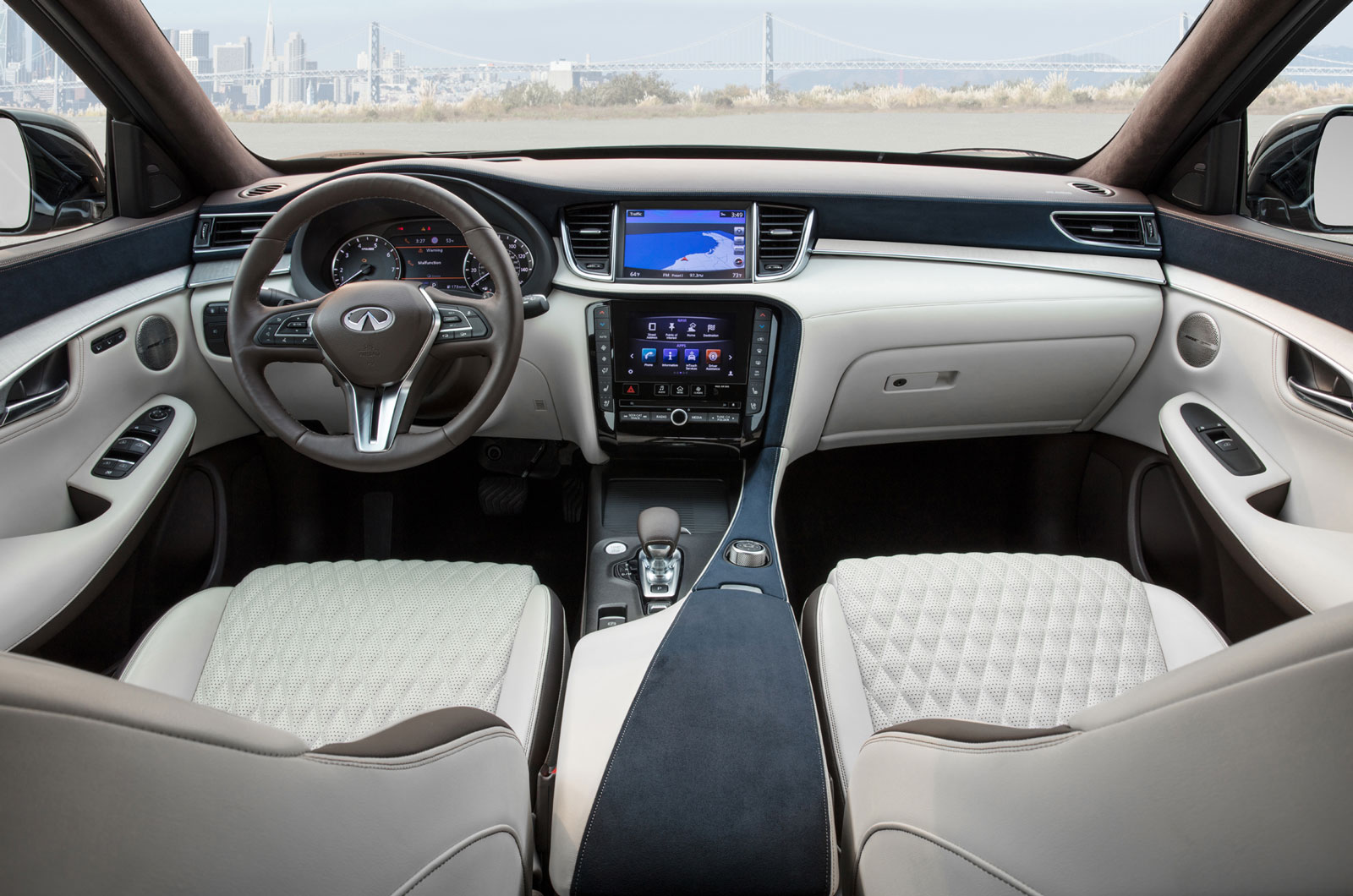 Propilot Assist technology allows the car to control the throttle, brakes and steering on a single-lane carriageway, bringing the car to a stop and accelerating in traffic. Additionally, the car is equipped with lane departure warning, forward collision assist and forward emergency braking with pedestrian detection technology.