The Goodwood Revival returned to Sussex this weekend for three days of vintage racing. Autocar's Steve Cropley was on hand to soak up the atmosphere - read his thoughts below. Scroll to the bottom to watch a repeat highlights video.
Well, it started fine and ended fine, but it was distinctly damp in the middle. 
It is often presumed that Lord Charles March, instigator and backbone of the world's greatest classic racing festival for the past 18 years, has made a special arrangement with the gods of dry weather, but on Saturday this year it was spectacularly suspended. For a while, the smell of wet tweed was everywhere as classically attired spectators sought shelter from the elements.
Not that it mattered. The practice sessions on Friday and the races on Saturday and Sunday races were entirely unimpeded by the weather. As usual, the array of machinery was magnificent and expensive, and covered a huge variety of types, from buzzing pre-'62 front-engined Formula Juniors to the behemoths of the one-hour, two-driver RAC TT Celebration that provided the event's climax on the sunny-again Sunday afternoon.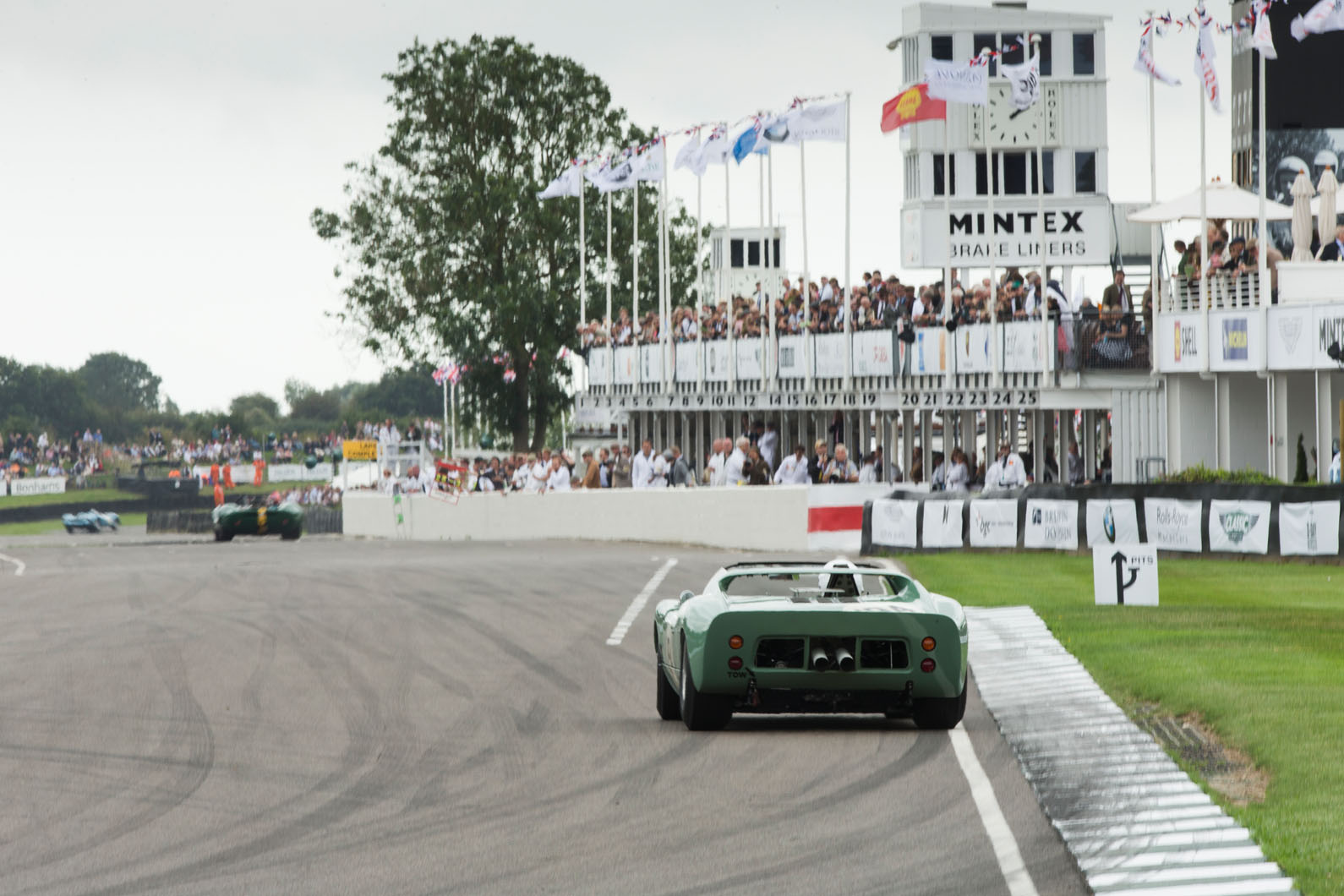 On speed and noise, it was hard to believe these were the same 50-year-old cars that I-was-there veterans associate with the greatest days of Goodwood's first heyday, which ended in 1966. E-types and Cobras were quickest and most spectacular back then, and this was also how it was this year: a 1963 E-Type driven by Chris Ward and saloon ace Gordon Shedden won the TT from two closely following Cobras — but only after a desperate lunge for the lead led to a spectacular circuit departure for another Cobra driven by Giedo van der Garde.
Not even a three-day Goodwood meeting can cover all varieties of classic racing, but the organisers took a brave stab at it, staging races for Ferrari's 250GTO and rivals, the ERA single-seater and rivals, the Lotus 23B sports prototype and rivals, for Bristol-engined cars either side of the war, for pre-D-type sports cars, for Maserati 250F grand prix cars and rivals, for the Ford GT40 and rivals — and even more. At the Revival, racing comes thick and fast.