Seat has revealed that its new Minimó concept car will go into production in 2021.
Design boss Alejandro Mesonero told Autocar that the brand is "working on the production version now which will come in 2021. The shape won't change but the materials will."
The tiny all-electric quadricycle, similar to the Renault Twizy, has been developed to "help meet the challenges of city driving, emission regulations… the increasing fatigue of traffic jams or the lack of parking spaces". Measuring just 2.5m long and 1.24m wide, the Minimó is less than half the footprint of the average A-segment city car.
It blends motorbike details, such as a single headlight, with an SUV-like driving position, relatively exposed 17in wheels and asymmetrical doors which are designed to open in tight spaces. "Even if a car is for car sharing it needs to be attractive," said Mesonero. "If it's not, we will fail".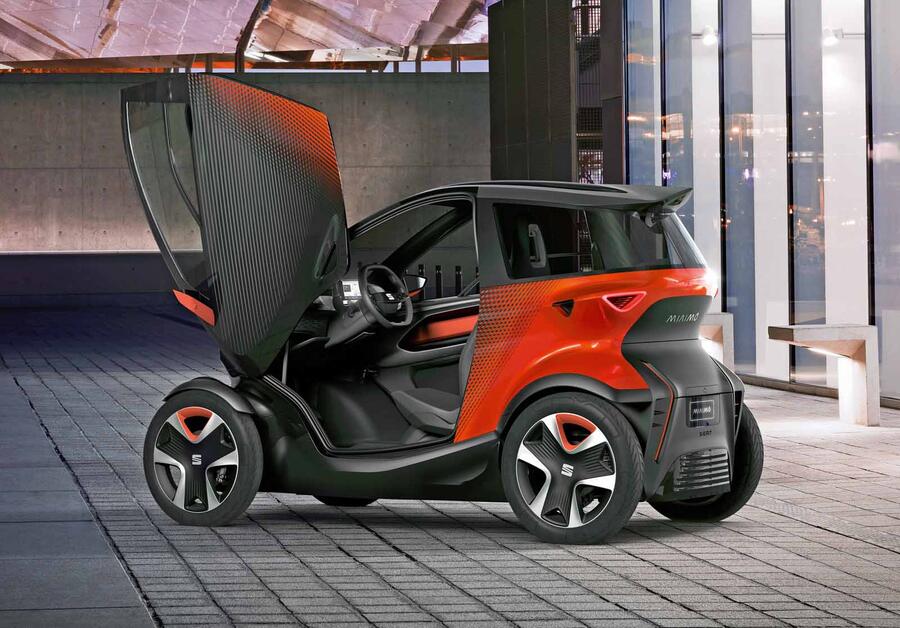 The Minimó's interior is described as offering a "tactile, clean and comfortable space", with a generous 1+1 seating layout giving equal amounts of room to driver and passenger. Seat claims its 360deg view offers unrivalled visibility.
The concept's electric motor and 15kWh battery pack allow a modest 62 miles of range on a single charge, but Seat has designed the pack to be removed from under the floor and swapped for a charged pack "in a matter of seconds". A traditional plug-in model is also under consideration.
A central display inside the car allows the use of wireless Android Auto tech, and Seat says the Minimó will be ready for level four autonomous technology when it arrives. That would allow it to pick up the user when requested, revealing its intention as a car-sharing mobility solution. "The car is dedicated to car sharing from beginning but I believe it will have appeal for private use," added Mesonero.
Seat also said it will created an in-house software subsidiary, located in Barcelona, which will be open in the next 12 months. Seat boss Luca de Meo explained the decision to lead its own software development: "Cars have ten times more code than a smartphone and we estimate that will multiply by ten when hyper-connectivity kicks in." The move is in contrast to many car makers, which are going into partnership with established software providers.