Bosch has completely re-engineered the sun visor, one of the oldest and most basic parts of a car, with an eye on the 2020s.
The Virtual Visor, unveiled ahead of its debut at the Consumer Electronics Show (CES) in Las Vegas, blocks sunlight while giving the driver a nearly unobstructed view of the road ahead.
Named Best of Innovation in CES 2020's Innovation Awards, the Virtual Visor is about the same size and shape as a standard sun visor, but it's a transparent LCD panel that incorporates lines of honeycomb-shaped inserts.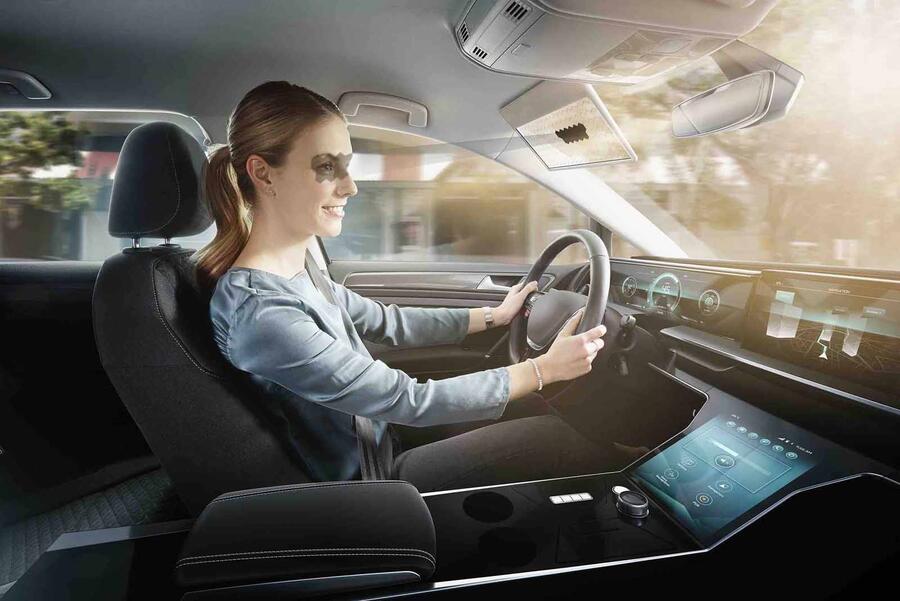 Artificial intelligence technology analyses footage sent from a driver-facing camera to recognise facial features, and monitors precisely how sunlight hits the driver's face. It knows where your eyes are, and it knows where the sun is coming from, so it automatically tints individual hexagons to block it. This process happens in real time; the Virtual Visor adjusts itself to changing light conditions.
Blocking the sun creates a shadow that's not unlike sunglasses on the driver's face. The rest of the visor stays fully transparent, so motorists can essentially see around the sun. Reducing glare makes commuting safer, Bosch claims, and the Virtual Visor is particularly effective at dawn and at dusk.
"We are engaging in conversations now with OEMs (passenger car and commercial) and the goal is to bring it to the market," a Bosch spokesperson told Autocar. There's no word yet on when it will launch.
The Virtual Visor's roots are far less corporate than they may seem. Bosch engineer Jason Zink and two of his colleagues came up with the idea in their spare time, and built the first prototype using a discarded LCD screen they picked up in a rubbish bin.
Executives were so impressed by the prototype that they gave Zink and his team a budget to develop into a product Bosch can sell to the industry.
READ MORE
Bosch reveals self-driving shuttle concept ahead of CES debut
Bosch unveils first production-ready long-range lidar
Aston Martin and Gentex to unveil new camera-based monitoring system