A new conceptual version of the BMW i8 Spyder will make its debut at the Consumer Electronics Show in January.
The BMW i8 roadster concept has now been revealed. Click here to view it.
BMW has released one image of the upcoming concept, which shows the car's cabin. The most obvious change from the production i8 is the addition of a large widescreen colour display, facing the driver, on the passenger side of the car.
As the display lacks any obvious interface, it may be that BMW utilises the gesture control system that features on the new 7 Series. The latest teaser also suggests that the concept may be doorless, as the doors and their associated hinges and hardware are all absent from the picture.
The car is expected to be nearly production ready, hinting that the i8 Spyder will finally go on sale four years after the first concept, in the images below, was shown. Originally unveiled at the Beijing motor show in 2012, development of the i8 Spyder has been fraught with difficulties.
In December 2013, officials said the car was presenting "major challenges" to its engineers. Those problems hinged around incorporating the carbonfibre-reinforced plastic body shell construction of the i8 into a convertible format.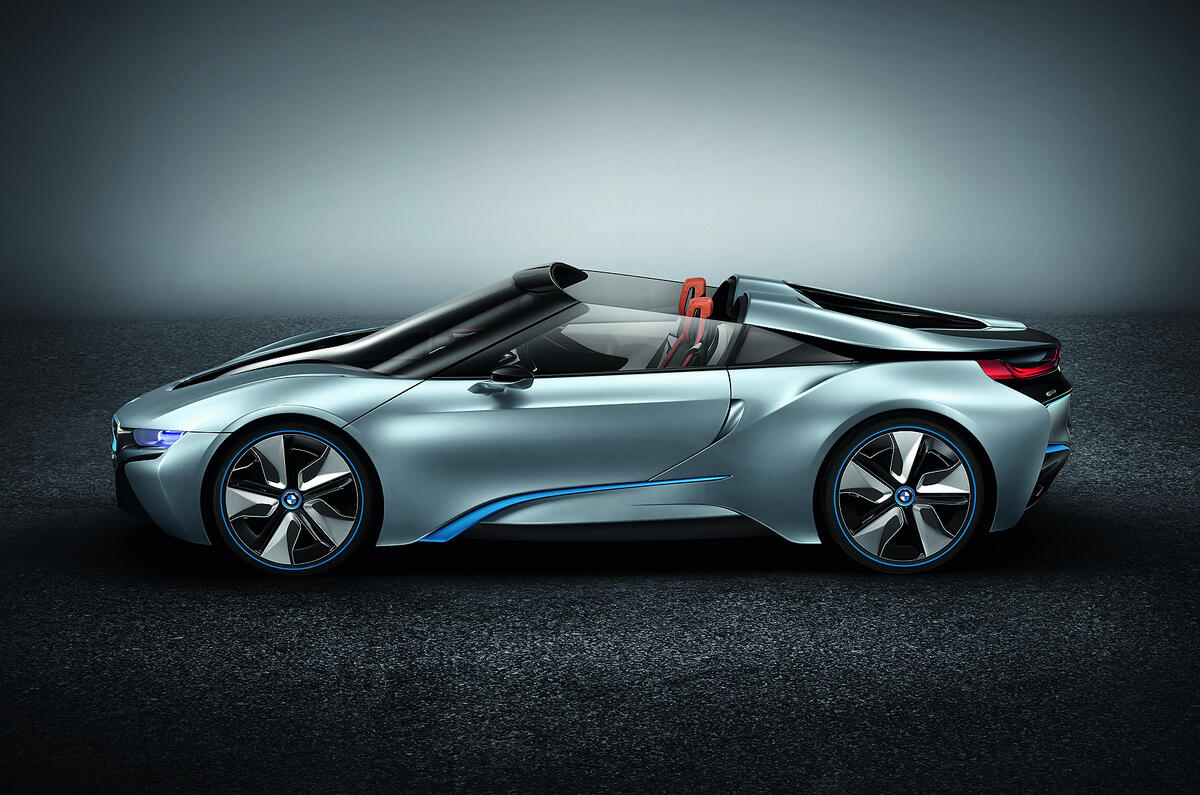 Speaking to Autocar at the time, a company spokesman said there would be "no set timeframe" for the launch of the car. However, it now appears that BMW has solved those challenges, so a launch within the next 12 months is likely. Indeed, BMW boss Harald Krueger has reportedly told German media that a production version of the car isn't far off.
As CES is a technology-focussed event, the concept car is likely to focus more on the i8's technology than its scope as a production model. Alongside improvements to the i8's range of connectivity and safety systems, minor alterations to the powertrain and battery pack are expected to increase its electric-only range above the 23 miles of the coupé.
Like the i8 Coupé, the Spyder features a three-cylinder 1.5-litre petrol engine mounted at the rear working with a front-mounted electric motor, producing a combined 228bhp. BMW says the i8 Coupé can reach 62mph in 4.4 seconds - a figure the Spyder is expected to match.