The Bentley Continental GT3-R is Bentley's most driver-focused road car and the GT3 racing car is its steroidal sibling.
One little letter, that's all. Oh, and a hyphen. One car here is a Bentley Continental GT3, the other a GT3-R. Just how big a difference could there be? Even once you've looked at them, bigger than you might possibly imagine.
Clearly one is a road car, the other a racer, but, perversely, it's the street machine that has the 'R' in its title. Both are based on the Continental GT, but while one has merely had its claws sharpened somewhat, the other is as a starving wolf to a snoozing Labrador. My purpose is to drive both cars, see how different the racer is to the road car and try to understand how it got that way.
The GT3-R will be familiar to Autocar readers. Production of the £237,500 monster has now ceased, but many will recall that it's a stiffer, lighter, more powerful Continental GT, with no rear seats, carbonfibre door cards, titanium exhausts, lightweight wheels and carbon-ceramic brakes as standard. But, with four-wheel drive, a fully equipped interior and air suspension, it was not light. Indeed, on our scales it weighed 2285kg. Nevertheless, with its 4.0-litre V8 tickled up from 521bhp to 572bhp, it scorched to 62mph in 3.7sec, which is some achievement for a car weighing more than the heaviest Mercedes-Benz S-class.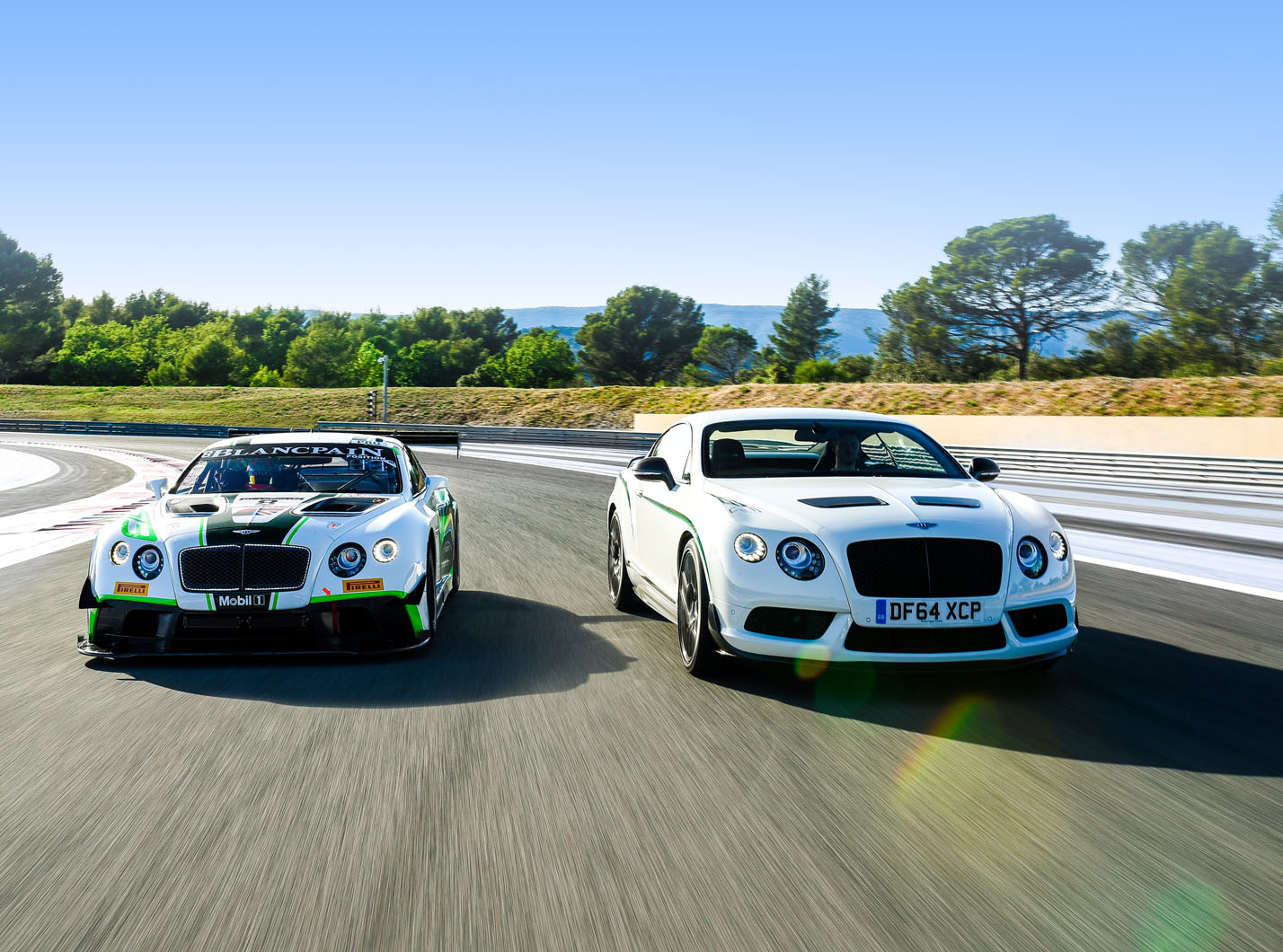 Two things struck me on the way to Silverstone to meet its racing self. First, how much I liked the car, and second, how much more even than that I'd have liked it had Bentley gone further with it. In the reduction of weight, far more so than the increase in power, Bentley had discovered a path to an all-new level of dynamism and driver involvement. But having set out with confident stride and eyes set on the horizon, it appears to have got halfway, sat down and had a picnic.
Never will you feel this more than when you see the GT3 in the pit lane. Given that the GT3-R weighs 2285kg and has already been on a diet, what would you estimate the racer to weigh? Just 1285kg. Staggeringly, it's so light that it now has to carry ballast to reach its minimum homologated weight. Most car makers get pretty stoked when they shed 50kg from a car's kerb weight. But an entire tonne? How do you do that?
The specifics you will see in the panel below, but you start by gutting the interior and replacing the steel and aluminium body panels with carbonfibre. Then you bin the entire four-wheel drive system and replace the heavy eight-speed torque converter automatic gearbox with an ultra-light Xtrac racing transmission. Some weight has to be added – you can't have ceramic discs in a GT3 car and you have to have a big roll cage and fire systems.
Even so, and to give an example of the kind of savings on offer, consider that the door of a fully trimmed Continental GT with a double-glazed electric window weighs 54kg. The same item in carbonfibre and Perspex? Just 7kg. And another thing: a Continental GT carries 72 ECUs in standard specification, but its racing equivalent has just two. The result is a full-sized racing Bentley that weighs exactly the same as a Volkswagen Polo GTI.