They say all great ideas start in a pub. Science has yet to explain why - probably because no one has produced a coherent post-session report - but evidence suggests a top lip dampened by the froth of ale really motivates a creative mind.
For some, these great pub ideas will best lost in the mists of a hangover but, for others, something truly impressive can follow. Take the Tesla Model S Shooting Brake you see on these pages, which was first coined at The Bird in Hand near Hethel in Norfolk. 
"Three of us were having a catch-up chat and a pint over lunch when we thought it up," says Dorian Hindmarsh, managing director of the coachbuilding company Qwest that produced the car. "Phil, who had just bought a Model S P90D, said he had nowhere to carry his dogs, so Jim said why don't you make it an estate car. Roll on 18 months and there's one sitting outside."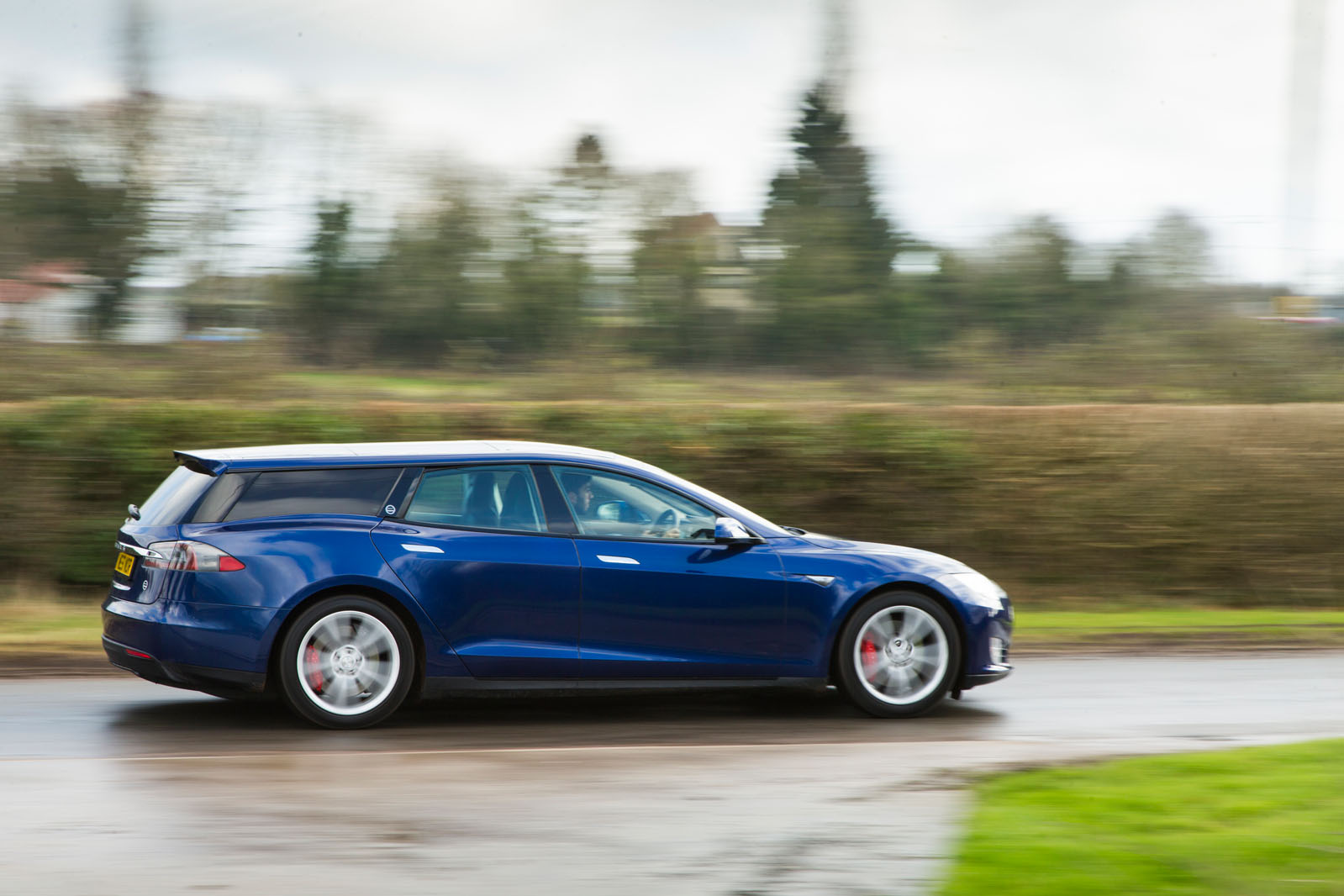 Phil Hayton, director of Qwest and the man who bravely allowed the part-dismantling of his Model S to make the world's first battery-electric shooting brake, liked the idea of an estate because it would provide more room for Ted, his six-year-old labradoodle. Jim Router, a technical genius with 40 years of experience, joined the venture as engineering director with such confidence that he said it'd be "a doddle" to convert the saloon.
Of course, it was inevitably more complicated than that, as Router explains upon our visit to Qwest's Dereham base for a look at the finished car. "The challenge was trying to design the changes so they are repeatable," he says, standing beside the carbonfibre tub of a Jaguar XJR-8 and a 1:8 scale McLaren F1 model, mementos of former projects he has played a key part in. "It's no good just cutting into it; we had to leave all major structural parts there so the crumple zones are unaffected." This is where Router's involvement paid dividends.
Having worked for McLaren, Lotus and TWR (the latter on its Jaguar Le Mans racers, including the winning XJR-9), as well as with Riversimple on its new Rasa hydrogen car, he knew how important these first stages would be to ensure as smooth a progression from design to production as possible. "Other companies sometimes cut into the first car and work it out as they go," says Hindmarsh, "but we had the car laser scanned so Jim could create a full 3D digital model before any work began." Three designs were made, one with the tailgate split in the D-pillar, another with a fully split tailgate and the third was the design you see here.