British car maker Riversimple has announced that it's ready to commence the Beta-testing stage of development for its new hydrogen-powered Rasa and has asked investors to get involved to help kick-start the programme.
The company plans to hold a 12-month trial period during which members of the public will run a Rasa as their own car and help it to iron out any issues before it goes into production.
If funding meets the required amount, a run of 20 Riversimple Rasas could be on British roads later this year in selected areas where suitable infrastructure (such as a hydrogen filling station) is within reach. If this development period is successful, Riversimple plans to produce 3500 Rasas in 2018, offered to drivers through a leasing scheme.
Autocar met Riversimple's founder earlier this year. Read on to find out more.
The car
The two-seat Rasa produces nothing but water from its tailpipe and is capable of an estimated 250mpg and a 300-mile range from just 1.5kg of hydrogen.
The Rasa uses an 8.5kW fuel-cell (equivalent to about 11bhp), which combines hydrogen with oxygen to form water and electricity. The electricity powers four motors that drive each of the car's wheels, with a combined output of about 443lb ft of torque.
Each of the car's electric motors works as a generator when the brakes are applied and can recover as much as 70% of kinetic energy during heavy braking. Under normal applications, around 50% is recovered.
The whole drivetrain has just 18 moving parts and is capable of accelerating the car to 60mph in a respectable 10sec. Top speed is limited to 60mph, but Riversimple says the car can comfortably cruise at this speed for long periods.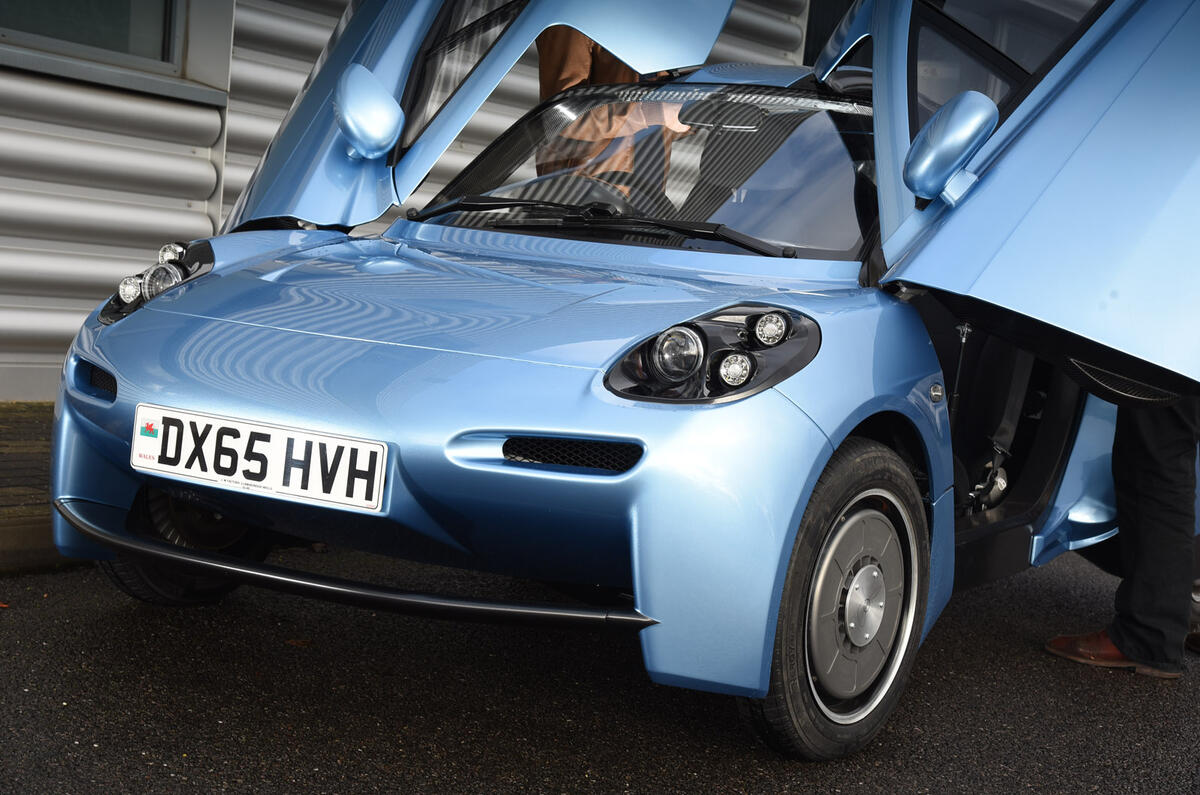 The Rasa weighs just 580kg thanks to its use of a carbon-composite monocoque and aluminium subframes. Weight has been minimised in every avenue, with the monocoque weighing 39kg, the doors weighing 8kg and the fuel-cell itself weighing 19kg. Sustainably sourced carbonfibre-reinforced plastic and glassfibre-reinforced polymer body panels add minimal mass on top.
Riversimple founder Hugo Spowers says Colin Chapman and his philosophy for light weight Lotus sports cars served as an inspiration.
Spowers' background involves racing – his previous ventures include founding and running a business that designed and built racing cars – but environmental concerns spurred a move into creating sustainable cars. The Rasa has, therefore, been built with minimal resource usage in mind.
In total, the Rasa's well-to-wheel CO2 output (how much CO2 has been produced from the model's conception to the end of its useful life) equates to about 40g/km. But with rapidly improving drivetrains and refined production methods, Riversimple expects to cut that number in half in the coming years.