Hyundai's Kona Electric 64kWh is an EV I've been waiting to try. With an entry level 64kWh price of £32,845, plus £300 for a Pod Point 7kW home wall box (after grants) it's real-world money and can potentially do everything a conventional car can do.
If I owned an EV, I want to do all the usual stuff like 160 mile round trips to the airport and the regular 300 plus mile run I do to Edinburgh without making allowances. The Kona is equipped with a CCS DC 50kW rapid charging port and an AC port (7kW only) and a charge lead for domestic charging at 10 amps from a household socket.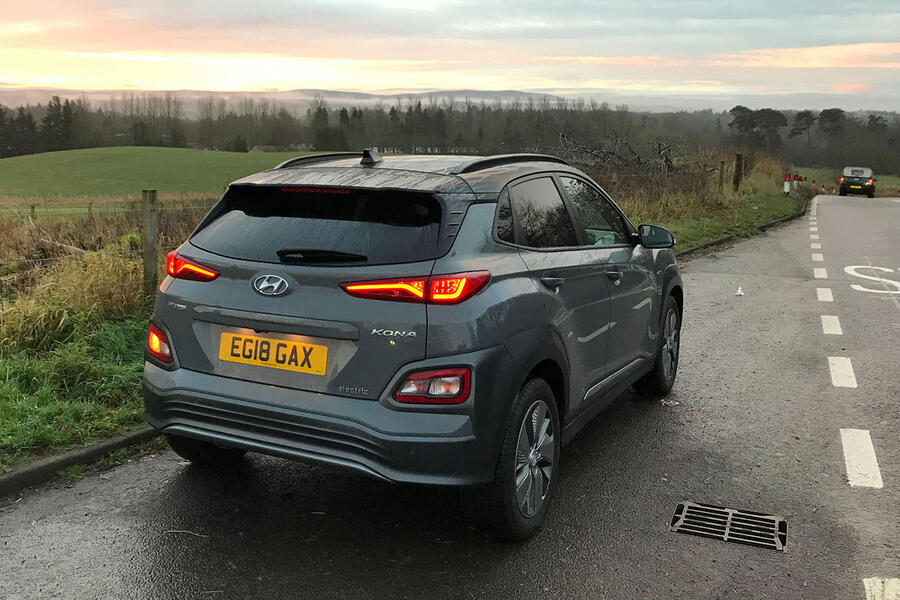 At the end of November 2018 in chilly but not freezing conditions, I set off one morning from home in North Oxfordshire, to Edinburgh driving a Kona Electric Premium SE (£35,145). The trip read 1872 miles and the sat nav showed 344 miles to go. In theory I should have been able to make my usual (and only) stop at Tebay Services M6 northbound around 200 miles away, but had Lancaster services at around 170 miles in mind as a backup.
I'd signed up for an Ecotricity account and got the app, which would let me charge at anyone of its Electric Highway charge points. Ecotricity has the exclusive franchise for motorway chargers so if you're planning a motorway-heavy trip as I was, there's no other choice of energy provider without leaving the motorway network. Even then, I would be counting on 50kW DC charging rather than AC only and at most stops there's only one of those available.