Cars and the environment – they're a big part of the problem, aren't they? We all know that, of course, even if their contribution to global warming is slightly smaller than general opinion would have us believe.
But cars have certainly never been part of the solution, all of them requiring energy generated from somewhere, whether they're fuelled with petrol, diesel, compressed natural gas or hydrogen. Most of that energy will generate CO2, and all of it will be expended driving only the car and its systems. That's the way it is now, and the way it has been for the 120-plus years that the car has been around.
But electric vehicles have the potential to do more than this, as Renault is demonstrating on a tiny island 30 miles off the coast of Madeira. They are zero emission at the tailpipe and potentially zero emission from well to wheel if their energy source is renewable. And they can also help electricity grids make fuller use of unreliable renewables. Porto Santo is now what Renault and its pioneering partners are calling a live lab. That lab is harnessing the batteries of a growing fleet of electric Zoes and Kangoos to help smooth out the peaks and troughs of Porto Santo's multiple electricity generation systems.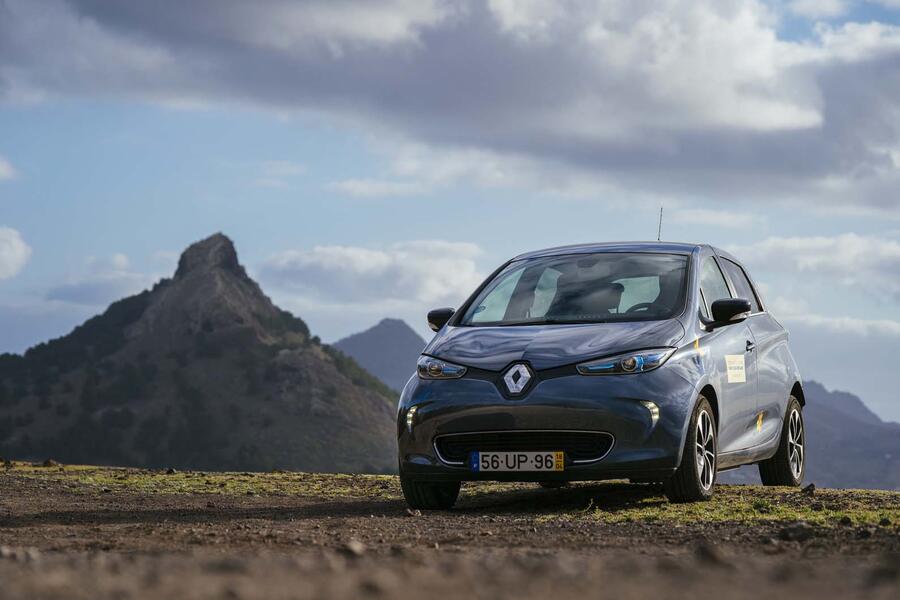 The island is isolated from Madeira's grid, and uses a mixture of diesel generators and solar and wind power to produce energy not only for the usual domestic and commercial demands, but also to run a desalination plant (the island's natural water wells are insufficient for the population, especially during the tourist season). The grid also supplies the 40 charging points installed to power the Renaults and a handful of other EVs.
The idea is to provide bursts of additional energy for the grid during spikes in demand and moments when the flow of renewable energy suddenly diminishes. That will happen whenever a cloud blots the sun, the intrusion reducing the solar panels' output instantaneously and inconveniently. A less sudden power generation drop occurs when the wind subsides and the blades of the island's so-far-solitary turbine cease to turn. In both cases, however, the grid can harvest slices of energy from any of the plugged-in Renaults. Not much at the moment, admittedly, because of the 20 Renault EVs on the island, only two have the bi-directional hardware allowing such harvestings to occur. However, that will change. The company has just announced a purchase scheme for the island's resident motorists, the initial batch of 20 EVs dedicated to government agencies and a taxi service.