The new Land Rover Defender may only have been on sale a month or two but, in some of the toughest third-party testing ever conducted, it has already shown itself to be the most capable off-roader the company has ever built. Given the excellence of Land Rovers past, that's a huge achievement.
But if you include the fact that the Defender's accompanying on-road performance makes it a prime candidate for the most versatile off-roader ever – and that its new-age electronics also make it the best-connected off-roader ever – you really are talking about an extraordinary machine. You're also talking about a uniquely talented team who dreamed up such a vehicle and brought it into the world.
Some of these people have been working on the project for as long as seven years, fitting their Defender work between tasks with shorter deadlines. In all, several thousand people have played a part, when you include the vital efforts of leading suppliers.
To represent the achievement of everyone involved, we name five people here who have led development of a remarkable model, seemingly destined already to be one of 72-year-old Land Rover's great successes. Here are their stories…
Nick Rogers - executive director, product engineering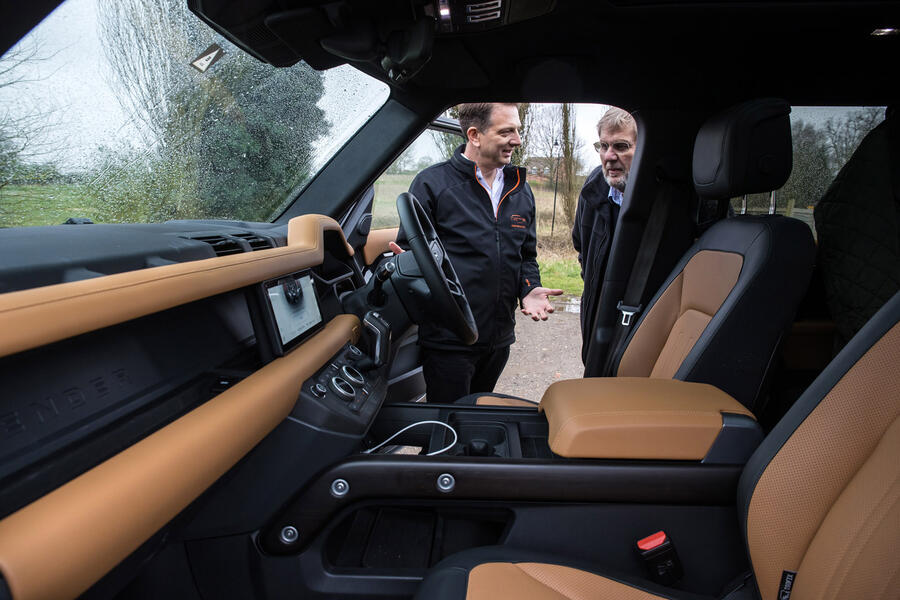 When Rogers started as an engineering trainee at Land Rover 36 years ago, the company was already talking about Defender replacements. "It's been a discussion point as long as I can remember," says Rogers. "The idea of a new Defender and I have grown up in the company together."
Rogers has been involved in two previous projects that didn't come off: one when Ford owned the company, proposed on the Discovery 3's T5 ladder chassis; and another originally scheduled straight after the first Range Rover Sport hit the market.
The trouble, he says, was that the company was having such success with its new models that replacing the icon kept being put on the back burner, especially since it continued to attract much love (if not many buyers).
"In about 2012, I had a conversation with David Sneath, another Land Rover engineer who nowadays organises our unique international launch events," says Rogers, "and we decided we really had to get things moving. We were driving through the Atlas Mountains in Morocco. I remember it well. We agreed we had to bring Defender to the front of the company's mind and make it stick."
So why has this latest project worked when others have failed? Rogers is quick to answer: "Because for the first time, we really tried to utilise the spirit of 1948. Previous attempts had involved doing something to modernise what we already had.