Today, the AA is a wide-reaching organisation whose services range from insurance and breakdown cover to giving driving lessons and general advice: activities that are seemingly faithful to its original name of the Automobile Association.
It's perhaps hard to believe, then, that this well-admired and trusted body was originally formed as a law-fighting pressure-and-protest group.
The story begins in the pages of Autocar, dated 25 March 1905, wherein a motorist named Walter Gibbons had penned a delightfully sardonic letter entitled 'To Circumvent Police Traps'.
These Edwardian equivalents of speed cameras were stopwatch-wielding policemen "hidden in hedges or ditches by the side of the most open roads in the country," as motoring pioneer the Earl Russell would later put it to the House of Lords.
Police traps had sprung up following the royal ascent of the highly controversial Motor Car Act 1903, which introduced driving licences (but not a driving test) and vehicle registration.
It also introduced the offence of reckless driving and raised the speed limit to 20mph, from the 14mph that was set in 1896, while legislating that those caught speeding could not only receive a fine but, in serious cases, be jailed.
There was a long-standing distrust between motorists – then still a pioneering group without the weight of public opinion behind them – and the authorities, who were frequently accused of dishonesty in print by Autocar readers.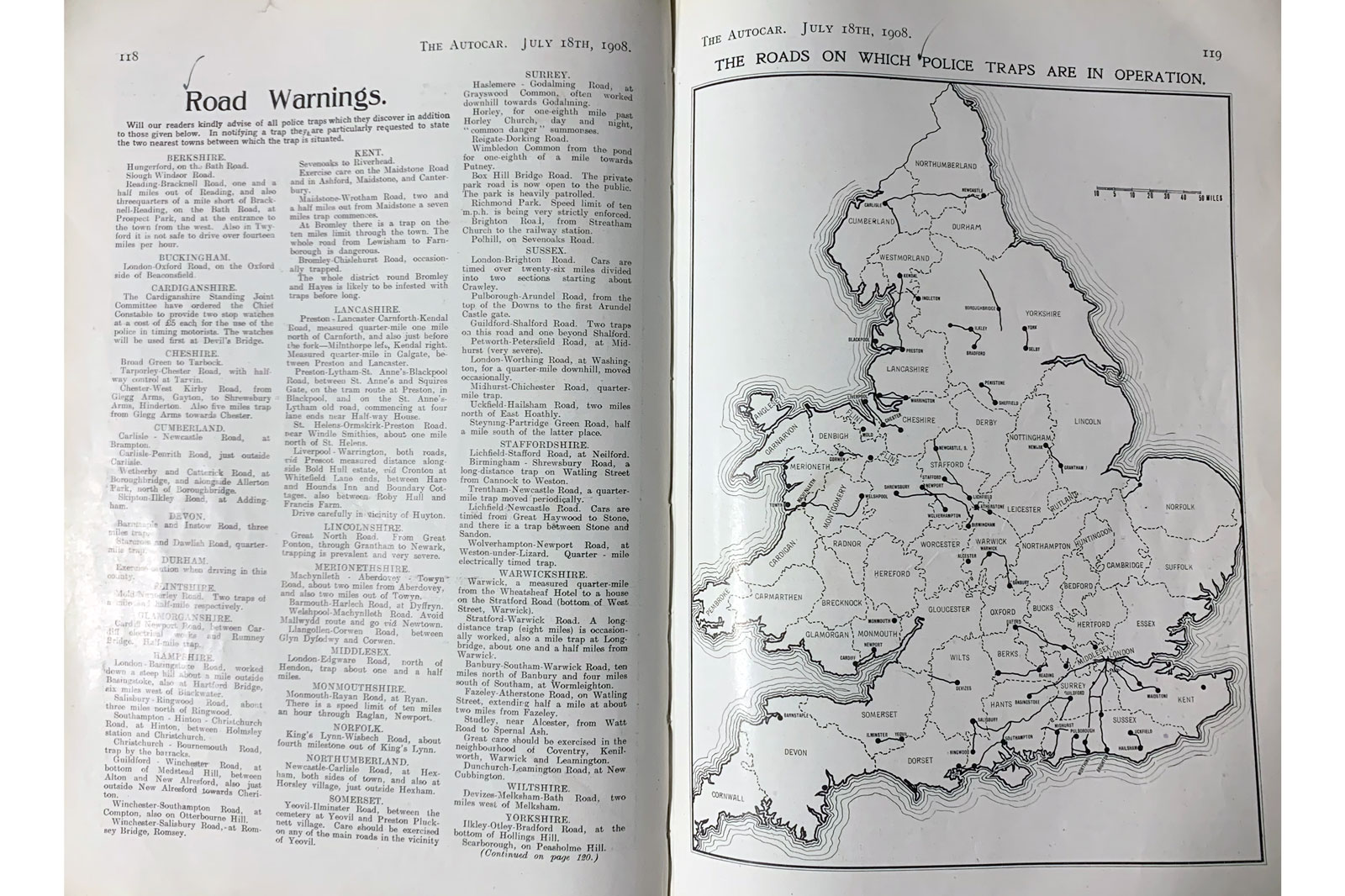 For example, in Gibbons' letter: "Although the police may be honestly inclined, at the same time motorists are looked upon by the police much in the same manner as an angler would view a running stream: the fish are hidden underneath the waters, and by fair means or otherwise they must be caught."
Meanwhile, the magistrates were "so ready and willing to be convinced", due to the apparently infalliable methods used to time passing cars. Gibbons continued: "The police are inflexible; they have an electric timing apparatus, produced in court before the magistrate, including the bell and battery. The chief magistrate and his colleagues look in awe upon this instrument of torture. An electrical timing apparatus! How easily is the consicence stifled!
"Solicitor: Now tell me, Mr Policeman, what would happen if you did not press the button until the unsuspecting motorist was halfway through the furlong, or even after he had proceeded some 10 or 20 yards past the commencement of the measured furlong?
"If such a question were put to the innocent policeman, he would immediately reply: 'I always press the button, sir, immediately the front wheels pass my line of vision.' So on the other end of the furlong.
"Truthful policeman! The court is convinced, and although the motorist may assure the magistrate that he dare not send the car round corners at such speeds are as attributed to him on a greasy road, and although he can show an undefiled licence, yet – 'Certainly, I fine you £15 [today around £1840!]. You were timed by an electrical apparatus.'"