The Dodge Viper has always been a deviant. A dissident, even, given that it blasted away from Chrysler's 1980s zeitgeist of exceedingly forgettable models, such as the boxy Dodge Aries and the beige-personifying Plymouth Caravelle.
The emergence of the low, long-bonneted, cab-rearward Dodge Viper RT/10 concept at the 1989 Detroit motor show captured the imagination and, since 1992, with the arrival of the first production version, three generations and countless variants of this car have thrilled us. But after 25 years of production, 2016 will mark its end.
Back in January 1997, we drove the craziest of the crazy: the £76,000, Hennessey-tuned Viper Venom 600. Powered by a 635bhp V10, it was capable of more than 194mph and had a 0-60mph time of 4.8sec.
Steve Sutcliffe drove the car for Autocar and wrote: "The moment you fire this monster up, you take it seriously. The backdraught out of those two industrial-sized tailpipes has sufficient force to blow a small child several miles across the neighbourhood.
"The Venom 600 is painfully, fantastically loud. I swear it has pedestrians perpetually free-falling over hedges for cover."
On the road, though, it wasn't all fun and games. "It's not especially civilised," said Sutcliffe. "Or all that sociable. Drive it around for an hour anywhere and you'll receive at least one thumbs-up, as well as a number of onlookers who think that because you drive a car like this, you go to bed alone at night, but not necessarily to sleep.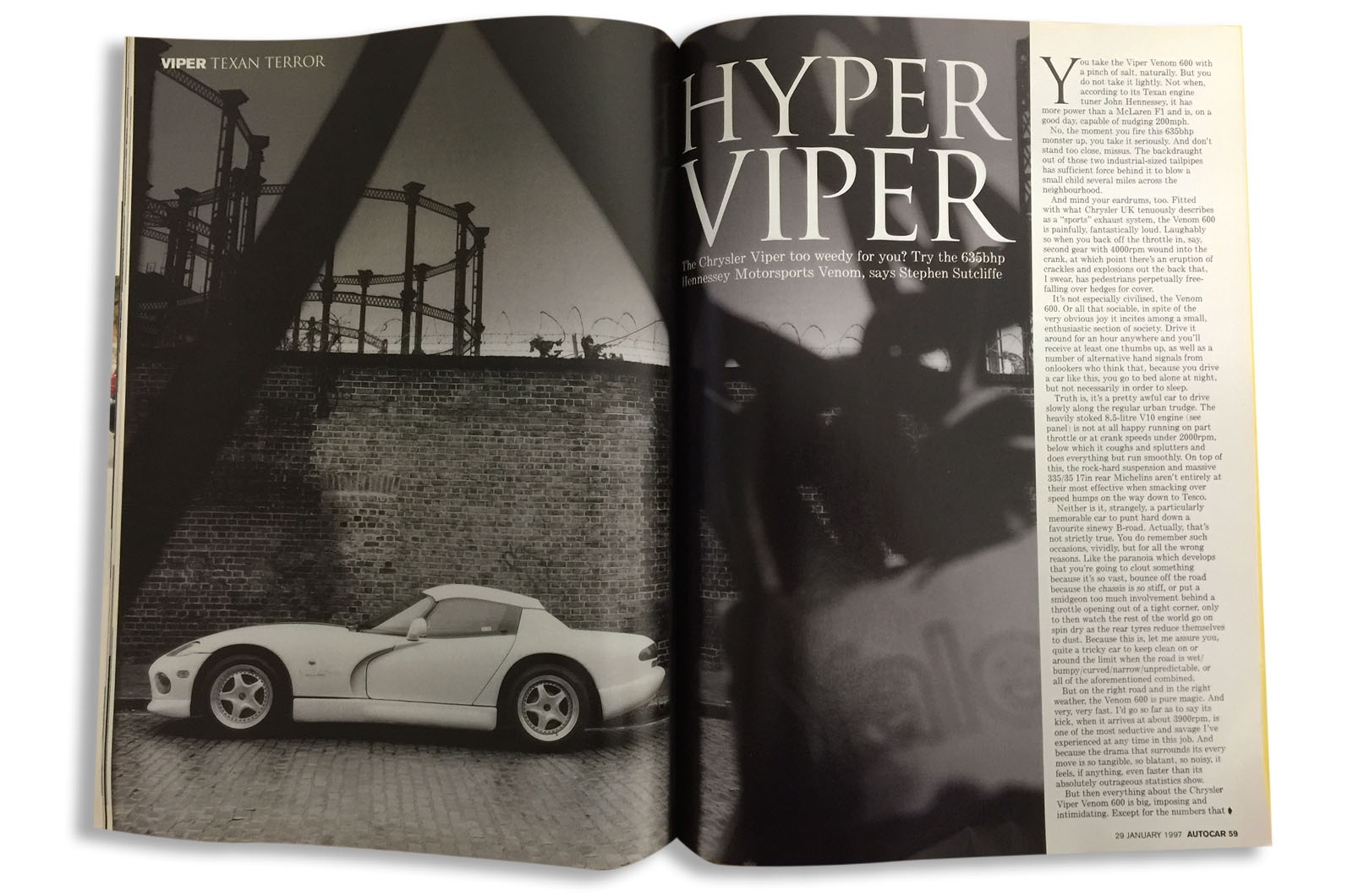 "Truth is, it's a pretty awful car to drive slowly along the regular urban trudge. The heavily stoked 8.5-litre V10 engine does everything but run smoothly. On top of this, the rock-hard suspension and massive 17in rear Michelins aren't entirely at their most effective when smacking over speed humps on the way down to Tesco."
Sutcliffe wasn't too impressed with "punting the Viper hard down a favourite sinewy B-road", either. "Paranoia develops that you're going to clout something because it's so vast, bounce off the road because the chassis is so stiff, or put a smidgen too much involvement behind a throttle opening out of a tight corner, only to then watch the rest of the world go on spin dry as the rear tyres reduce themselves to dust."