The Rolls-Royce Vision Next 100, a luxurious futuristic concept, has been unveiled to celebrate the centenary year of Rolls-Royce's parent company, BMW.
The concept is an electric-powered car conceived to preview styling, packaging, electronic and engineering ideas being pursued by the famed British car maker for inclusion on future models.
It was revealed at Chelsea's Round House in London alongside the Mini Vision Next 100 concept, a compact four-seater. Earlier this year, the BMW Vision Next 100 concept was displayed, showcasing its vision for the future of cars.
The futuristically styled Rolls-Royce is based around a lightweight carbonfibre structure, and is powered by a zero emissions drivetrain with two 250kW electric motors – one positioned at the front and the other at the rear, providing the big concept car with a total of 500kW. The drive is channelled to all four wheels – towering 28-inch items featuring intricate chromed spokes and housed within individual guards.
From the wheelbase to the body design, Rolls-Royce says the concept can be tailored to suit the needs of customers.
At 5900mm in length, the Vision Next 100 is 184mm shorter than today's Phantom Extended Wheelbase. However, it provides seating for just two on a sofa-like bench seat, which is positioned at the rear of its rakish cabin.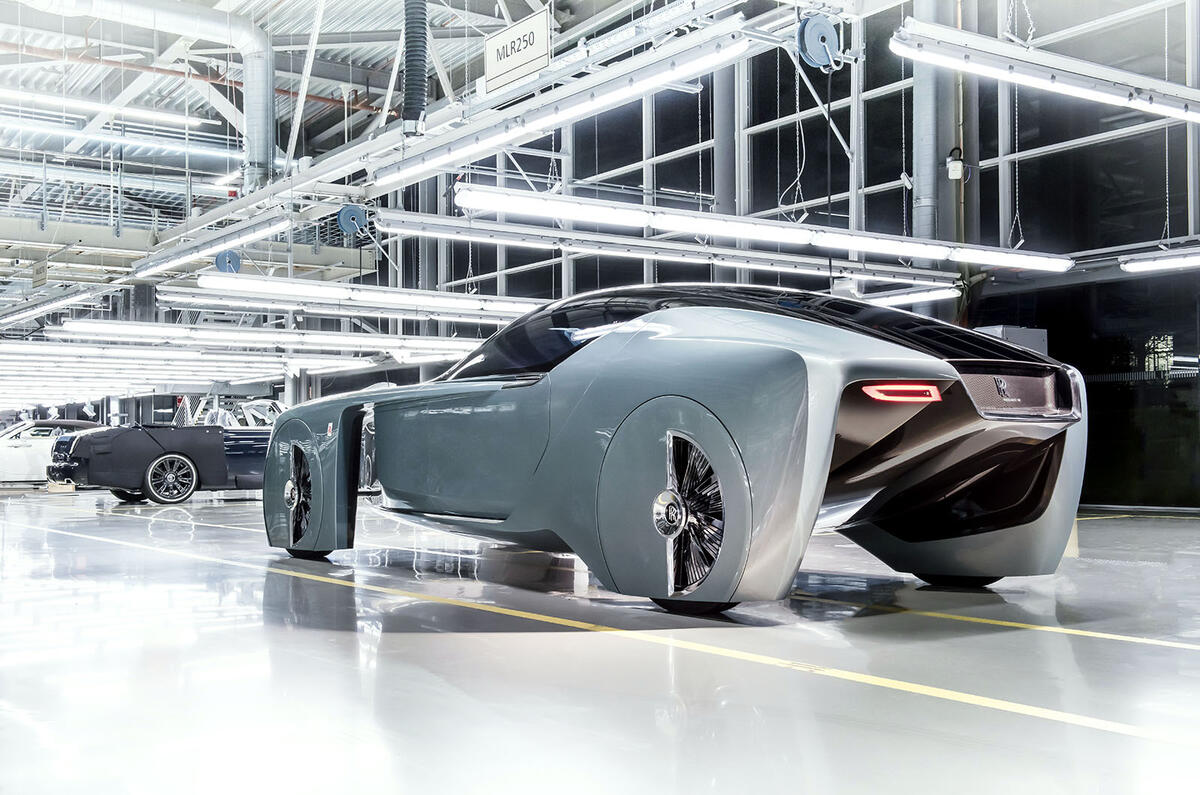 The front end is dominated by a vertical grille bookmarked by free standing wheel arches either side, while the iconic Spirit of Ecstasy, made from hand-cut lead crystal and illuminated from the inside, stands proud of a long, sweeping bonnet that extends for over 2500mm.
Because it is a fully autonomous car, the concept's interior does not have a driver's seat, steering wheel or instruments, which creates a 'completely new sense of space', according to Rolls-Royce. The only instrument remaining is a central analogue clock below the panoramic window. Materials inside the concept include Macassar wood, hand-twisted silk on the floor and soft silk upholstery.