Volkswagen is planning to introduce an electric sports car and minibus to its new zero-emission line-up, with the brand's patented images published on the World Intellectual Property Organisation (WIPO) website.
The first car, a low-slung sporty model, appears to be a two-door coupé with active aerodynamic features, including an extendable rear fin. The above view also shows that it features gull-wing doors, and the design's lengthy shape suggests it has been crafted with minimal air resistance in mind.
The minibus images resemble the initial VW electric concept, the Budd-e, first seen at the Consumer Electronics Show in Las Vegas in January this year.
Autocar recently revealed that Volkswagen's growing EV range will include an SUV, MPV, luxury saloon and sportscar.
The range will also include the ID hatchback, which was seen in concept form at Paris motor show and will be the first electric car in the new range to make production.
All of the models will be built on Volkswagen's scalable EV platform, called MEB, with shared components such as motors, axles and suspension included.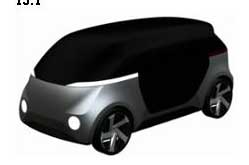 No technical details have been revealed with the latest images, but we know the ID concept uses a 168bhp electric motor.
In the sports car model, more power could be produced with a dual motor setup, which is used in electric models like the most potent Tesla Model Ss.
The lack of glass windscreen on the sportscar design also hints that this could be an autonomous model developed to demonstrate driverless technology, however, it seems highly unlikely that this windscreen-free design would make it to production.