Seatbelts are one of the most simple yet also most vital safety features in cars.
According to the AA, around 95% of Britons would never dream of driving without one. Therefore, it seems crazy that it's only been mandatory for all occupants of cars to wear one since 1991.
In Britain, it became compulsory for seatbelt anchor points to be fitted in new cars in 1965, and two years later, the belts themselves also became a requirement, as did the retrospective fitment of them on cars built in '65 and '66.
By the 1970s, it had become evident that half of road deaths could be prevented by wearing seatbelts, while AA surveys showed seat belt wearing rates to be around the 30% mark, with this rising to 40% when campaigns such as the famous 'clunk-click every trip' were running.
In 1983, not wearing a seatbelt in the front seats became illegal. Once the law came into effect, the rate of seatbelt wearers shot up to 95%. In 1989, children in the rear were also required, and in 1991 this was extended to adults.
Today, it is estimated that 34% of car occupants killed in collisions are not wearing seatbelts, despite these people making up only around 5% of drivers.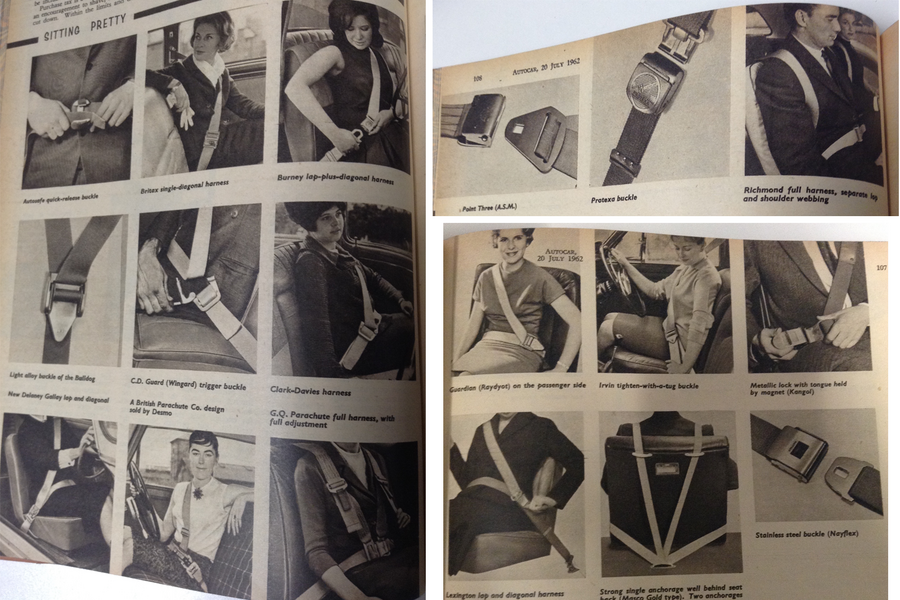 Back in 20 July 1962, spurred by talk of them being made compulsory, Autocar discussed the merits of various systems of the 'safety harness'.
"It is very rare for an injured person who has remained inside to have had any personal contact with the other vehicle or lamp post at all," we began.
"He was almost certainly injured by his collision with his own car. He would not have so collided if the harness had kept him safely in his seat. The great majority of fatal accidents take place at normal speeds, in normal traffic, and however damaged the fronts of the cars involved may be, the steel passenger compartment holds together well."
So, we wondered, "why has the Minister for Transport been so long deciding to make the fitting of harnesses compulsory in new cars?