Two BMW M cars, both alike in dignity; in fair Bedford where we lay our scene. From punchy straight-six twin-turbo torque; where lurid drifts make track unclean.
If William Shakespeare had been as passionate about fast-paced German saloons and coupes as he was about sonnets and couplets, he would have loved the BMW M3 Competition and BMW M4 Competition. Like Romeo and Juliet, BMW's star-crossed new M cars blend dramatic visual flair with spine-tingling performance, all driven by an unrelenting passion to create cars with truly compelling character.
That's why we took them to Bedford Autodrome – the perfect stage on which to tell the tale of the track-focused tech under their skin. In the BMW M3, four-times BTCC champion and Team BMW West Surrey Racing driver Colin Turkington. In the BMW M4, former racer turned ITV4 commentator Paul O'Neill. Let battle commence.
Learn more about the BMW M3 Competition Saloon, or find out more about the BMW M4 Competition Coupé.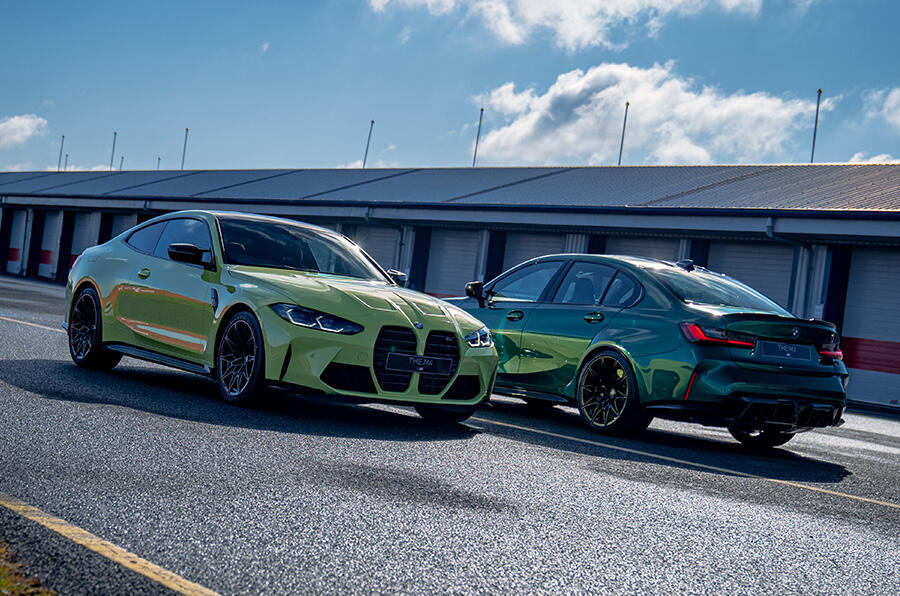 Visual drama; raw-edged performance
The BMW M3 Competition and BMW M4 Competition offer two distinctive takes on BMW's well-honed M formula. "I love how the BMW M4 looks as a coupé," says Paul, as he admires the BMW M4's stunning coupe curves – resplendent in Sao Paulo Yellow – in the Bedford Autodrome pitlane.
Colin, on the other hand, favours the BMW M3. "I've always liked that iconic four-door saloon shape with the wide muscular rear arches," he says. "The Isle Of Man Green really sets it off, especially with the Carbon Pack. Those carbon wing mirrors and the rear diffuser with the big exhaust pipes look absolutely class."