The glossy, perfectly-framed pictures are in, executives grilled for extra chunklets of information, and on-sale dates confirmed.
Car launches are important events for manufacturers, a way to ensure their latest machines start life with plenty of (hopefully positive) publicity. So what goes into such an event? Here's a blow-by-blow account of the Volkswagen Polo's official launch, to show you what goes on behind the scenes.
We've driven an early next-gen Polo - take a look at what we thought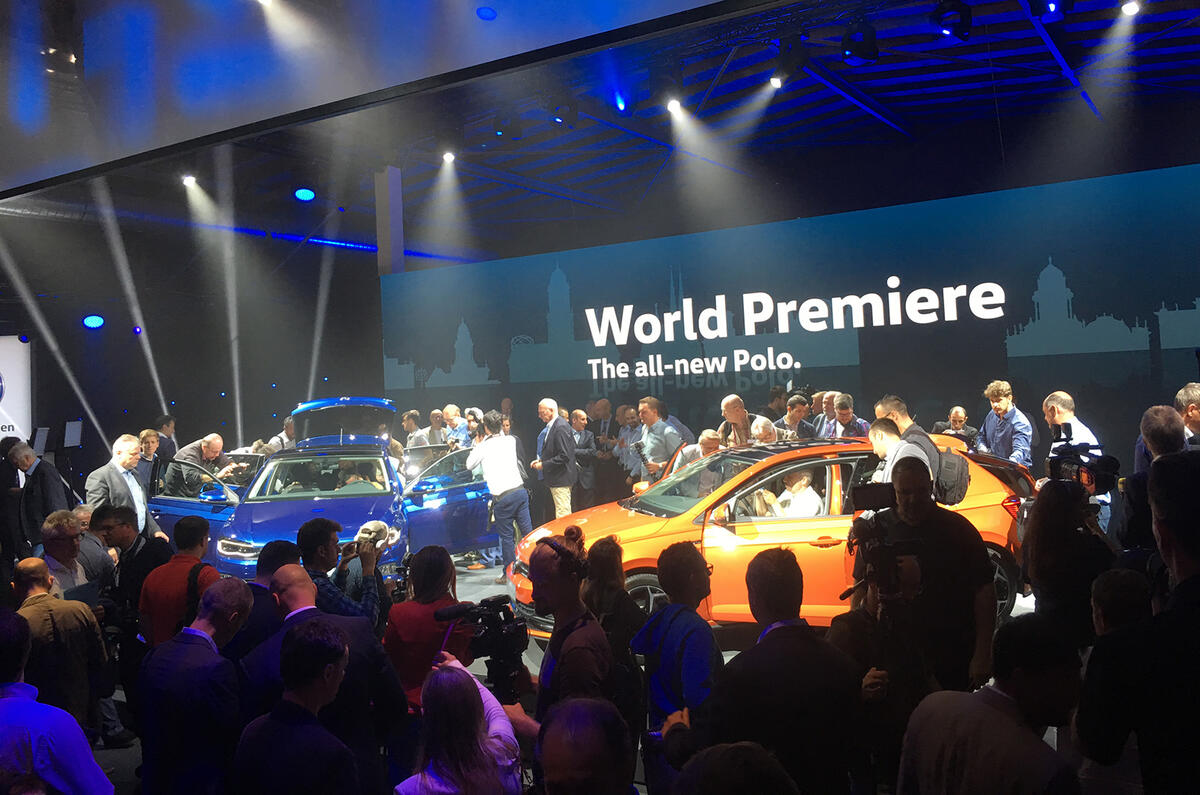 9.15am: Departure from a Berlin hotel, into a fleet of black Volkswagen minibuses to the reveal location. We arrived in Berlin yesterday evening, and spent most of the time since preparing for the launch (and sleeping).
9:20am: Polishing off preparatory questions en route, for any and all execs unfortunate enough to cross my path. Greetings with other journalists turns to talk of the embargo holding our respective websites to silence until a pre-agreed time with the manufacturer. Today's is 11am.
9:30am: Uh oh, word has spread of said embargo having been broken by another site. All rush to correspond with Volkswagen and respective offices back in the UK about the next steps. Tech issues blamed for the leak, and the story is quickly pulled from the site. Accidents like this happen, but all are glad it wasn't them. 
10am: A large banner at open gates reads "The all-new Polo, world premiere 2017" signals our arrival at the location. The car ride is realistically the only glimpse of Berlin we'll get. There's also a pristine Mk1 Polo parked outside.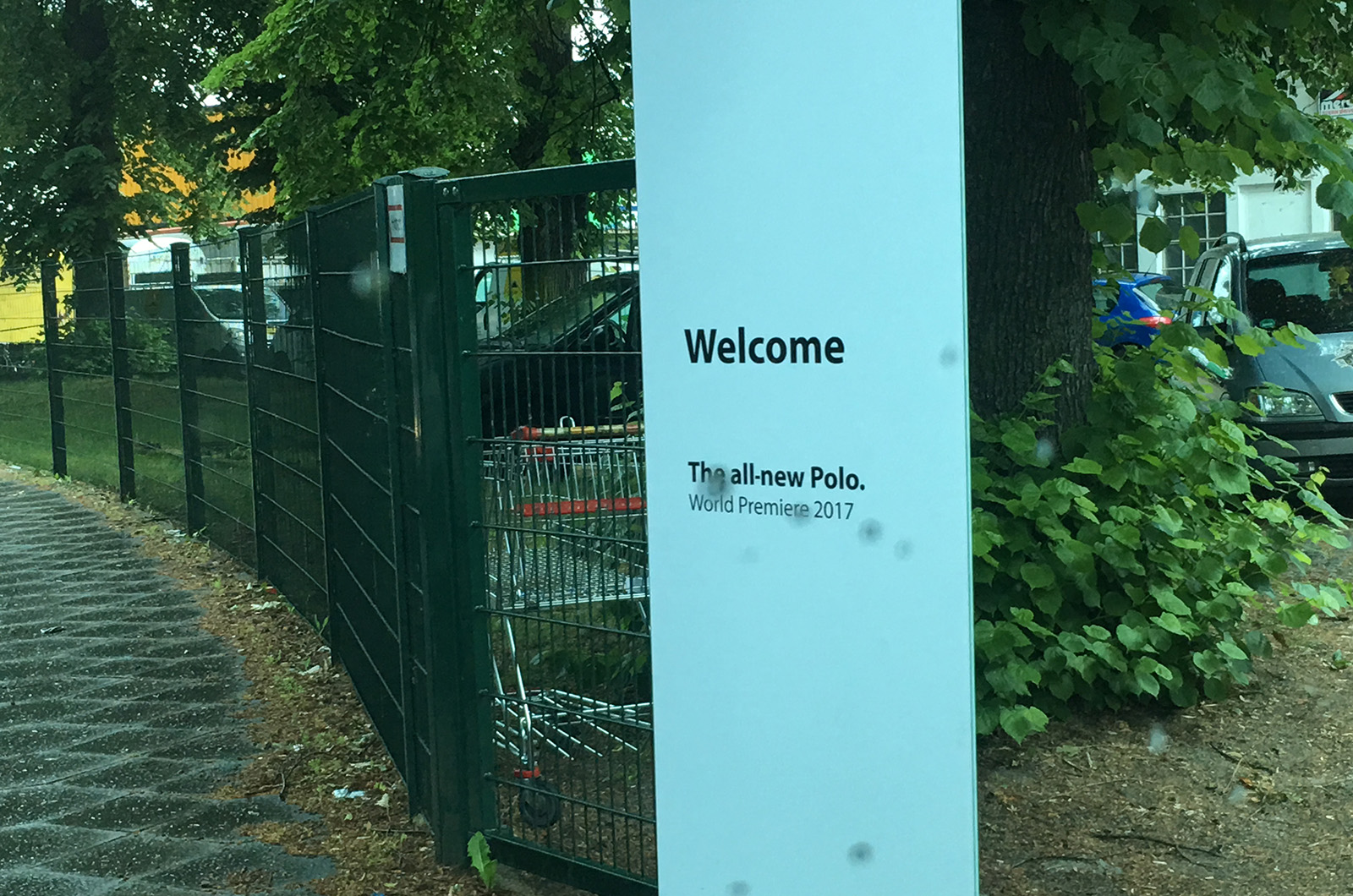 10:15am: Small talk with other impatient press; we've already seen pictures of the car, but are more than keen to get a look in the flesh. Often, press photos don't do the car justice in the metal. Other times, it's the opposite. Either way, we want in. 
10:20am: The Italian motoring press have a bad rep for descending on a car en masse, having not observed the queueing etiquette. Let's hope some decorum is maintained today; it's a rather packed venue.
10:40am: And we're in! To the entrance, that is. Large chunks of the room are sectioned off for when the manufacturer's spiel begins. Taking in the ambience of the room, it's an odd setting: lots of suited and togged-up journalists, with a DJ playing youth-oriented dance music, while a fine mist of synthetic smoke fills the air. 
10:42am: Meerkatting around the room for a glimpse of either Klaus Bischoff or Stefan Winkelmann with questions prepared.
10:45am: Getting nearer to liftoff now, but they're keeping us entertained with food and drink. Odd foods are served; this time, curry-flavoured popcorn and nut-crusted pâté balls on sticks are on the menu. I'll pass, danke. Volkswagen PRs run through interview plans and field pricing and specs questions for the fifth time; maintaining joviality while telling journalists they still won't arrive until closer to the Polo's launch date later in the year. 
10:55am: "Ladies and gentlemen, we will begin in a few moments, please make your way to the viewing area." A scrum ensues.
10:56am: Sharp elbows and knees activated, and I've bagged a spot at the front. It's a perfect view...
10:58am: …in front of which Volkswagen's cameraman rolls an enormous TV camera. Drat.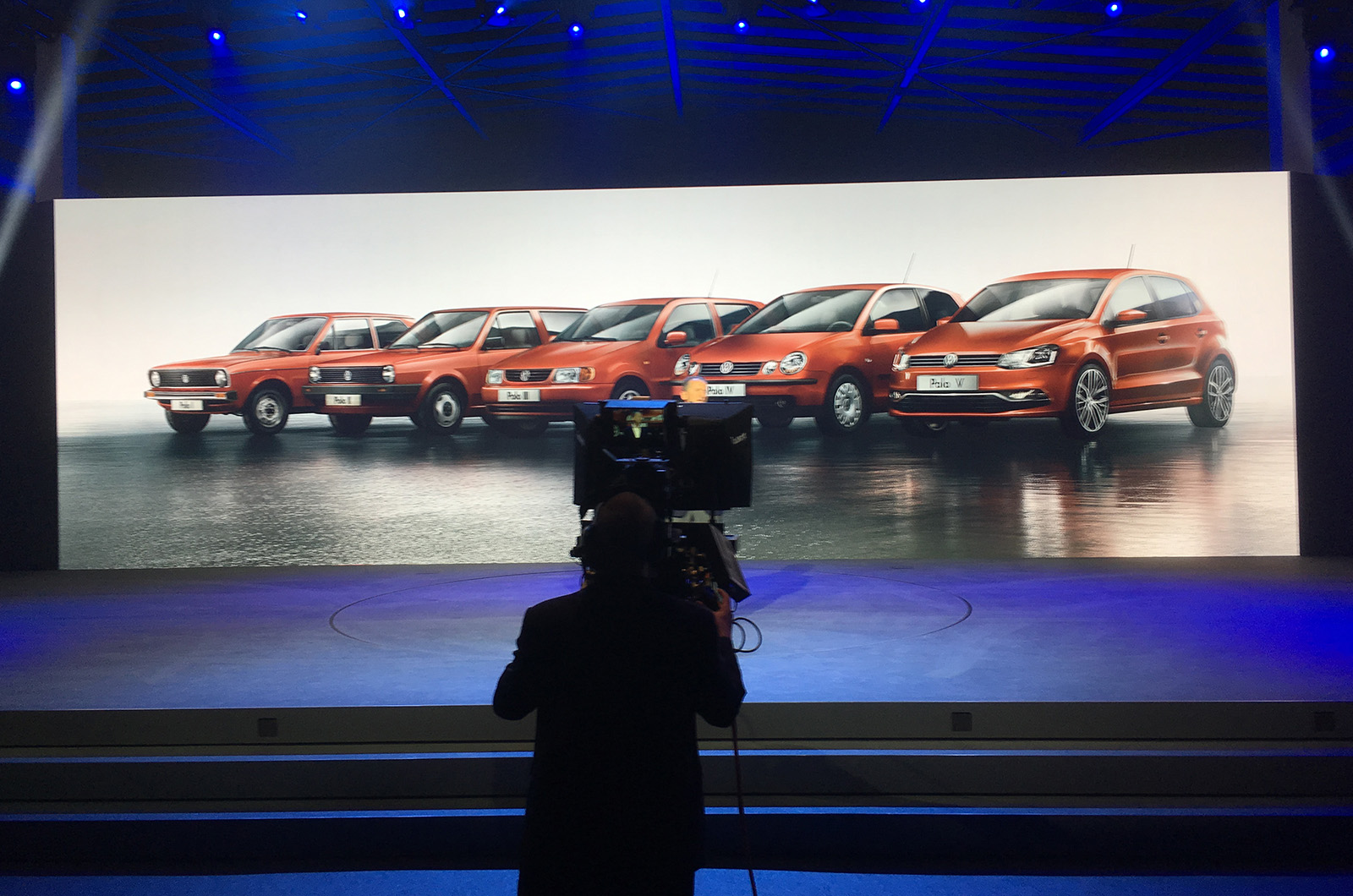 11:01am: Can we see the Polo now, please?
11:04am: Volkswagen's head of global communications introduces chairman Herbert Diess, who hands over to a startlingly loud video presentation. We're off. 
11:07am: Diess gears up to introduce the car. Another startlingly loud video begins. You can watch it below.
11:08am: Rather cool use of augmented reality from projectors there.
11:09am: There are quite a few people here. Not many of them wanted to be photographed, clearly. 
11:10am: And there it is. Lots of reaching for photos, craning for a decent view.
11:12am: They've wheeled out the regular version now. Followed by the Beats version.
11:25am: The R-Line is back, and design boss Klaus Bischoff is talking us through it.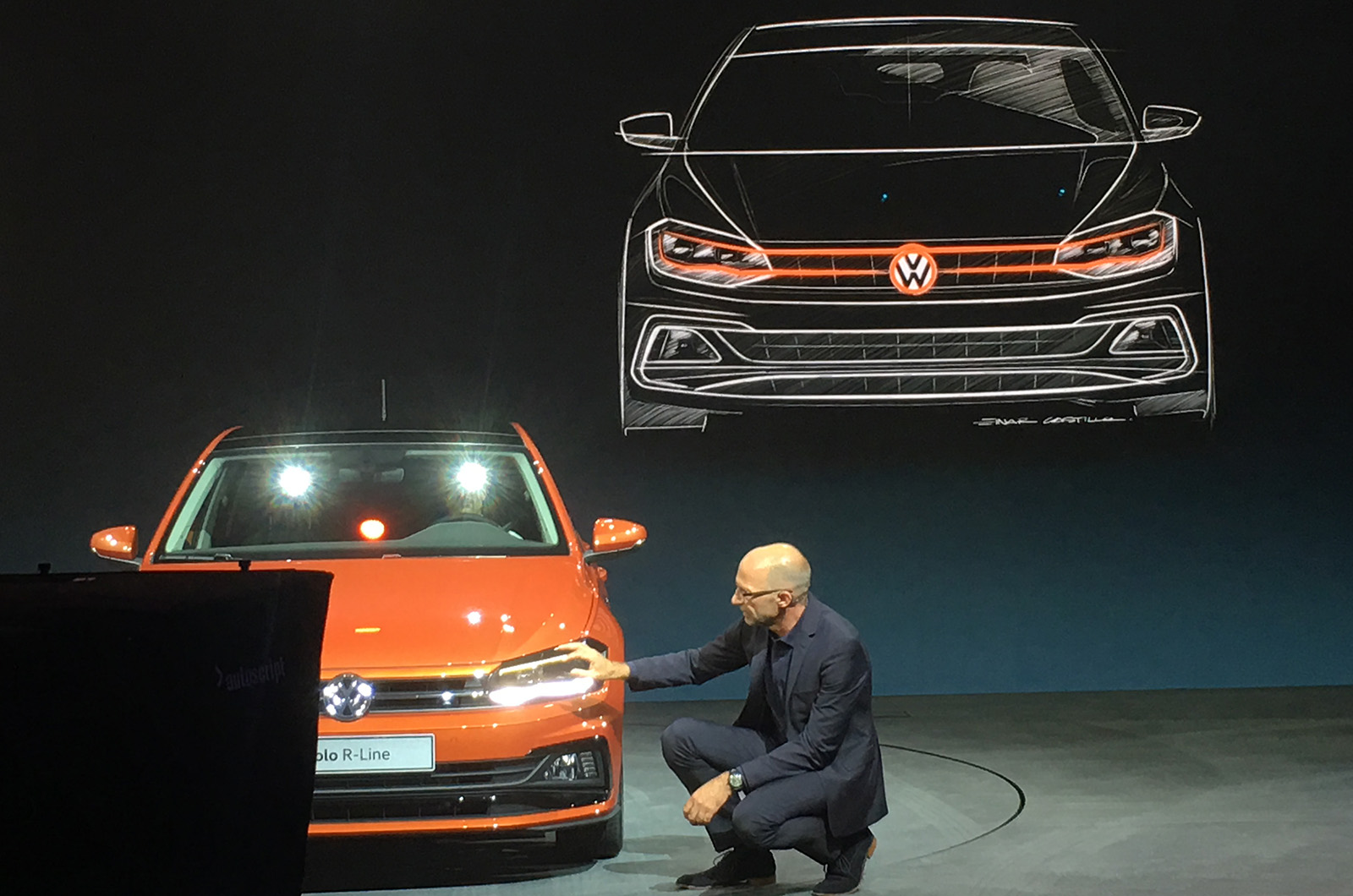 11:30am: The event people have undone the belt barrier, and the floodgates are open. Scrum #2 for the first decent photos.
11:35am: Diess and the other executives pose for photos with the Polos. Surprising how bossy photographers can be when talking to major car industry executives. 
11:39am: VW invites everyone onto the stage to get a closer look, inside and out. Scrum #3 begins. You get a lot of scrums at car launches.
11:50am: The Polo GTI is virtually unmanned; time to take advantage of the scenario.
11:51am: My plan to get a through-the-car shot of the interior from the boot was scuppered, as others noticed the empty GTI.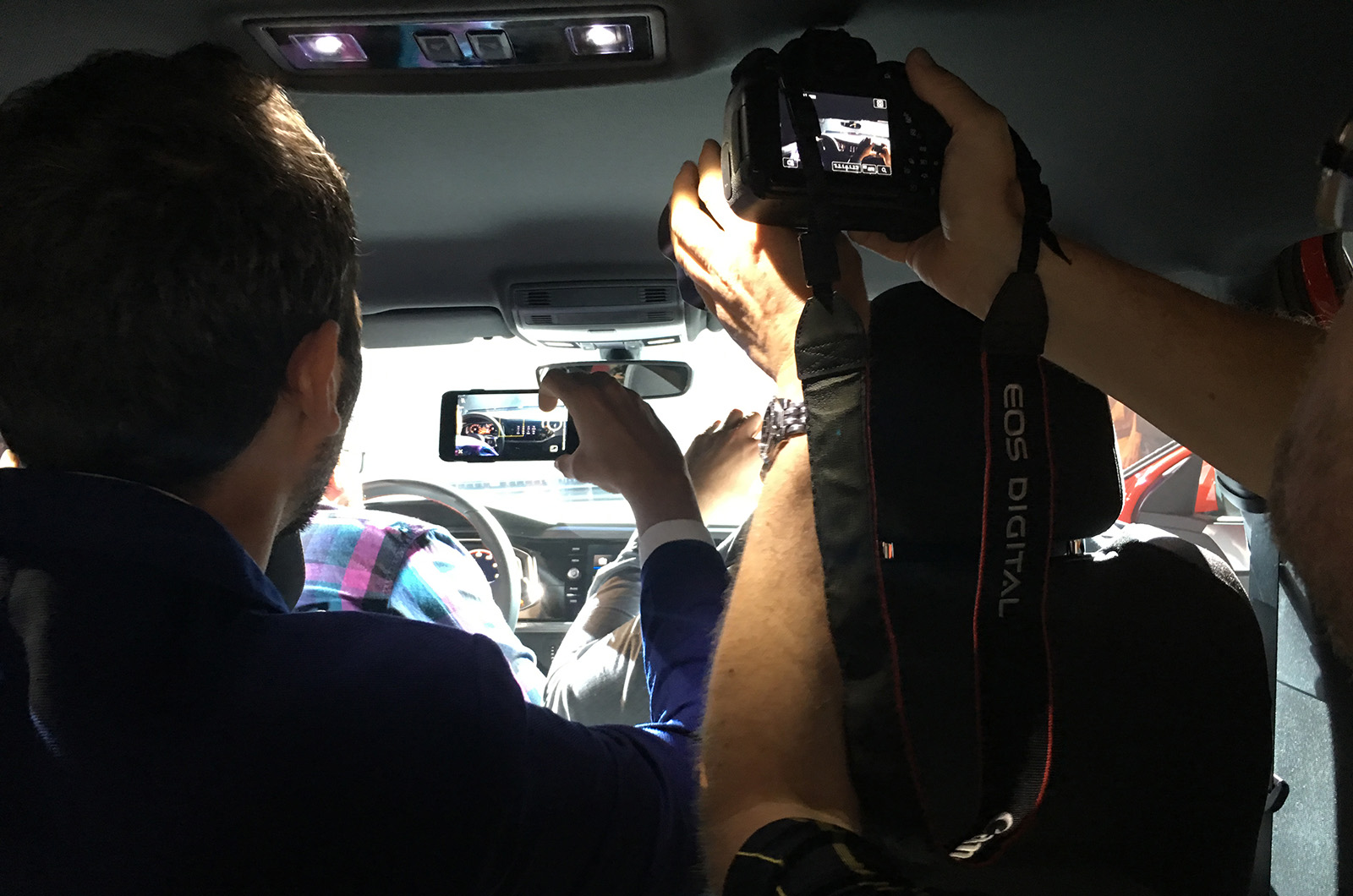 12.00pm: Close-ups, close-ups, close-ups. 
12:04pm: The Polo is a handsome car. Quite aggressive and striking from certain angles, too. The overwhelming consensus on Twitter is "It's big."
12:15pm: Time to interview Diess. He's on-message, and won't talk about the next-generation Golf, but he's personable and friendly; the opposite of Hollywood's interpretation of big business bosses. The motor industry sure can pick 'em.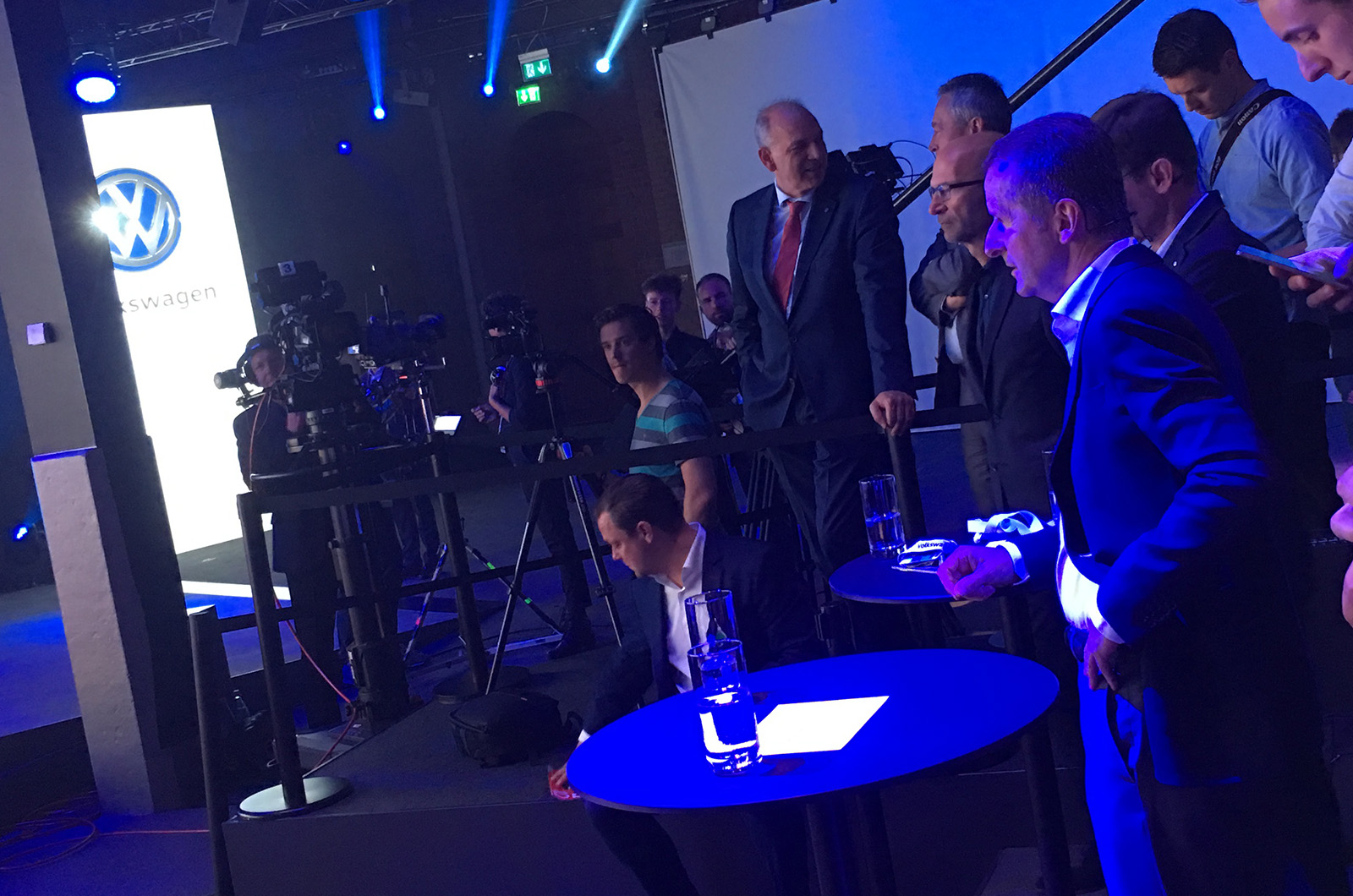 12:25pm: The hubbub is fading, and the floor is filled mostly with video presenters and cameramen. Time to go and photobomb a few shots by getting better close-ups. It's a dog-slightly-inconvenience-dog industry. 
12:35pm: Listening back to the interview to prepare any breaking news, and readying the better snaps to go in-story. Press pictures can't beat live action. 
12:45pm: And seemingly as soon as it started, it's time to go. The mafia-esque procession of black-on-black Volkswagen Transporters awaits, ready to transfer the world's press back to Berlin airport. Time for writing up on the flight home.