"Baptism of fire" is a justified cliché for Jamie Chadwick as she contemplates launching into the new Extreme E electric off-roader racing series this weekend in the desert of Saudi Arabia. She's a single-seater circuit racer; what on earth is she doing here?
"I really don't think my racing background is a problem," says the 2019 W Series champion with her usual ready smile.
"I had doubts whether it would really be the right championship for me with my credentials. The natural assumption would be to go for a rally driver. But after the first tests, I was pleasantly surprised how quickly I was able to get up to speed. That, combined with the amount of training I've had from my Veloce Racing team in the past few months, makes it a championship that anyone from any avenue can come into. If you can be quick in one car, you can be quick in anything."
She's going to have to be: look who she's up against… Jenson Button, Sébastien Loeb, Carlos Sainz Sr and rallycross and DTM king Mattias Ekström are the best-known drivers who have been lured into a venture that also boasts Sir Lewis Hamilton and Nico Rosberg among its team owners.
Each of the nine single-car entries include one male driver and one female as part of Extreme E's drive for gender equality, with Chadwick joined by Spanish Dakar Rally ace Cristina Gutiérrez (sharing with Loeb for Hamilton's X44 team), rally drivers Christine Giampaoli Zonca and Catie Munnings, off-road endurance biker Laia Sanz and X Games star Sara Price.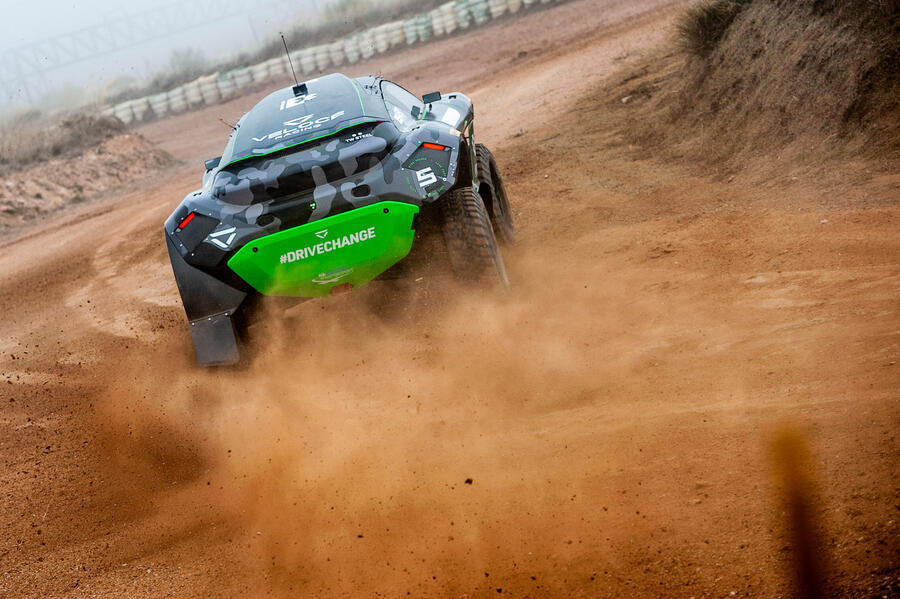 It's a diverse pool of talent, and not just in gender terms, with a great mix of old-timers pitted against youth for a format of wheel-to wheel racing that's a cross between Baja-style off-roading and quick-fire rallycross. We've never seen anything quite like this – and that literally goes for the drivers too, who won't see the course in Al-'Ula until they get there.
Every driver will arrive with minimum time logged in the bespoke (and hairy) 550bhp Spark Odyssey 21 4x4, which is at least a leveller, but Chadwick is still likely to be up against it this weekend.
Good on her for stepping so far outside of what she knows. Still, asking her why she's doing it is a bit like the old Mrs Merton question to Debbie McGee about why she married "millionaire Paul Daniels". This is the most talked-about new series since… well, Formula E, which was also an invention from the fertile mind of Spanish entrepreneur and ex-politician Alejandro Agag.