Bernie Ecclestone's apparent ousting from the helm of Formula 1 has triggered an outpouring of emotions spanning everything from love to hate.
To some degree that's inevitable. Ecclestone has long revelled in playing the role of a mischievous rogue, albeit with a willingness to abandon the mischief for downright ruthlessness if there was a pound sign at the end of the deal.
Here are some quick-fire thoughts that could guide where the pendulum of opinion should settle - and please feel free to leave some of your own ideas below.
Love him
Bernard Charles Ecclestone is the son of a trawlerman who grew up in a tough part of London and who left school at 16. The boy's done good.
He was smart enough to stop racing rather than pursue the dream of making it behind the wheel. Reports vary, but the word is he was a decent-enough driver if not a top-rate one, and he attempted to qualify for the Monaco Grand Prix, albeit unsuccessfully. You have to be smart to walk away from what you love.
After turning his hand to driver management, he twice displayed a level of humanity not normally associated with his public image today. After driver Stuart Lewis-Evans was killed, Ecclestone retired from racing, because he was so badly shaken. Likewise, when his driver Jochen Rindt was killed (subsequently winning the F1 title posthumously) he was deeply affected, and legend has it he ensured Rindt's family was properly looked after.
He saved the Brabham F1 team, buying it in 1972 and owning and nurturing it for 15 years, winning two driver's championships and nurturing the careers of Niki Lauda, Nelson Piquet and Gordon Murray. He remained intensely loyal to trusted members of his team thereafter.
Formula One would not be the global mega-sport it is today without his vision and foresight, not to mention his ability for holding together a disparate group of teams, promoters, circuits and more. His tactics may be brutal at times, but few can argue with the outcome.
At his best, he was brutally, hilariously honest. For a time he was part of a consortium that owned Queens Park Rangers football club, although nobody was sure why, least of all himself. "I leave at half-time," he explained. "By then you can see which way it's going. If you ask me to name five of our team, I couldn't. All bloody nice guys but I don't mix with them so I don't know them well. I don't go in the dressing room. They can walk out of the showers and I feel I've got an inferiority complex.
"
McLaren F1 CEO Zak Brown: next year will be a 'game changer' for the brand
He didn't like lawyers, and nobody but lawyers likes lawyers. "If you say 'good morning' in America and it's five past twelve you end up with a lawsuit," he once said, perfectly summing up his position.
I write this through gritted teeth, but he also said this about journalists: "I can't remember a single occasion when I have been kind to a journalist.
" We're not all bad, but I suspect most will agree with him...
In 1999 he underwent triple heart bypass surgery - and here is bowing out of the sport at the age of 86, almost 18 years later.
His support of safety campaigners - most specifically Professor Sid Watkins - is legendary. What Watkins wanted he got and if he didn't, he turned to Bernie for help.
There were glimpses that he had a clearer vision of what the sport needed than its rule makers. Talking about new engine regs he had this to say: "Under the engine cover, no one cares what's in there. Nobody cares.
" When the hybrid V6 turbo era began in 2014 he described the new engine note as "horrifying".
Hate him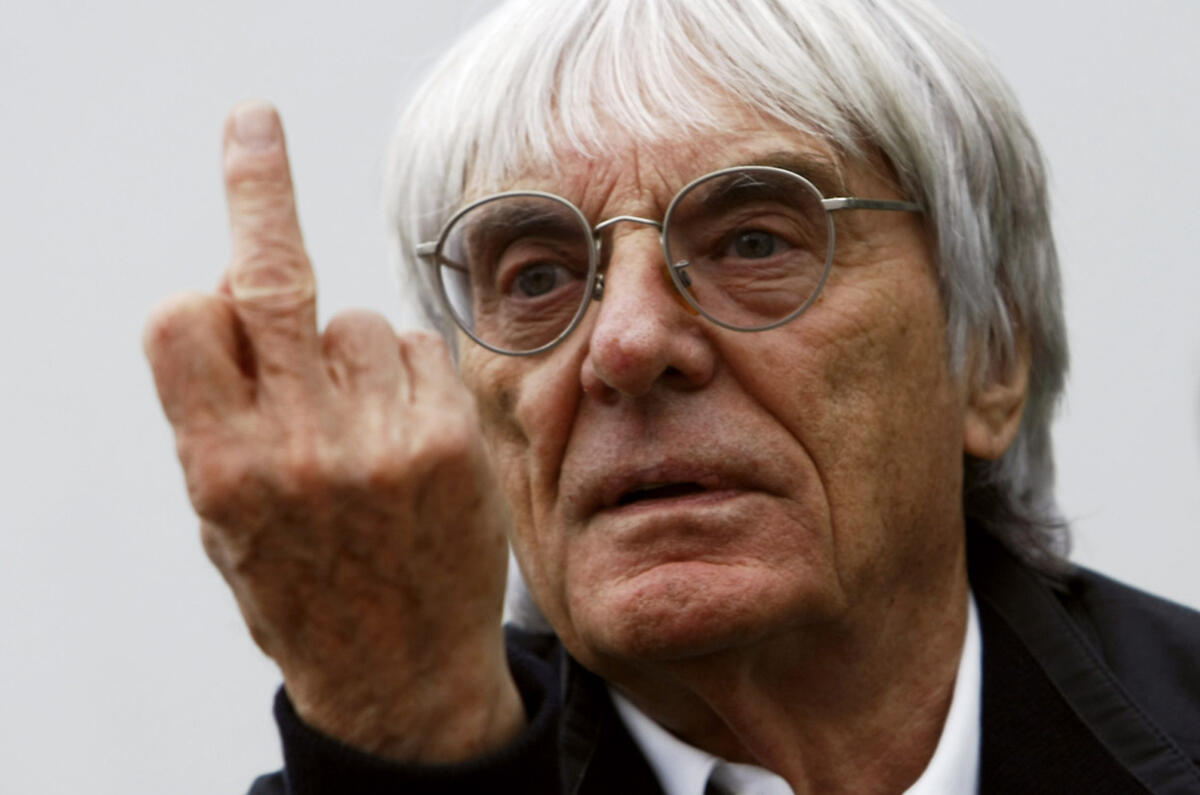 We'll get this out there now: there's enough apocryphal stories about Ecclestone to fill books, if only the aforementioned lawyers weren't so cautious. Many paint him in a very poor light, which is something he's relished over the years, not least the rumours linking him (with no substance) to the Great Train Robbery.
His wealth is founded on the basis of stripping money from the sport he proclaims to love - as his bank balance has grown, the sport hasn't always prospered. Which leads us on to…
... he has taken a personal interest in repeatedly bashing Silverstone, seemingly both because it wouldn't pay the fees other venues would, he didn't like the stuffy way the British Racing Drivers' Club (BRDC) ran the venue and because of personal issues with some of the presidents of the club. There are plenty of quotes on the subject, but this one will do: "When people want to build new tracks, they want to look at Silverstone. We don't want it built like that. It's quite embarrassing."
That's not the end of his foot-meets-mouth moments (not even close): "Women should be all dressed in white like all the other domestic appliances." Oh dear. Donald Trump would be proud.
"With [Vladimir] Putin, he says he's going to do something, he gets on it, does it." Oh dear part two. Although the evidence is Trump may well be proud of this too.
His alliance with FIA president Max Mosley effectively put the gamekeeper and poacher in cahoots, and while there's no suggestions anything untoward went on (high-level investigations decreed as such), if there's one thing guaranteed to cast someone as a villain it is ganging up to get what you want.
He sold the UK television rights to Sky in a brazen cash-grab, and no amount of partial deals with the BBC, ITV or Channel 4 will ever redeem him in the eyes of legions of fans, who were suddenly being asked to pay Rupert Murdoch for the privilege of watching their sport.
In the modern world of sport, he's a dinosaur. He hates social media, he's no fan of video sharing channels and he's only just getting round to getting the internet working in his favour. His reasoning is fair enough - "I'd rather appeal to 70-year-olds with money than teenagers with none" - but to many he's left looking like an anachronism.
Do you love or hate Ecclestone? Leave your answers in the comments section below...