Very few modern cars seem to age as well as the Volvo XC90 has. With its electric replacement (the Volvo EX90) already revealed before its debut in early 2024, this car is so long past being flavour of the month in the luxury SUV segment that some might need reminding that it's still on sale at all. But even today, how great does it still look? And among those who know them, how often do you hear it said that "nothing else will do what an XC90 does"?
There are plenty of other seven-seat luxury SUVs, but if you want one with seven seats along with a tax-friendly plug-in hybrid (PHEV) powertrain, it really is true to say that there are very few other places you can shop. Bascially, it's this or a top-of-the-range Hyundai Santa Fe.
Volvo's particular packaging of the XC90 T8 Recharge's drive batteries and electric rear axle are the reasons why it has had that micro-niche almost all to itself for so long. And after it improved the petrol-electric powertrains of all of its PHEV models quite recently, Volvo has also just updated the XC90's active safety and infotainment systems and realigned its equipment levels in a bid to send it off into retirement in an appropriately respectful way.
As of midway through the 2022 model year, then, the XC90 T8 got a 143bhp electric motor on its rear axle (up quite a way from the old 87bhp one) and a drive battery worth 18.8kWh of installed capacity. The latter finally makes this a sub-50g/km CO2 fleet operator, having missed out for so long on optimal company-car tax qualification.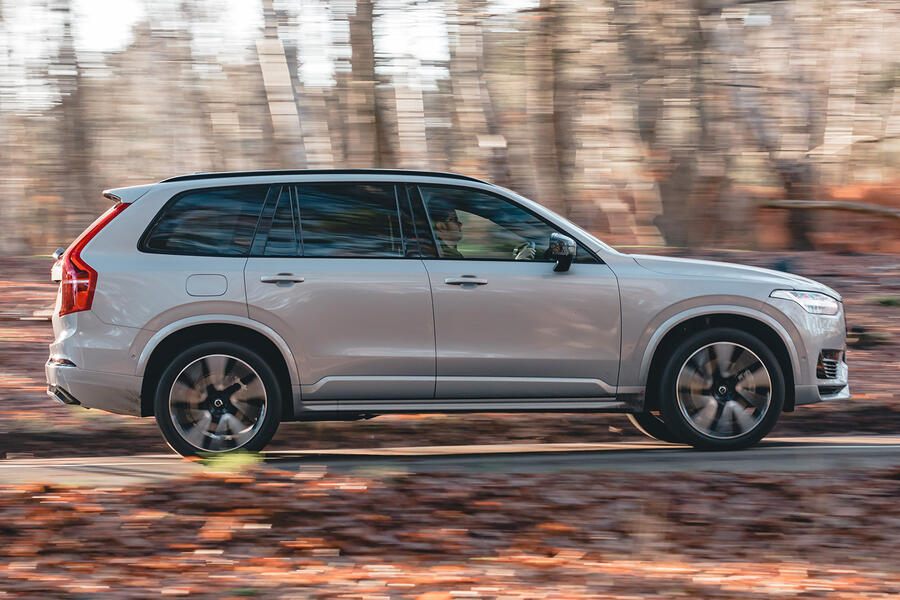 Volvo's latest Android-based touchscreen infotainment system will add welcome connected functionality to the XC90's digital armoury (for owners with the right kind of smartphone, at least), and it works simply and intuitively enough. It has no tactile input device and very few menu shortcut buttons, so usability can feel a little bit laboured at times. Pointing and swiping at a screen with an outstretched hand does divert more of your attention away from the road than moving a cursor around a screen with a manual input device seems to, of course; and it is a little odd that safety-conscious Volvo wouldn't have noticed as much by now, despite how often road-testers observe it. Still, the XC90's system is no worse than a great many in other modern cars in that respect, and the Google-based voice-recognition system actually works very well indeed when you're entering sat-nav destinations and the like, which is a useful compensation.
The rest of the car's cabin, as unchanged as it may be, is spacious, solid-feeling, well-constructed and generally very pleasant indeed. I don't think you would guess that it's ostensibly an eight-year-old design from the way it looks and feels. Our test car had Volvo's Midnight Zinc grey wool-blend upholstery, which makes a very enticing change from the usual leather or imitation-leather seats. Its front seats are generously sized, widely adjustable and comfortable over long distance, while its rear seats are roomy even for taller adults (except in row three).