What is it?
A £72,140 Renault Mégane. As in seventy-two thousand, one-hundred-and-forty pounds sterling. If you were looking for a measure as to just how mad the world is becoming, this is probably a pretty good one.
Of course, this isn't just any old Mégane. It's the Mégane RS Trophy-R, the third installment in a series of seriously hardcore Renaults that stretches back to the magnificent R26.R from 2008, and the one you see here has been done up to the same specification as the car that Renault used to set its record-beating Nürburgring Nordschleife lap time (7min 40.1sec, to be precise).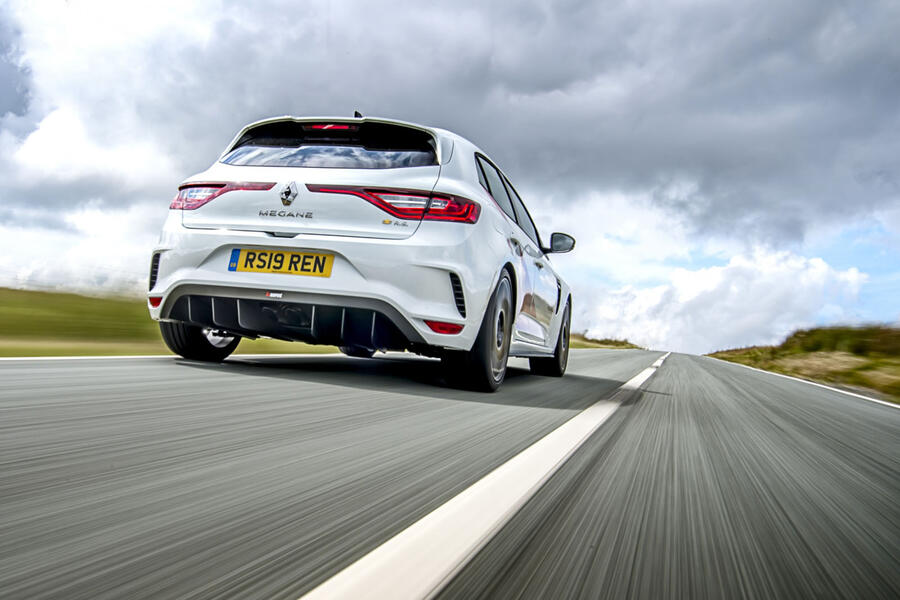 So, you get carbonfibre brakes and a set of carbonfibre wheels à la Ferrari 488 Pista - options that cost a fairly staggering £9000 and £12,000 each. Or the price of a new Ford Fiesta ST-2, to put it another way.
Without those rather, well, expensive optional extras, the standard Trophy-R - if you can really call it that - still costs £51,140. That's £19,305 more than the standard RS 300 Trophy it's based upon. Rest assured, though, that that hefty premium nets you more than a coat of Alpine White paint, a bonnet scoop and some snazzy Trophy-R decals.
In fact, so extensive are the modifications that you could probably dedicate an entire article to the differences between the Trophy and the Trophy-R. But here's a quick run down anyway. A stringent weight-saving regime has resulted in the the Trophy-R being some 130kg lighter than the Trophy, courtesy of things such as a carbon composite bonnet (-8kg), the removal of the rear bench (-25.3kg) and the ditching of the polarising four-wheel steering system (-32kg).
Then there's the adjustable dual-flow-valve Öhlins dampers, the lightweight springs, the increase in front camber and the modifications made to the rear suspension, which include a lighter torsion beam. There's a new front splitter and a massive diffuser at the rear for even greater levels of downforce, while the underbody has been modified to achieve similar results as well.
There's also a titanium Akrapovič exhaust, which not only sheds an additional 7kg of weight but also makes the already waspish, aggressive timbre of the turbocharged 1.8-litre four-pot sound even naughtier. On that note, the engine actually remains unchanged from the one you'd find in the standard Trophy, developing 296bhp and 295lb ft.