What is it?
Porsche never knowingly lets a chance for a special edition pass it by, although this latest 25th-anniversary version of the Porsche Boxster carries with it plenty of extra special significance.
Its inspiration is taken from the original Boxster concept car of 1993 – a car credited with beginning the turnaround of the company that has become the dominant sports car (and SUV maker) of today.
The Boxster production car then went on sale in 1996, in case you thought Porsche had misplaced its abacus and was three years late getting this special out to mark the quarter-century of its baby mid-engined roadster.
This is a special edition based on the five-star 718 Boxster GTS 4.0, which is a fine place to start. So fine in fact that the changes to this model, limited to 1250 units globally, are solely cosmetic - not that that does anything to dent the appeal of what is a really nicely specified model.
Those changes include the gorgeous 20in alloy wheels finished in that same Neodyme copper colour as the original '93 concept – a trim colour that's also used for the side intakes, badges and front apron.
The three colour choices are a similar shade of silver to that show car (the one seen here, and what we would pick), black or white. The roof is either red (go for this for the full 1993 authenticity, too) or black and embossed with the Boxster 25 logo. There's no 718 tag anywhere on the car, either.
Inside, more inspiration from the '93 show car comes in the form of red leather if you've gone for the full authenticity of a red roof, otherwise it's black.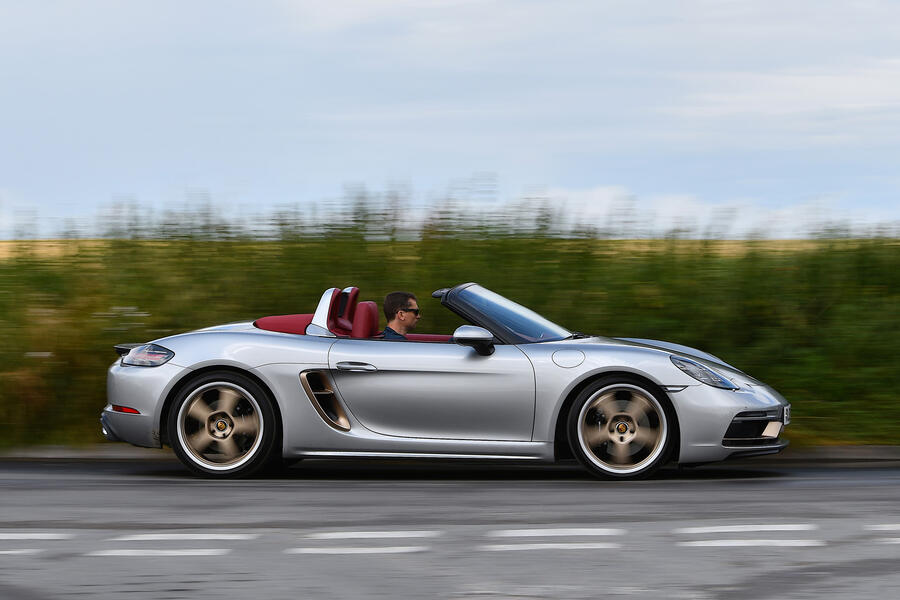 ...