What is it?
This is the new Mercedes-Benz E-Class Coupé, which sits between the smaller C-Class Coupé and larger S-Class Coupé. Far more than just a rehash of its seven-year-old predecessor, this new sleek two-door has been thoroughly engineered in a move that closely aligns it with the latest E-Class saloon, both structurally and mechanically.
Gone is the old C-Class platform that underpinned the previous E-Class Coupé. It has been replaced by Mercedes-Benz's new MRA (modular rear architecture) platform, which brings about an increase in dimensions; length has increased by 123mm up to a total of 4826mm, width has extended by 74mm to 1860mm and, with the standard steel suspension, ride height has also increased by 32mm to 1430mm.
In a move that also endows it with greater levels of interior space, the E-Class Coupé's wheelbase has also been extended by 113mm at 2873mm, while the front and rear tracks are up by 67mm and 68mm respectively, at 1605mm and 1609mm, over the old model, giving it a substantially larger footprint than before.
Mercedes-Benz therefore claims an additional 18mm of head room, 50mm more shoulder room and 38mm more elbow room up front than in the old E-Class Coupé. This increase in accommodation is mirrored in the rear, which has an additional 74mm of knee room, 15mm of head room, 34mm of shoulder room and 13mm more elbow room. Oddly, though, boot capacity has dropped by 25 litres, down to a total of 425 litres.
The new E-Class Coupé is offered with three engine choices in the UK, with one diesel and two petrol units ranging in power from 191bhp to 328bhp. The model driven here is the £40,135 E 220 d Coupé. It runs Mercedes-Benz' latest aluminium-block turbocharged 2.0-litre four-cylinder diesel engine (which is fully EU6 emissions compliant thanks to a selective catalytic converter and urea injection system), producing 191bhp @ 3800rpm and 295 lb ft @ 1600rpm.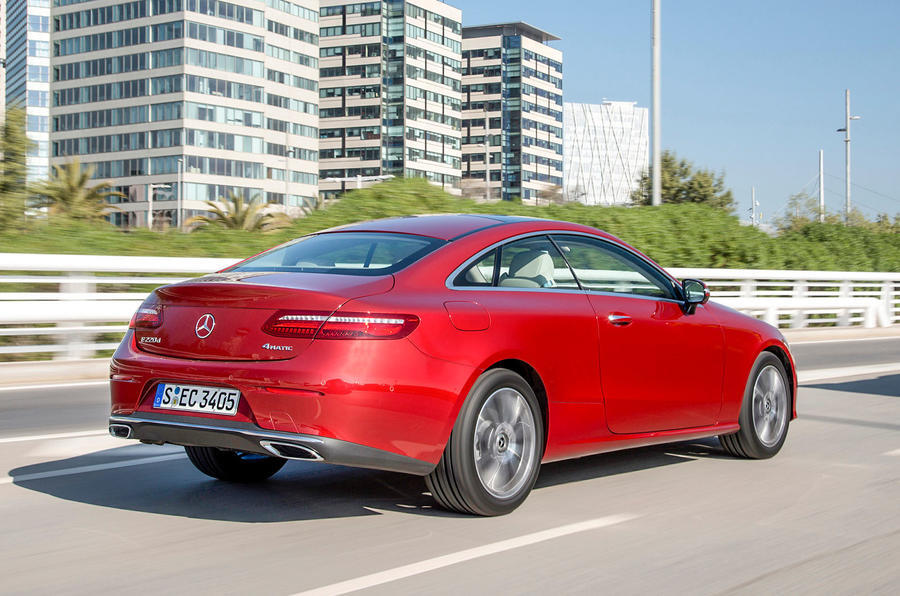 It is joined by the £41,025 E 300 Coupé, which has Mercedes-Benz's widely used turbocharged 2.0-litre four-cylinder petrol engine with 242bhp and 273lb ft, and, at the top of the initial range, the £50,775 E 400 4Matic Coupé, which has the soon-to-be-replaced twin-turbocharged 3.0-litre V6 petrol engine with 328bhp and 354lb ft.