Remember straightforward hatchbacks of Tarmac-sniffing stance and turbocharged brawn? It is, I'm sad to say, a sign of the times that these cars now feel a bit of a novelty.
Hot hatches are dying out, with most of them now in their final evolutionary stage and quite expensive. Fifty-grand Honda Civic Type R, anyone?
Among the stalwarts is the Mercedes-AMG A35, which ticks both boxes. Along with the rest of the A-Class range, it has been refreshed for 2023 before an electric successor arrives a couple of years down the line.
The updated version inherits the bulging bonnet of the hardcore A45 as well as that car's grille, while the Mercedes roundel is swapped for one of the Affalterbach firm's. That last element is curious, and I suppose the message is that this is a proper AMG.
Is it really? Doubts linger. The most 'accessible' AMG product in history, the A35 has always used a modified version of a mainline A-Class motor rather than something AMG-bespoke, so questions of authenticity are fair game. Equally, the new C63 has only four cylinders where previously you got an earth-shaking V8, so what even is authenticity anyway?
With tweaked headlights, a new wheel design and other small changes, the A35 looks sharp enough, although the rear wing is an element the 416bhp A45 only just manages to pull off, so it looks just a bit try-hard on the A35. Fortunately, this dubious aerodynamic addenda comes only with top-ranking (and, at £51,000, conspicuously expensive) Premium Plus trim. Lesser flavours of A35 get a neat spoiler-cum-gurney that reminds me of the original Ford Focus RS.
Inside, Mercedes has done away with the touchpad, so the infotainment is now controlled solely via the crisp touchscreen. In general, the interior continues to trade more on superficial swankiness than unimpeachable quality, but it's hospitable enough. And it has a new steering wheel that's far more attractive, the old and absurdly thick multifunction spokes being binned.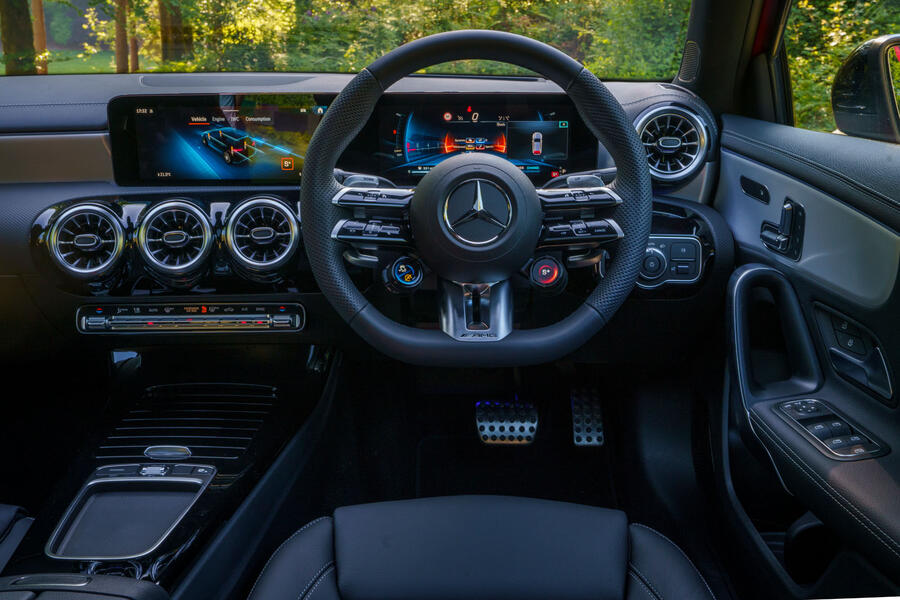 In dynamic terms, five years on from its introduction, the A35 remains an interesting and inconsistent character. You can sense that in some ways it wants to be a B-road attack dog. It's certainly sprung firmly enough for this kind of driving and maintains its composure well when you really fling it along.
At the same time, steering response can be disconcertingly lethargic off-centre, and the seats are neither supportive enough nor nestled low enough to match the tone of intent set by the suspension. So you back things off and try to flow the A35.