Why we're running it: To see if a mid-engined supercar really can work as a commuting grand tourer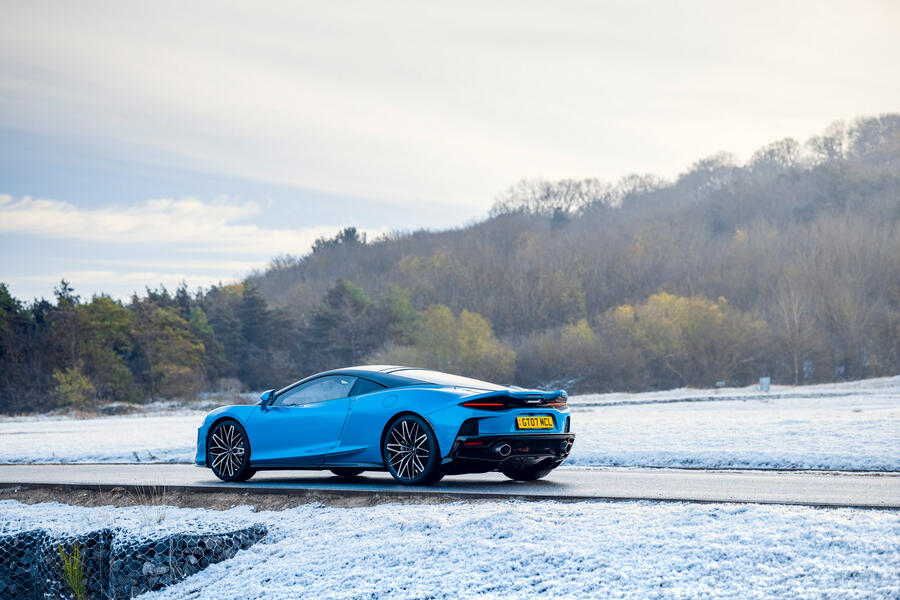 Life with a McLaren GT: Month 2
We've caught the F1 bug and pitted our McLaren for fresh tyres - 23 March 2022
If this truly is McLaren's everyday supercar, it needs to work in all weathers. And while the standard Pirelli P Zero tyres are perfectly acceptable circles of rubber, in cold weather they can come unstuck. (Not quite literally: we're not that brutal on the throttle.)
It's the cold morning start when this was most noticeable. Pulling out of my house is a bit of an exercise in blind faith, as we're on a corner, so sometimes I'll edge into the road only to be greeted by a set of headlights bearing down on me.
At that point, a touch of panic sets in, I tend to jump on the throttle slightly more aggressively than is strictly necessary and things get a little squirmy. It's an obvious and understandable consequence if the temperature is below 5deg C and there's 612bhp sat under your right foot.
So we decided to try some winter rubber. Although we went to McLaren to get these fitted, we didn't get any special treatment: the process is available to every McLaren owner at their local retailer. For £2556 (oof!), you can fit a set of Pirelli Sottozero tyres, which, like their summer brethren, are designed for the McLaren GT. They're the same 225/35 R20 (front) and 295/30 R21 (rear) size, so it's simply a question of wheels off, rubber switched, wheels back on.
What to do with the spares? Most McLaren owners will have a garage in which to store their pride and joy, so it's not really an issue. In theory, and at a push, you could ask your retailer to store them for you, but it's not something that's generally offered.