Our Verdict
Is this a triumph of style over substance or is the fifth-gen Discovery the best yet?
First Drive

Does the Land Rover Discovery – a vehicle designed to put in the hard yards – cut it as an executive company car?

First Drive

Does the new, smaller-engined starter Discovery evince the same inimitable charm when driven in the UK?
Why we're running it: To see how well suited this luxury off-roader is to executive travel, alongside the usual Mercedes-Benz and BMW suspects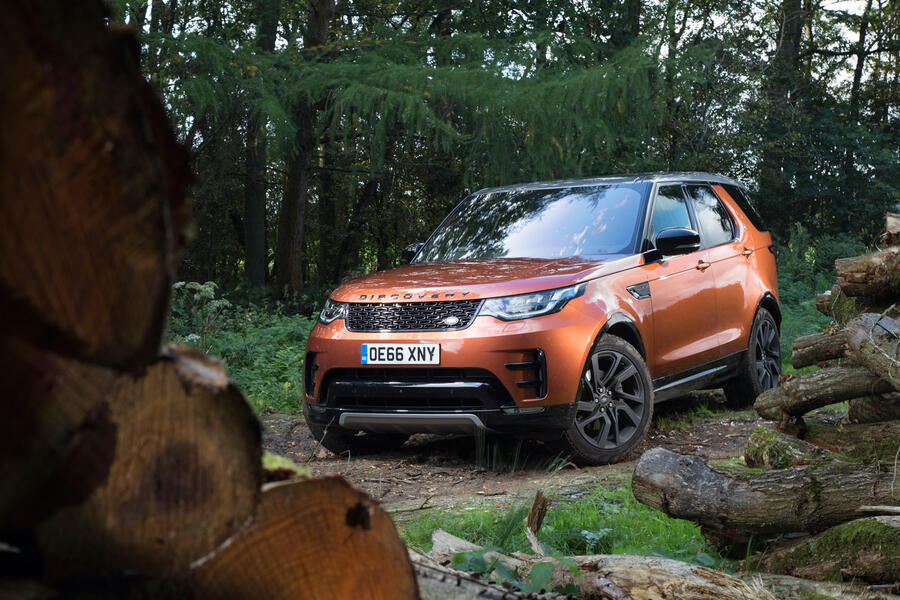 Life with a Land Rover Discovery: Month 2
Revealing the Discovery's many talents – 06 November 2017
When the Discovery arrived on the shores of Lake Autocar, it had received a service at Land Rover HQ because it was wearing around 10,000 miles on its odometer.
I rather like that because, although no car should actually be feeling tired or rough after 10,000 miles, that's usually the kind of mileage after which cars disappear from us, rather than arrive with us, which sometimes hides the nitty gritty of running it.
This brings me to the kind of use we've given the Discovery since it rocked up here, which has involved lots of nit and, indeed, grit.
It's mostly workaday commuting stuff. But, ah, what commutes, my friend: first to a disused quarry in the Midlands.
The tests I put the Discovery through – repeated runs through swathes of mud, at speeds high enough to please our photographers – were ones we expect, and generally find, Land Rovers to deal with ease.
Same pic.twitter.com/kSehakGCfA

— Matt Prior (@matty_prior) December 10, 2017
And this Discovery did, albeit requiring quite a lot of hosing off afterwards and gaining a metallic graunching noise from one front corner.
Metal on brake, I reckoned, and so it proved – but nothing serious. The discs have thin backing plates and the pressure of a water splash had pushed one into the disc. So I pushed it away again with my fingers. Problem solved.
Its next run was to Spa-Francorchamps, where it was my support car for a 24-hour race in a Citroën C1. While some competitors napped in a camp chair if they were unlucky, or retreated to a motorhome if they weren't, I parked the Discovery in an underground car park behind the pit lane, folded down the rear seats and kipped in the back.
That, plus regular commuting, at a still fairly epic rate, has upped the mileage to 15,500 in a very short space of time.
And it's the early or late commutes, when the weather is pants but motorways are fairly clear, where the Discovery really seems to get into its stride. Its ride is always good, particularly so at motorway speeds and, for a high-sided car, straight-line stability and resistance to crosswinds is really exceptional.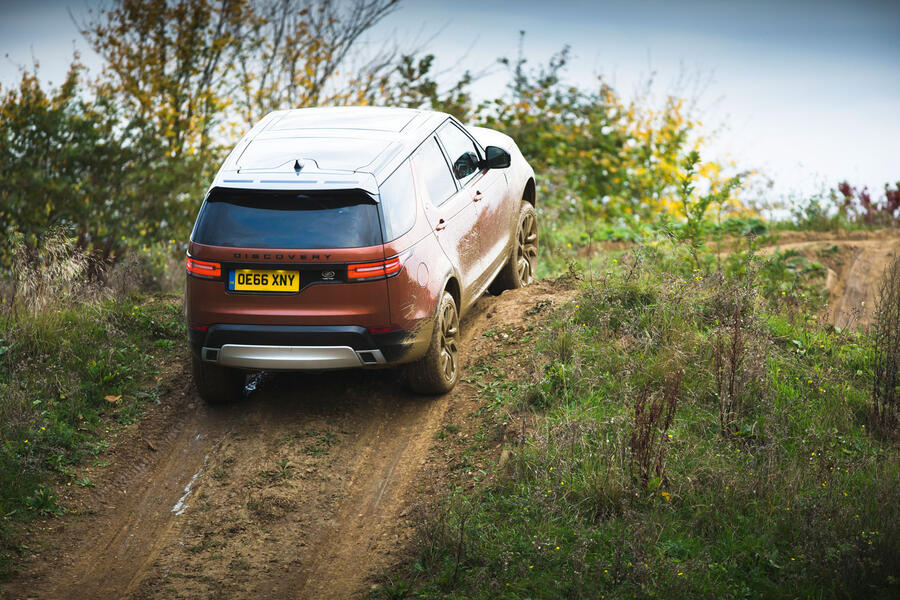 I like its big front chairs, with an adjustable height armrest, its steering's solidity at straight-ahead and the 3.0-litre turbodiesel's willingness to throb away near silently, while there's precious little wind and road noise too. It's a great mile eater.
I was surprised to see, then, the dashboard tell me that another service is imminent. I've queried it with Land Rover, who say it's probably the diesel particulate filter that just needs clearing, so I'll book that in imminently and report next time around.
Meantime, it also started running short of Diesel Exhaust Fluid (DEF), or AdBlue as it's known under trademark.
Despite the amount of miles I cover, this was a first for me. The handbook recommends you visit a dealer but really there's no need; follow the instructions, fill the tank enough and the warnings go away.
The Discovery 5's DEF tank capacity is almost 18 litres and I put in 13.5, which shut the warning light up. At a usage rate of a litre per 500 miles or so, that should be good for up to 9000 miles. Some owners will get a year out of that. We won't, but that's no bad thing.
Mileage: 15,511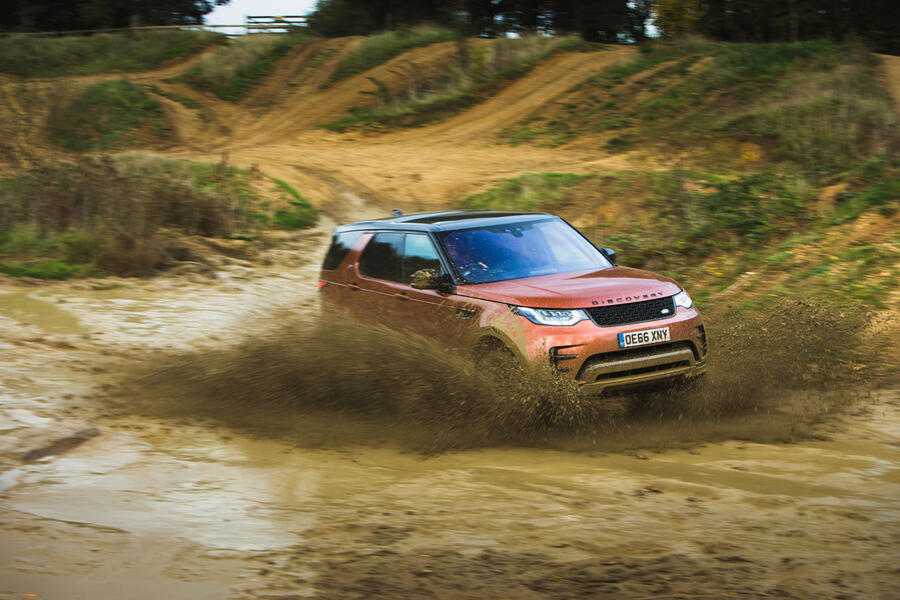 Life with a Land Rover Discovery: Month 1
Discovering green lanes in the Disco – 15 November 2017
"This sign may be varied to indicate that a road is not suitable for a type of vehicle," says the Highway Code.
Which leaves things sufficiently open to interpretation that nobody else wanted to use this handy road, with a parking space (of a fashion) to one side.
You've got to use the advantages of driving a car like this when you can, haven't you?
Mileage: 11,450
Welcoming the Discovery to our fleet – 18 October 2017 
Before you look at the price of this Land Rover Discovery, it's worth noting that more than half of Discovery buyers opt for the top-specification trim.
Because the price as tested (£74,420), or even perhaps the basic price (£64,195), might cause an involuntary breath to leave your mouth, as it did mine.
But this is not unusual, and it speaks of where Land Rover is today. The Discovery is, at the very least, an executive car, nudging towards a luxury car.
Take a look around: there are loads of them specced like this. It's a way of having a car that's as luxurious and well appointed as, oh, I dunno, an up-spec Mercedes-Benz E-Class, or a BMW 7 Series, without anybody thinking that you're on an airport taxi run.
We're running this shiny new Discovery – about 10,000 miles on the clock, fresh from its first service, having served a few months' time as a press demonstrator before it came to us – to see how well it will do the whole executive transport thing.
Not that I am an executive – or anything like, obviously – but most of my driving is similar to those who will use a Discovery properly: early starts, to hammer along a motorway, and then subject it to the harsher vagaries of domestic duties at the weekend.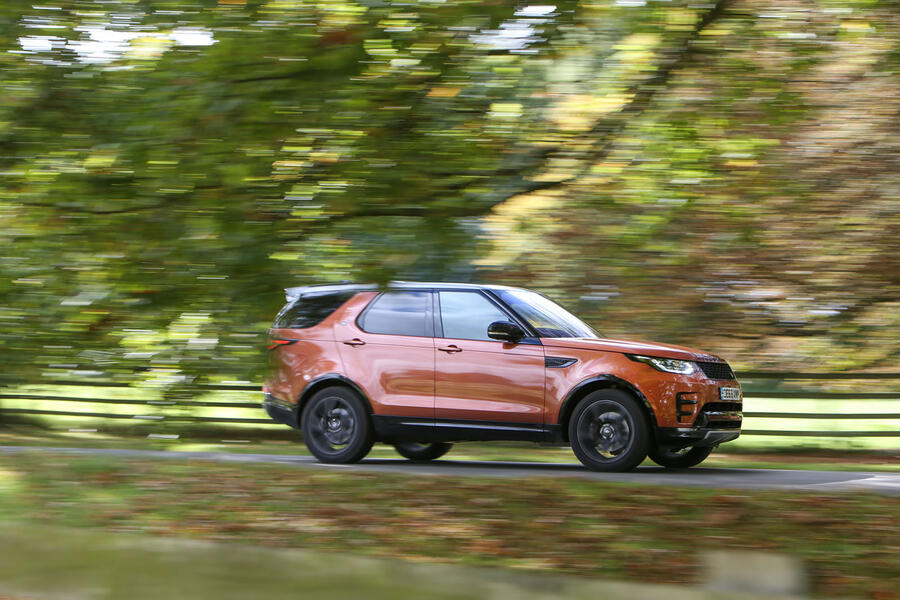 Besides, they said, you live in the sticks, Prior, so surely a rufty-tufty 4x4 is up your street, while relieving me of the keys to a Mercedes-Benz E-Class wagon, which will now be run by Matt Burt.
The E-Class/Discovery handover is an interesting one because, to an extent, they have to do the same things.
Sure, the Land Rover has to do more, off-road, and if hauling things, but they could feasibly both end up on your company car list. And for the Discovery's extra versatility, it doesn't necessarily follow that potential buyers will cut it too much slack when they come to picking between the two.
But buyers should be aware. As a strict road car, the Mercedes is, ultimately, the nicer thing to drive. Lower, more agile, more economical at the same performance levels.
But the Discovery counters with the characteristics that are a result of its mechanical layout. You're well isolated from road noise, the ride is extremely good, great visibility is afforded by your height (to the expense of those around you, granted) and there's a tremendous sense of imperviousness in poor conditions.
Standing water affects the stability of a Discovery far less than it does lower cars on lower-profile tyres; while, as weather starts to turn, increasingly mucky country lanes don't seem to fling mud quite so far up the Discovery's body side as lower cars. And it doesn't look out of place when it does.
I haven't yet challenged the full off-road or towing capability of our test car. It's only been with us a few weeks. But I have put the long-distance cruising and practicality to use.
This is going to be handy. 'Activity Key' sits on your wrist so you can leave the proper key in the car rather than worry about losing it. pic.twitter.com/WGftIp0yqf

— Matt Prior (@matty_prior) September 16, 2017
Noise levels are pretty low, the ride is controlled enough on twistier roads – considering the kerb weight, which must be 2500kg if it's a day – and the seats remain extremely comfortable over a distance.
Seats in the back feel just as comfortable as those in the front. And the climate control feels nicely over-specced. Via an option, the seats in the back are cooled, as well as the standard heated, plus those in the third row (which I haven't used yet) are heated.
This car is quite serious about keeping you at the right temperature. And I'm a sucker for a heated steering wheel, especially given that the steering has a pleasing weight, speed and self-centring that Land Rover and Jaguar are really pretty good at.
They are less renowned at infotainment and so on – and while the latest Range Rover, the Velar, will go quite a way to improving that, this Discovery gets the touchscreen the car was launched with.
It's versatile, I'll give it that. There are several home screens to scroll through, giving control of everything from electrically dropping the seats through to (an option, but a very cool one) a system that lets you reverse a trailer to exactly where you want it, via the screen and adjusting the Terrain Response dial, without the hassle of counter steering and fumbling.
I like to kid myself that I'm second only to artic drivers when it comes to reversing, but I'm quite excited to try that regardless.
But some bits of the screen are a bit fiddly. Sometimes the system forgets it's synced to the music on my phone. Inputting destinations can be slow. You get used to all of this, but it's a pity this car came earlier than the Velar's system. Can't be helped.
That aside, the Discovery is easing into daily life very nicely. So far, it's returning around 30mpg from its 3.0-litre six-cylinder diesel, which is impressively refined and, at 255bhp, quite brisk enough.
It sometimes pays to leave the eight-speed auto in S rather than D for ideal step-off response, which is one of those tricks you discover on a long test like this, as you learn to get the best out of what already seems like a very impressive car.
Second opinion
The last big car like this I tested was a Volvo XC90 and, although I like the cut of that car's jib (and its appearance), it was harder to get in and out of it in car parks than the Discovery.
They're about the same width so the Volvo's doors must be longer or thicker.
Stan Papior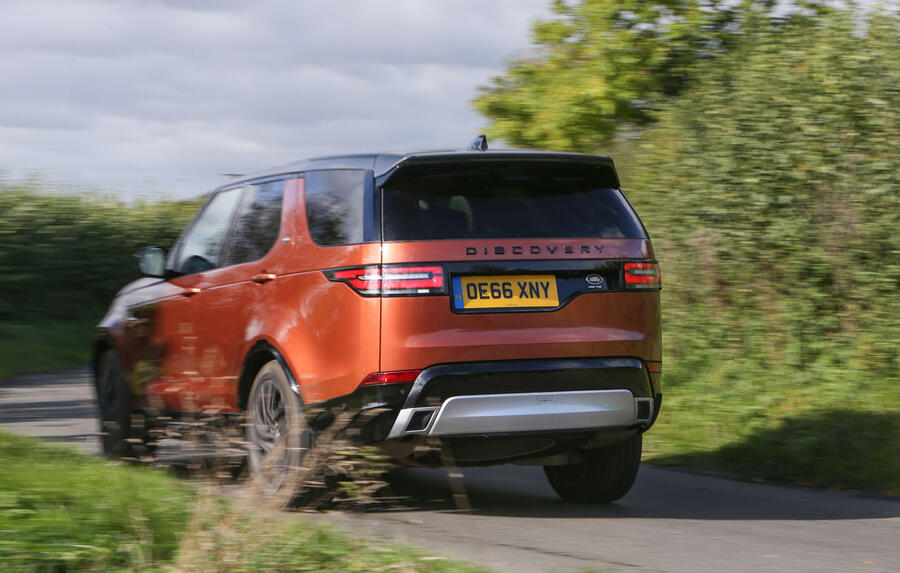 Land Rover Discovery TD6 HSE Luxury specification
Specs: Price New £64,195; Price as tested £74,420; Options Namib Orange premium metallic paint (£1660), privacy glass (£390), Dynamic Design pack – includes Narvik Black exterior trim, grey contrast roof, 22in black alloys, black headlining, floor mats and veneer door cards, a Windsor leather steering wheel, aluminium paddle shifters, dark brushed aluminium interior trim (£2340), electrically deploying towbar (£985), tow assist (£365), Capability Plus pack – includes active locking rear differential, Terrain Response 2, All Terrain Progress Control (£1000), cool box (£235), activity key (£315), TV (£880), head-up display (£1035), second row 12V sockets (£110), heated and cooled second row and heated third row seats (£835), timed climate control (£1035)
Test Data: Engine 2993cc, V6, turbocharged diesel; Power 255bhp at 3750rpm; Torque 368lb ft at 1500rpm; Top speed 130mph; 0-62mph 7.7sec; Claimed fuel economy 39.2mpg; Test fuel economy 30.1mpg; CO2 189g/km; Faults None; Expenses AdBlue (£25)