What is it?
The top-of-the-range diesel version of the new Land Rover Discovery '5', soon to be seen displayed up on ramps and at improbable and eye-catching angles outside various Land Rover dealerships near you.
Powered by a 254bhp 3.0-litre turbodiesel V6 and coming with an impressive list of standard equipment that includes LED headlights, a 14-speaker premium audio system, rear-seat entertainment screens and 21in alloy wheels, this version of the Discovery is probably Land Rover's biggest in-house threat to the continuing sales success of the Range Rover Sport - although you can bet your pension that Land Rover itself won't be selling the car in those terms.
It's a mightily plush and upmarket car, then, but somewhat different than the Range Sport, and also nothing less than the most capable car that Land Rover claims it has made to date. As a result of the move away from the Discovery 4's old semi-separate chassis, the Discovery's ground clearance has actually been reduced from 310- to 283mm (which, whisper this, is actually no more than a Mercedes-Benz GLE gives you at its most rugged, and less than you'd get from a Mercedes-Benz GLS).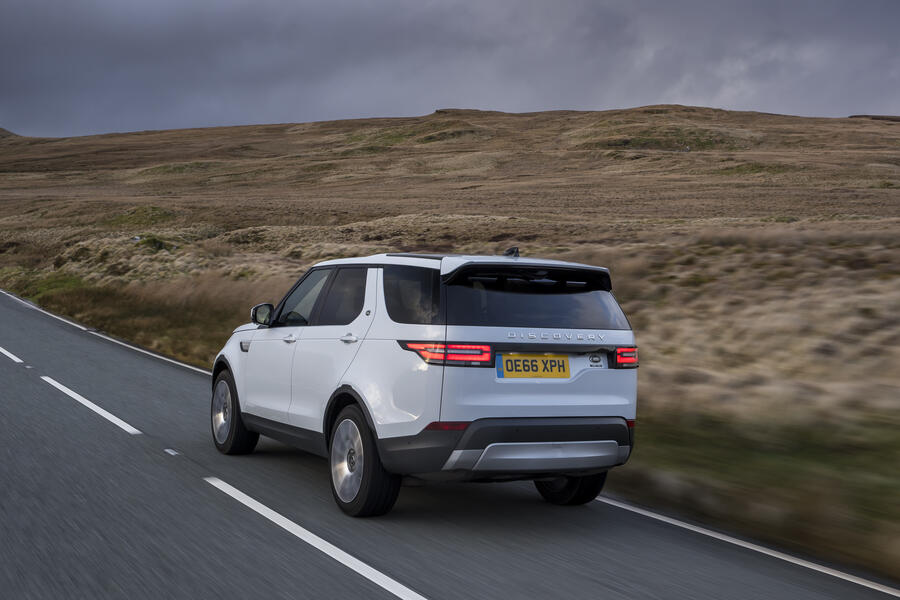 But the new Discovery will wade through as much as 900mm of water, is considerably lighter than the car it replaces, retains a low-range transfer gearbox and has a more sophisticated suite of electronic 'terrain response' traction and stability control systems than any Land Rover that has come before it.
Not that so rare a combination of off-road capability, onboard luxury and typical Land Rover-brand suburban-set desirability comes cheap, of course. Land Rover charges £8000 more for this car than either Audi does for an equivalent Q7 or BMW does for an X5 30d; some of which premium is justified by the Discovery HSE Luxury's amount of standard kit. But that high showroom price, multiplied by the high benefit-in-kind (BIK) tax banding that a relatively large, heavy and un-aerodynamic Land Rover inevitably comes with, will probably make this Discovery pricier to own than its rivals by hundreds of pounds per month rather than by tens.
With that in mind, you might well observe that the TD6 engine only improves on the 0-62mph performance of the cheaper-to-tax 2.0-litre SD4 model by a couple of tenths of a second. Plus, you might note Land Rover's own admission that the four-cylinder car actually handles better, and then you might wonder if the V6 is worth the considerable extra outlay. Well, in our book, it certainly is: provided you're buying a Discovery for the reasons that Land Rover expects to motivate you.