Why we're running it: To see if the heavily updated SUV in mild-hybrid diesel form is a worthy contender in this segment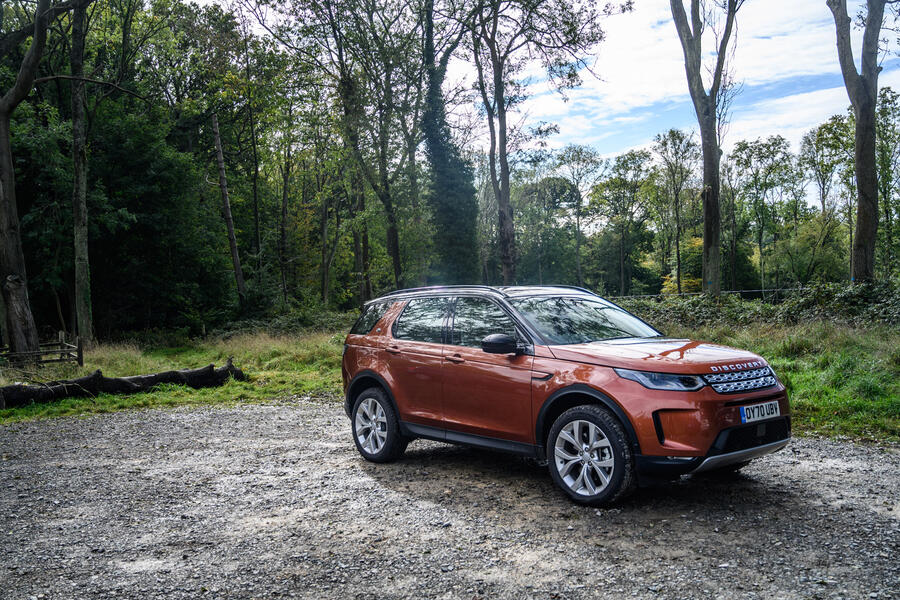 Life with a Discovery Sport: Month 3
Time is up with our premium SUV. So, 6000 miles later, how did it fare? - 24 February 2020
These past 12 months have been strange for us all but perhaps easier for the cars that might otherwise have been transporting us to events, meetings and airports across the UK.
When I took over the running of our long-term Land Rover Discovery Sport from Rachel Burgess late last year, it hadn't quite done 1000 miles in its first few weeks with us. Rachel did what she could to put some distance under the car's wheels, taking it pretty much all the way to Land's End on holiday back when you could, well, holiday. How we lived. My working life, however, has remained pretty itinerant, so I soon redressed the balance. The car is now going back to Gaydon having had just under 6000 miles added to its odometer and a veritable mountain of Costa coffee cups and sausage- sandwich wrappers added to its various storage cubbies (which I cleared out, I promise).
Those miles were for the most part comfortable, cosseting and agreeable, although they weren't dealt with quite as practically or economically as I might have liked. I will miss the Land Rover in many ways, but it's the car it might have been that I really long to drive.
The Discovery Sport arrived with us in October, and everyone who ran an eye over it – including me – cooed at the idea of living with such a versatile and luxurious daily operator. It's funny how luxury quickly becomes normal. For my first week or so with the car, I remember feeling lucky every time I got in it; later, I had to remind myself to look around the interior and appreciate the car's qualities – and to allow no opportunity to tackle a muddy track or a grassy field to fall by the wayside.
To drive the car on the road was like having a kind of internal conversation with it – one of ups and downs and which never quite resolved itself. Long trips were always enjoyable, provided the infotainment system was getting on okay with my iPhone (it wasn't always). The driving position was excellent, the seat really comfortable and the ride quiet and plush. Visibility took some beating, too.
Cabin ambience is something modern Land Rovers do really well, I think, and while the Discovery Sport's predecessors didn't always uphold the company's highest standards, this one certainly does. There's more variety in the choice of materials than you will find from the premium German brands, yet that broad palette of light and dark trim is well handled. There are one or two areas where a more solid, upmarket finish might have worked better, but you really have to hunt for them.
Rachel thought the diesel engine was surprisingly refined. For me, it was noisier than I would have liked, but of greater disappointment were its low-speed drivability and overall economy. Both Rachel and I are city dwellers, so economy will suffer for that. But because I racked up the miles a bit, I managed to bump up Rachel's figure of 34mpg to 36mpg. Even so, I reckon any reasonably sized modern car that can't manage 40mpg on a long trip is missing the mark. Unless you're very careful, this one would fall short too easily.