What is it?
If you're familiar with Donington Park, you might just recognise this car's colour scheme: the blue and white of the circuit's kerbs and tyre walls and the flash of red that's borrowed from its logo. This is the Caterham Seven 420R Donington Edition, a car that jointly celebrates 60 years of Caterham Cars and 40 years since the reopening of one of Britain's prettiest circuits.
Rather than being a full factory model, the Donington Edition is the work of BookaTrack Caterham (for the uninitiated, BookaTrack is the renowned trackday company that recently secured the Midlands Caterham franchise, its showroom located at Donington Park). Just 10 such cars will be built, priced at £47,500 apiece, with orders being taken now.
The 420R sits right below the unhinged 620R in the Caterham line-up. It doesn't have the supercharged model's frenzied power output but, with 210bhp from its 2.0-litre Ford Duratec motor, and weighing no more than 560kg, it is still terrifyingly fast. In fact, its power-to-weight ratio is comparable to that of a McLaren 570GT.
The Donington Edition isn't just a 420R with a new colour scheme, though. Unlike the regular model, it uses a six-speed sequential gearbox (the same transmission that's found in the 620R and Caterham's top-spec racing cars). It also has a competition roll cage and aero screen – there's no windscreen or roof option whatsoever – as well as racing springs and dampers. The suspension rates and geometry have been tuned specifically for this model.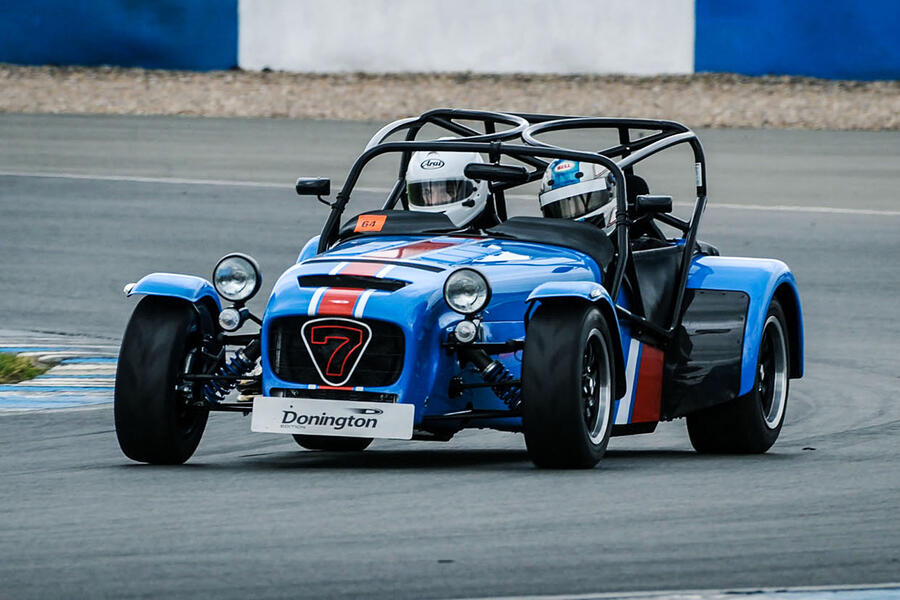 In fact, in many ways, the Donington Edition is simply a road-legal version of the cars that compete in Caterham's top-flight racing category (until last year, the series was labelled R300-S, but for 2017 it was rebranded 420R to bring it in line with the company's range of road cars). The differences between the two Sevens are minimal: the Donington Edition still uses a race clutch but it's not as tricky as the competition car's; it features a rear exit exhaust that complies with trackday noise limits; and it does away with the racing car's expensive carbonfibre wings. There are a handful of other minor differences, too, but as far as all the stuff that determines the driving experience goes, the two cars are basically one and the same.