Our Verdict
The BMW 5 Series has been the go-to mid-sized executive saloon, and G30 generation brings 7 Series luxury limo quality to the class, but is it still the best?
First Drive

The BMW 5 Series is top of the mid-exec pack, but is there still room for a diesel saloon in everyday family life?

First Drive

The all-paw M550i is a fast, effortless mile-muncher, but there's a reason why it won't be sold in the UK
Why we're running it: The BMW 5 Series is the go-to executive saloon for those who enjoy driving. But is it also a great family car?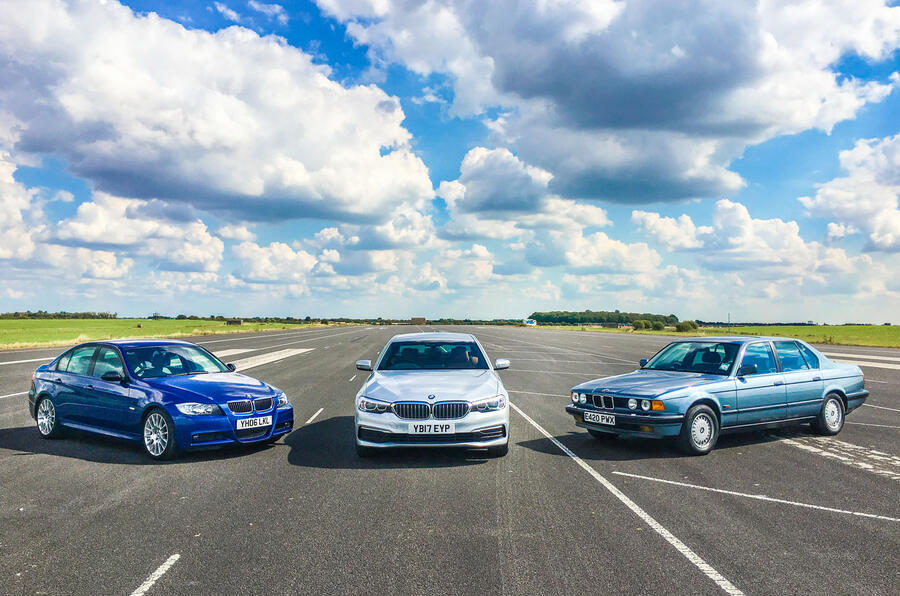 Life with a BMW 520d: Month 2
Qualms reading the 5 Series speedo – 15 November 2017​
Sometimes you don't realise how dependent on something you've become until it has gone.
As I mentioned in my first report, I ran a Volvo S90 before the 5 Series and, in most respects, this experience serves only to highlight how much better the BMW is in key areas. However, one thing I really miss about the Volvo is its head-up display.
BMW does, of course, offer one of these. It costs £225. But this box on the options list wasn't ticked when our car was being ordered – a mistake that I'd urge anyone currently considering a 5 Series to avoid duplicating.
Having to look down at the instruments from time to time might not seem like that much of a hardship.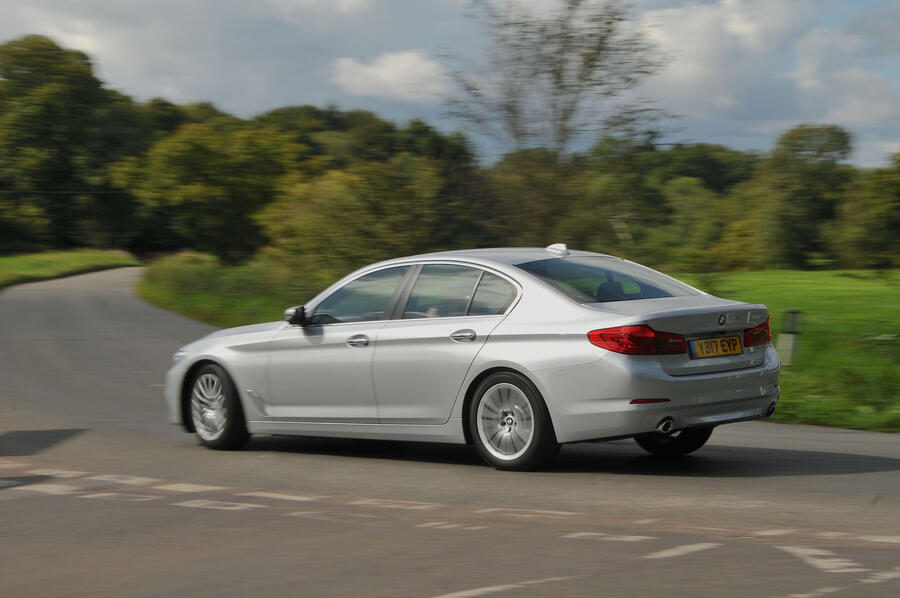 However, in a car that's as good at shutting out wind, road and engine noise as the latest 5 Series is, it's actually all too easy for your speed to creep up between glances without you realising. And in the speed-camera-infested world in which we now live, that's obviously a concern.
What makes it worse is the fact that the speedo isn't particularly boldly marked in the 5 Series – when it's being driven in Normal mode, at any rate – so checking how quickly you're covering the ground actually requires a little more than a glance.
But at least there's a solution to this: switching to Sport mode not only turns the instruments red, but it also brings a large digital speed readout.
As a bonus, this Sport setting can be customised, allowing you to have the Sport instrument display but return the suspension, steering and engine to their more comfort-orientated settings if you wish.
Personally, I think the 5 Series is at its best when everything but the suspension is set to Sport. That way, it feels sharp and responsive, yet it glides across poorly surfaced roads and still keeps body roll well controlled in bends.
Unfortunately, there are still a couple of irritations, most significantly that you have to reselect Sport every time you start a new journey. Having gone to the trouble of setting up my preferences, I can't help thinking that the car should then default to these.
The other issue is that the engine stop/start system doesn't work when the car is in Sport, even if you return the engine itself to Normal mode. I'm not sure if this is actually costing me much in fuel economy, but I plan to test it in the coming weeks.
800km in the @whatcar COTY yesterday. My trumpet is out and I'm blowing it - we made a bloody good choice. pic.twitter.com/dZFvHnElVv

— Rory White (@RoryWhite12) September 29, 2017
At the moment, with stop/start off most of the time, it's averaging almost 45mpg, which I'm quite impressed with, given that my daily commute usually involves plenty of congested urban roads.
Meanwhile, the car will top 50mpg on long motorway runs without me really making a particular effort to drive efficiently.
Okay, these figures are no more than you'd expect from a modern diesel executive saloon. But they were put into perspective for me recently when I swapped into a plug-in hybrid SUV for a few days and averaged just 24.4mpg in similar conditions.
Maybe we shouldn't be so keen to jump out of our diesels after all, despite fears that they may be subject to additional charges in future.
As for the 5 Series, the next thing on the agenda is a family holiday in France.
More on that in my next big update.
Mileage: 3543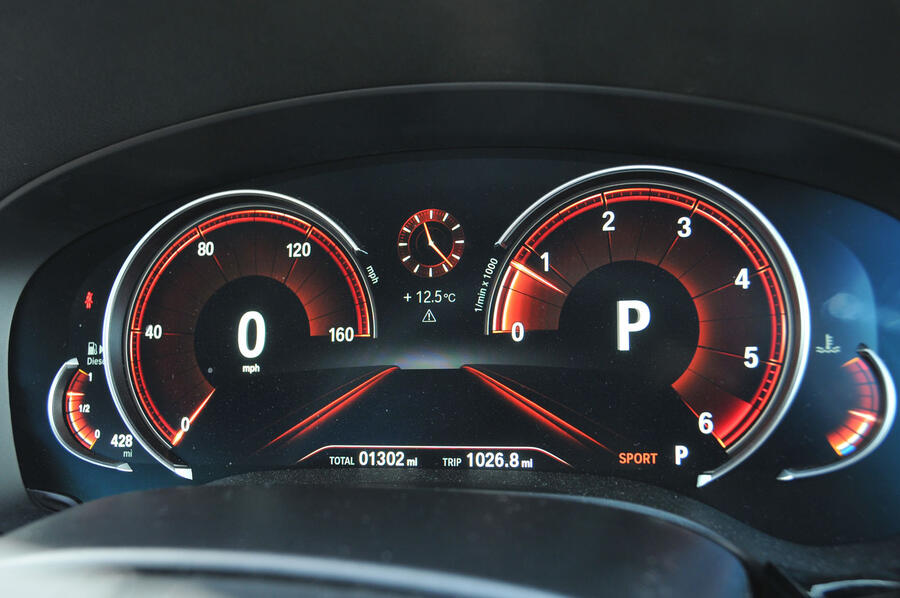 Life with a BMW 520d: Month 1
Complicating the situation with gestures – 18 October 2017
While the optional Gesture Control lets you impress passengers by rotating a finger in the air to adjust the stereo volume, it's simpler to just reach for the button on the steering wheel.
The way the system lets you answer or decline calls with a swipe of your hand is more convincing, although I'm still not sure it's enough to justify the £160 cost.
Mileage: 3280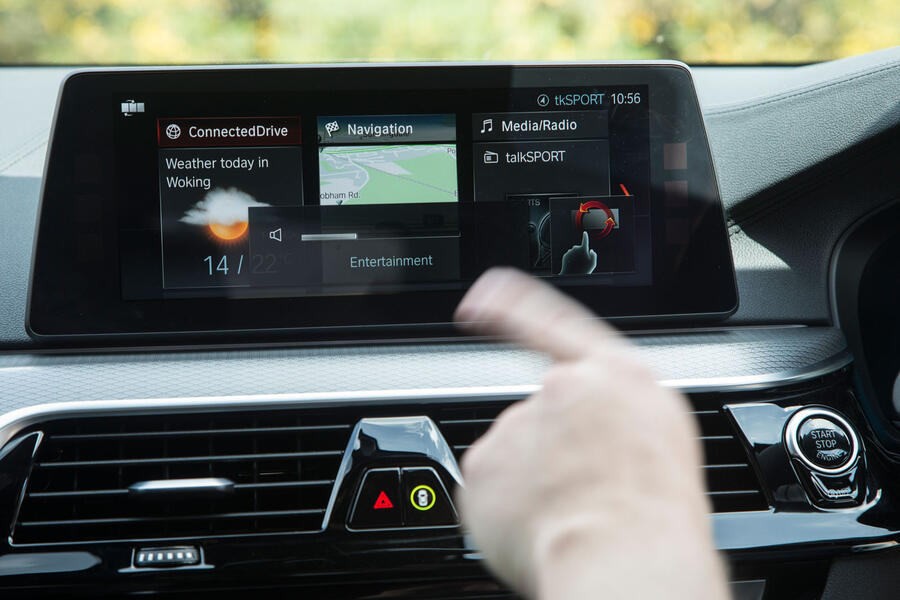 Welcoming the 520d to our fleet – 27 September 2017
The BMW range may have mushroomed over the past decade or so, with the brand moving into every market niche imaginable, but that doesn't mean it has taken its eye off the ball when it comes to traditional models like the 5 Series.
Blending supreme ride comfort with a cutting-edge interior and – whenever it takes your fancy – exciting and entertaining rear-wheel-drive dynamism, the latest 5 Series' numerous talents make it our pick of the current executive car crop.
Predictably, it was close when we tested it against the Jaguar XF and Mercedes-Benz E-Class earlier this year but the 5 Series won out by virtue of it being the best all-rounder.
Here's the thing, though: can all the people who now buy SUVs instead of big saloons be wrong?
Or when you start a family, as my wife and I recently have, do you suddenly see the light and start to wish you had an X as well as a 5 in your BMW's name?
I'll be finding out for myself in the months ahead but, for now, I'm still marvelling at just how far BMW has moved this new 5 Series on from the previous version, which, let's be honest, wasn't exactly shabby.
Okay, the new car maybe looks a bit too much like the smaller 3 Series and bigger 7 Series, but being based on the same Cluster Architecture (CLAR) platform as the 7 Series is a real benefit because it incorporates aluminium, magnesium and titanium to help reduce weight by up to 100kg.
This is good news for both performance and fuel efficiency, and the sense that you're basically getting a 7 Series limo for a lot less cash continues when you climb into the cabin of the 5 Series. The switchgear is pretty much identical and the materials are just as classy, plus six-footers have enough space to stretch out in the rear as well as in the front.
When deciding which engine to go for, we were tempted by the effortless performance of the 530d's 3.0-litre diesel unit but, ultimately, we've gone for the 2.0-litre 520d because this is bought in much bigger numbers.
To be more accurate, it's easily the most popular version among the company car drivers who make up the bulk of 5 Series 'owners', thanks to sub-110g/km CO2 emissions that bring correspondingly low benefit-in-kind tax bills.
Where most people opt for the sporty-looking M Sport trim, though, we've stuck with the cheaper SE specification because this has smaller alloy wheels that improve the ride and it still comes equipped with everything from satellite navigation and leather upholstery to front and rear parking sensors and an eight-speed automatic gearbox.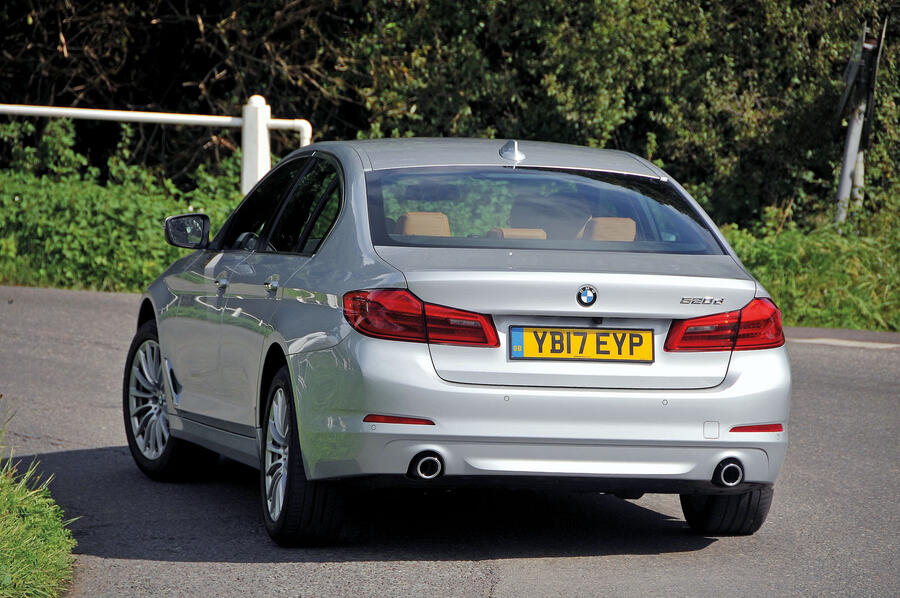 BMW also offers a long list of optional extras, from which we selected the Electronic Damper Control system (£985), which lets you soften or firm up the suspension to suit the road conditions.
The £895 electric front seats with driver's memory seemed like another sensible addition, given that lots of different people will be sampling the car during its time with us.
And although it feels a bit cheeky of BMW to charge £335 for split folding rear seats, these do bring useful extra versatility.
Our car also has several options that BMW was keen for us to try, including gesture control (£160) and a Display Key (£235) that lets you remotely check whether the doors are locked and the lights are off, and even prep the air-con to come on in time for your return to the car. I'll report on whether these features are worth the money after I've spent more time using them.
In the meantime, first impressions of the 5 Series are almost entirely positive, and I've been particularly impressed with the engine refinement. In the past, four-cylinder BMWs have been a bit grumbly at town speeds and when cold, but the latest 520d is always super-smooth.
In this respect, it's significantly better than my previous long-term test car, a Volvo S90. Although both cars are comfortable cruisers, the S90 feels like the heavyweight it is on winding roads, whereas the 5 Series disguises its bulk brilliantly when you put it in Sport mode.
Perhaps the biggest difference, though, is in their respective infotainment systems. The S90 features a large touchscreen that looks smart and lets you swipe, pinch and scroll as you do with an iPad.
Unfortunately, although this sounds good in theory, the system is actually rather slow to respond and can cause you to take your eyes off the road.
By contrast, the latest iteration of BMW's iDrive set-up is almost impossible to fault. As in the S90, the screen is touch-sensitive, so you can quickly punch a destination into the sat-nav when stationary, but there's also a rotary dial and some shortcut buttons that are far less distracting to use on the move, plus the menus are more intuitive and there's none of the Volvo's sluggishness.
As for gripes, there really is very little to report at the moment. Fingers crossed, that won't change – but, if it does, you'll read it here first.
Steve Huntingford
Second Opinion
Can we talk about how brilliant iDrive is? This 5 Series was the first BMW to receive the latest version, which allows you to set custom tiles on the home screen for your favourite functions, and it has made an already good system great.
For sheer ease of use, it leaves the Audi MMI and Mercedes-Benz Comand set-ups leagues behind.  
Darren Moss 
BMW 520d SE specification
Specs: Price New £36,815; Price as tested £42,815; Options 18in multi-spoke alloy wheels (£995), Electronic Damper Control (£985), electric front seats with driver's memory (£895), Glacier Silver paint (£675), enhanced Bluetooth with wireless charging (£475), front sports seats (£475), reversing camera (£375), folding, anti-dazzle wing mirrors (£335), split folding rear seats (£335), Anthracite headlining (£265), Apple CarPlay (£235), Display Key (£235), adjustable lumbar support (£225), gesture control (£165), online entertainment (£160), High-beam Assistant (£95), run-flat tyres (£0), wi-fi hotspot (£0)
Test Data: Engine 1995cc, turbocharged diesel; Power 185bhp at 4000rpm; Torque 295lb ft at 1750-2500rpm; Top speed 146mph; 0-62mph 7.5sec; Claimed fuel economy 68.9mpg; Test fuel economy 68.8mpg; CO2 108g/km; Faults None; Expenses None