What is it?
The new, seventh-generation 5 Series is a car with an inevitable reputation and a heavy weight of expectation to uphold. In production since 1972, BMW's traditional mid-range model has now racked up more than eight million sales worldwide – including 2.2 million sales for its direct predecessor, the familiar F10 introduced in 2009.
But with such classy competition as the latest Audi A6, Jaguar XF and Mercedes-Benz E-Class, the latest 5 Series, codenamed G30, will not only have to be at the very top of its game but also push the boundaries further than any of its illustrious predecessors if it is to manage to claw its way back to the top of its class and continue the success story of the past 44 years.
Developed from the ground up in a program spanning almost five years, the new 5 Series is both significantly lighter and more aerodynamic than ever before. With a range of heavy upgraded engines, it is also faster and more economical than its already strong-selling predecessor.
The main focus with the new BMW, however, has been reserved for a number of contemporary new chassis developments in a move not only aimed at re-establishing its status as the best-handling car in its class but also introducing greater levels of comfort into its already impressive dynamic repertoire as a means of broadening its range of abilities and appeal.
The new saloon clearly takes its influence from the latest 7 Series, adopting a much more formal - some might say more conservative - look than the previous 5 Series. The changes to the appearance help to disguise an increase in dimensions compared with the outgoing car. Length has increased by 36mm to 4935mm, width grows by 6mm to 1868mm and height increases by 2mm to 1466mm. The wheelbase is also 7mm longer than before, at 2975mm.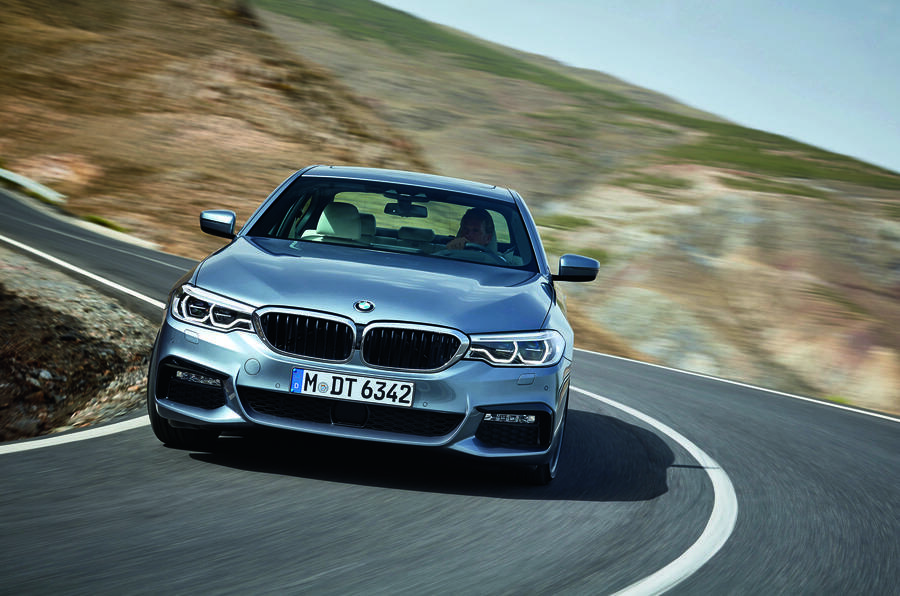 The increase in external dimensions has netted the new 5 Series greater interior space, notably in the rear. There is now sufficient space for up to five adults on newly developed seats front and back. Crucially, the rear bench has been reshaped to provide a more defined centre seat, rather than being shaped primarily for the two outer seats. With a longer rear overhang, boot capacity has also increased by 10 litres to 530 litres.
The new 5 Series will offer the choice of three engines from the start of UK deliveries next February, with others, including a petrol-electric hybrid option, set to follow in quick succession.