What is it?
Seven hundred horsepower and seven hundred and fifty lb ft of torque. If you are to understand this new Bentley Continental Supersports, it is not enough to focus on one figure or the other: power will tell you how fast this car is, and it is torque that determines how it is fast. It's only the combination of the two that reveals the true character of this car, and its unique place among high-performance machinery.
Of course, we have been here before. Twice. There's not much need to dwell on the 1925 3.0-litre Bentley Super Sports, the first car to fly the wings guaranteed to do 100mph. The name was resurrected in 2009 to grace a two-seat, carbonfibre-seated Continental GT, lighter to the tune of 110kg with a little more power and torque, a 40:60 front to rear torque split, firmer suspension bushes and a wider rear track. Clearly, it was quicker than the Continental Speed from which it was derived, and so too did it feel different: tauter, better balanced, less of a GT and more of a (super) sports car.
The name may be the same this time around, but the approach is dramatically different. This new Supersports hasn't bothered to go on much of a diet, is available with only four seats and doesn't fiddle with the torque distribution, the rear track or even the suspension settings: springs, bars and dampers are all the same as a standard Continental Speed, as are the tyres.
True, it is 40kg lighter thanks to standard carbon ceramic discs and the Akrapovič titanium rear exhaust box already used on 2014's 2V8-based GT3-R, but such savings seem almost incidental. This Supersports is all about the engine.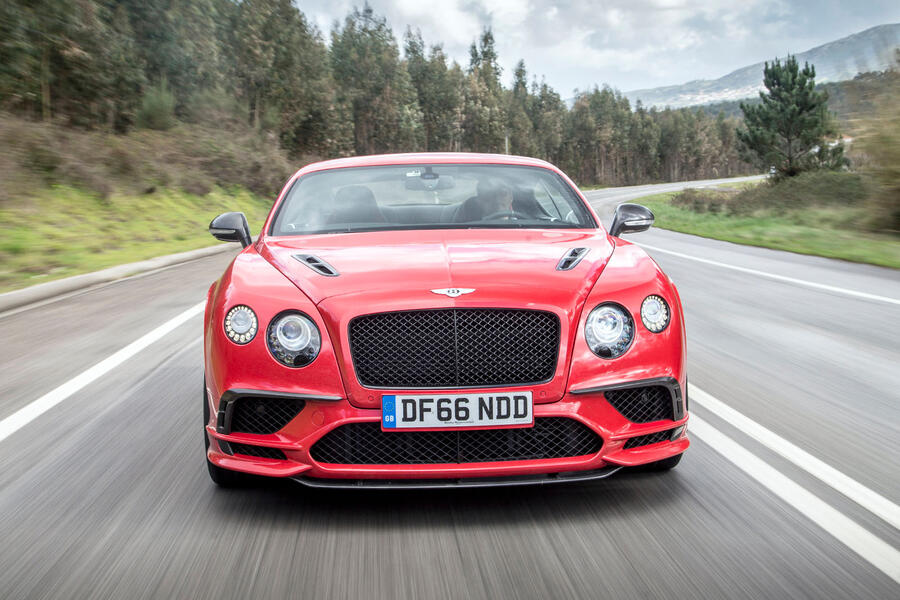 And given this is a Bentley, perhaps it should be no other way. If you believe you should always play to your strengths, there's no doubting that the 6.0-litre W12 motor under the bonnet of the Continental has been its greatest strength since the car first emerged, blinking into the sunlight, back in 2003. So Bentley has asked one more favour before both car and engine are replaced towards the end of this year by an all-new Continental with another (yet only distantly related) direct-injection 6.0-litre W12 so new it's only so far been used in the Bentayga.
Bigger Mitsubishi turbochargers blowing 1.4bar instead of 0.9bar don't raise power by a mere 21bhp like the old Supersports, but by more than three times that amount, from the 637bhp of the current Speed to a nice, round 700bhp. And don't forget the torque: the old Supersports added just 37lb ft, whereas this one piles on a mighty 130lb ft, taking it up to a total of 750lb ft.