What is it?
The Audi A4 Allroad, in what might be its optimal mechanical specification. The middle of three diesel-powered options, the 3.0-litre TDI 218 model gets you the relative smoothness of Audi's six-cylinder TDI diesel engine, and the wider spread of torque that it provides, for less than £2000 more than the equivalent 2.0-litre TDI 190. And £2000 is, after all, less than what plenty of Audi customers have proven themselves willing to spend, in recent years, on a carbonfibre cigarette lighter, a stereo upgrade and indicators inspired by the cult televisual smash hits of the 1980s.
While the 2.0-litre petrol TFSI Allroad that provided our first impressions on the car last year has a new clutch-based four-wheel drive system dubbed 'quattro Ultra', the diesels stick with Audi's more traditional centre-diff-based four-wheel drive system: older tech, but still the difference between 'intelligent' part-time and proper full-time four-wheel drive. If your jacked-up A4 is going to spend a significant amount of time on mud or grass, you might very well prefer the certainty of a centre differential to the efficiency gains of a clutch-based setup. I would.
Elsewhere on the spec sheet, the A4 Allroad still doesn't quite offer the extra capability of its older soft-roading big brother, the Audi A6 Allroad, although it is getting closer. Whereas you can have height-adjustable air suspension on an A6, the A4's ride height is fixed, offering 34mm of additional ground clearance over a normal A4 Avant. The only way the smaller car's suspension can be adjusted is if you get optional adaptive dampers.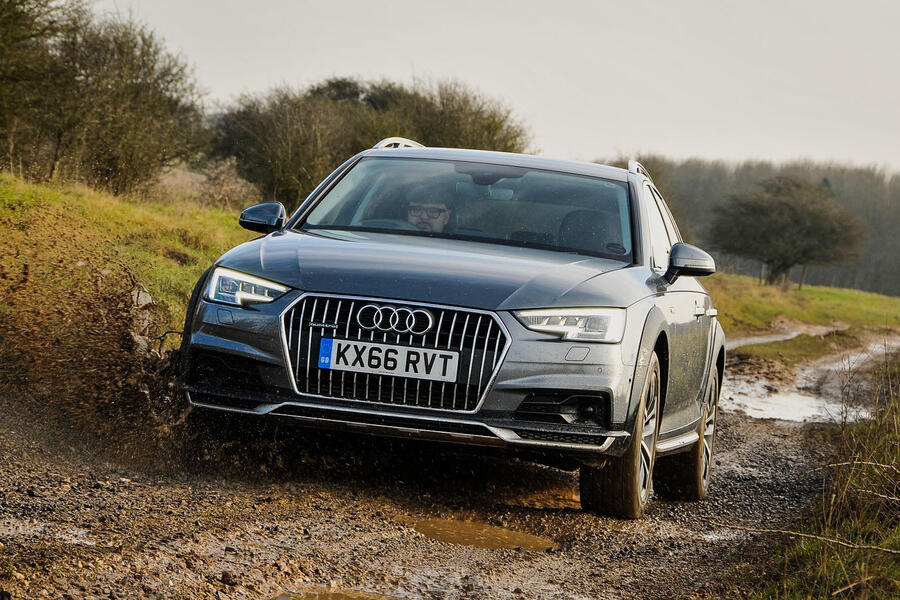 Where transmissions are concerned, meanwhile, all but the most powerful diesel versions of both the A4 Allroad and A6 Allroad now come with a seven-speed twin-clutch automatic gearbox – so you're only going to get any torque multiplication for low-speed towing or climbing if you splash the cash on a top-of-the-range oil-burner, both of which come with a proper eight-speed torque-converter automatic gearbox.
If you're a fleet driver, the 3.0 TDI 218 won't break the bank where those all-important CO2 emission numbers are concerned – giving you six-cylinder power for a modest 2% penalty on benefit-in-kind (BIK) tax liability versus the four-cylinder TDI. The 2.0-litre TFSI 252 is a shade cheaper to buy and for company car tax, but its official combined fuel economy return is 20% poorer.