The latest chapter in the Porsche Boxster's story will be written next month when the first examples of the new 180mph Boxster 718 GTS land in showrooms.
Putting the Porsche 550 Spyder of 1953 to one side, it's a story that began in 1996 with the launch of the 986-series Boxster. The model, which shared many of its components with the 996-series Porsche 911, was powered by a mid-mounted 2.5-litre flat six producing 201bhp, driving the rear wheels through a choice of five-speed manual or five-speed Tiptronic automatic gearboxes.
In 1999, the model's original 2.5-litre engine gave way to a 2.7 producing 217bhp. At the same time, the more focused Boxster S entered the fray, powered by a 3.2-litre flat six making 249bhp, sufficient for 0-62mph in 5.9sec, and with a six- speed manual gearbox or the existing five-speed Tiptronic. Today, prices for the S start at around £4750.
This version had a double-skin roof, a feature that was saved for the standard car the following year. Both models got Porsche's side-impact protection system (POSIP) too.
The addition of Motronic engine management and VarioCam (variable camshaft) technology in 2003 helped to raise the performance of the standard Boxster 2.7 to 225bhp and of the S to 256bhp. In addition, a minor facelift ushered in a glass rear window. These 2003/53-reg cars are considered the best. In 2004, with the replacement 987-series Boxster approaching, a 261bhp limited-run S-based version called the Anniversary was launched.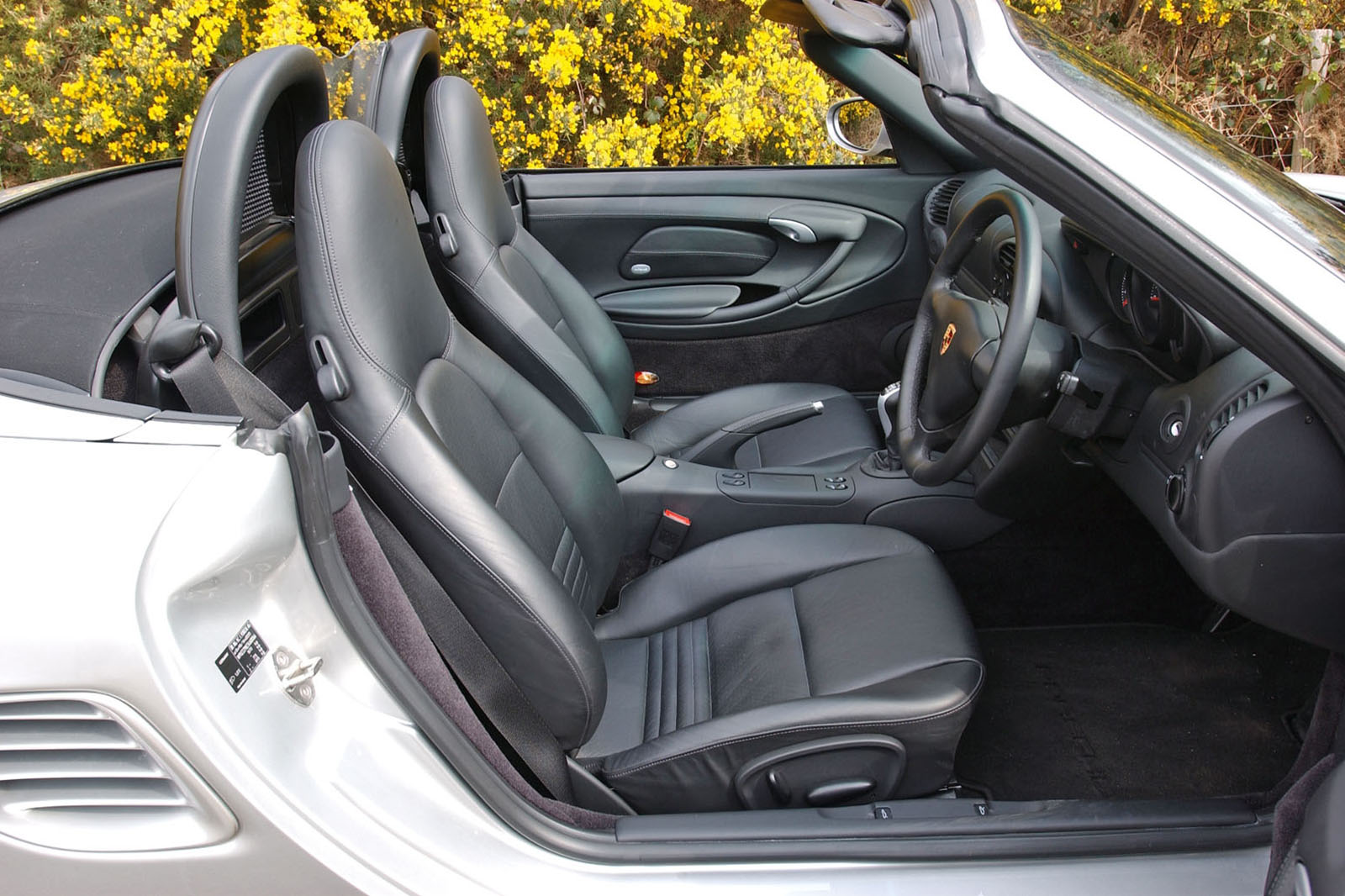 So, eight years, three engines and six power outputs: that lot should keep you busy but there are a few abbreviations and cautionary tales to take on board when considering a used Boxster 986 too. In particular, we're talking RMS (rear main oil seal) and IMS (intermediate shaft) bearing. As 'Buyer beware' explains opposite, RMS trouble can affect all 986-series Boxsters. The part is cheap but it's the labour that costs since the gearbox must be removed. As for the IMS bearing, again see 'Buyer beware' but, in short, post- 2000 cars with a single-row bearing are more prone to failure than earlier cars with a dual-row. Boxsters with a new RMS and IMS bearing fetch a premium – cars like a tasty 2002- reg 3.2 S with 84,000 miles and a 'comprehensive service history' that caught our eye. It had the work done in 2011 and costs £8000.
Then there's cracked bore liners, porous engine blocks... We could go on but the best advice is to insist on a full service history and avoid low- milers that have stood idle. Grab a good manual Boxster S for around £7000 and you won't look quite so enviously at that 718 GTS.