If a Mazda MX-5 Mk1 or Mk2 is too Japanese and a Lotus Elise Mk1 out of reach, then get your mitts on a Midget. The two-seat MG roadster ran from 1961 to 1979 and for years has been popular with motoring enthusiasts on a budget.
'Budget' implies cheap, of course, and while £7000 is sufficient to secure a good chrome-bumpered car (more desirable than the later rubber-bumper variety), for anything tip-top you're looking at well over £10,000. Fortunately, it won't be money wasted since good Midgets are rare and their prices are only going one way. Unfortunately, it means dodgy sellers are getting on the bus and asking silly money for, at worst, thickly painted rubbish and, at best, bitsa-cars assembled from Midgets of all ages.
In fact, we found one. It's a late 1960s car that looks fresh, but an expert we consulted spotted its incorrect grille and bumpers a mile off. It's been advertised for some months, often a sign that punters can smell something fishy. Another is an ad that says 'no time-wasters'. In all likelihood, the time-waster is the person selling the car…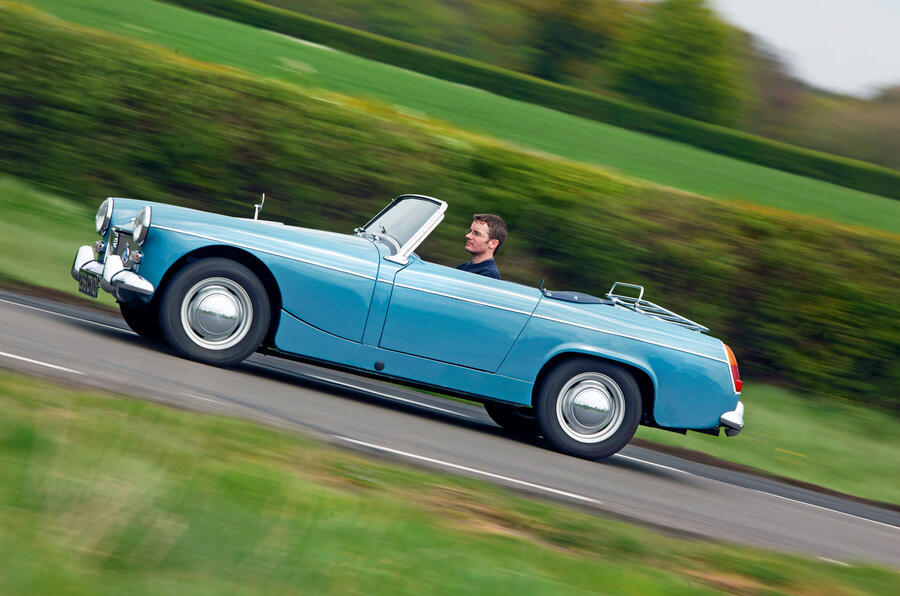 The Midget Mk1 first appeared in 1961 with a cute little 948cc A-series four-pot. A year later it was swapped for a larger 1098cc affair. In 1963, the engine gained stronger main bearings while the front drum brakes were changed for discs. In 1964, the first big facelift occurred. As a result of this, the Midget – now called the Mk2 – got a small increase in power, semi-elliptical rear springs for a smoother ride and a revised interior.
The car was growing up, but in 1966 it started shaving with the arrival of the 64bhp 1275cc engine, a detuned version of the one doing the business in the Mini Cooper S. A better hood and larger fuel tank completed the makeover. Today, this Mk3 version is the one most buyers seek out.