It's the Cinderella of British sports cars, the one polishing the taps, ironing the smalls and emptying the dishwasher while its sister, the Elise, enjoys the limelight.
It is, of course, the Elan two-seat roadster. Not the legendary first-gen car from the 1960s, but the so-called M100 series launched in 1989, coincidentally the same year the Mazda MX-5 Mk1 came out.
It was unfortunate timing. While the Mazda ironically borrowed much from the original Elan, in particular its longitudinal front-engined, rear-drive layout, the new M100 had its engine across the front wheels and was front-wheel drive. Purists were naturally upset, but a test drive usually won them over.
The new car, which at least followed Lotus principles in having a lightweight composite body attached to a rigid steel backbone chassis, was funded by General Motors. The US giant also had a share in Isuzu, the Japanese car maker which supplied the Elan's impressively reliable engines: a choice of 1.6 naturally aspirated and turbocharged units, both heavily modified by Lotus. The former produced 128bhp and the latter, badged SE and easily the more popular, a useful 163bhp.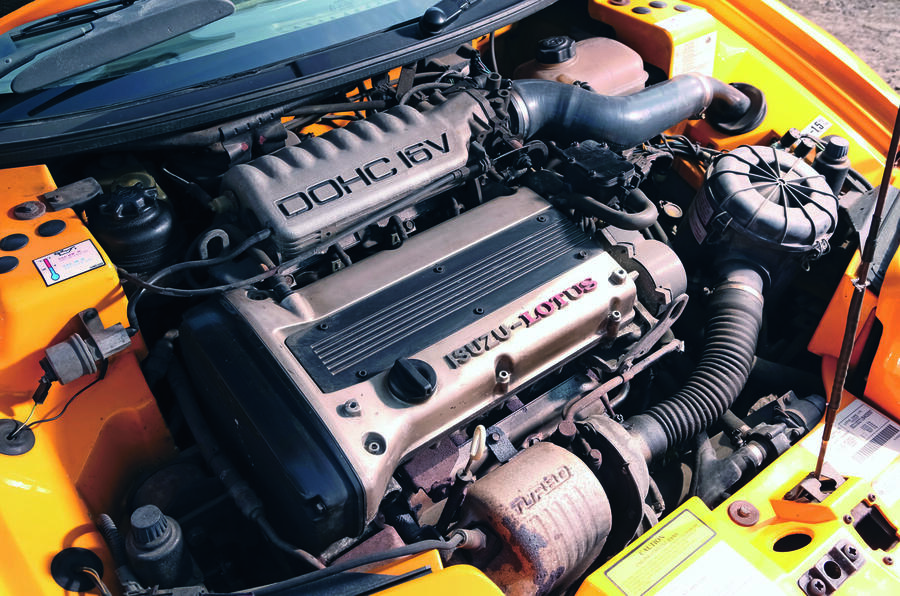 For a time sales were strong, helped by rave reviews from no less a magazine than this. It was all in vain. The car's less than spectacular looks, high production cost and that perverse layout slowly did for it, and GM pulled the plug in 1992.
These first-gen Elans are called Series 1s to distinguish them from the S2s that followed in 1995 after Bugatti bought Lotus and, on discovering a stash of surplus engines, gave the car a second chance. At the same time the handling was sharpened slightly but power knocked back to 156bhp due to the fitment of a catalytic converter. Even so, these rarer S2s now fetch a premium over the more plentiful S1, but ultimately condition is king.