The Greeks called them Sirens: mythical creatures that lured sailors to their deaths on rocks by warbling to them. Unfortunately there's nothing mythical about the Renault Sport Clio 197 whose charms, not least the promise of 194bhp combined with a superb chassis, have led drivers if not to the rocks then at least to the bank.
The problem lies with the TL4 six-speed gearbox – specifically its graunchy synchros. Changing down to third, up from third to fourth… It's a well-documented problem and far from isolated, as we found when combing the classifieds. This chap, for example, selling his 82,000-mile 2007 197: "Intermittent crunch 3rd and 4th possibly synchros."
Click here to buy your next used car from Autocar
Another owner shared his frustration on the renaultsport.co.uk forum: "My 197 Cup has been superb other than the well-known synchro issues. Synchro in second failed, new 'box fitted. Box number two lasted 12,000 miles, synchro failure in second causing another replacement. Synchro in fourth has now failed."
At least most sellers come clean about the issue and you can always check the 'box's operation on the test drive. Assuming it's okay, the rest of the car is a treat. Did we mention the suspension? That can be a little flaky too, which is a shame given how crucial to the Clio's appeal it is. It's a general wear and tear thing, though, and to be expected at this age.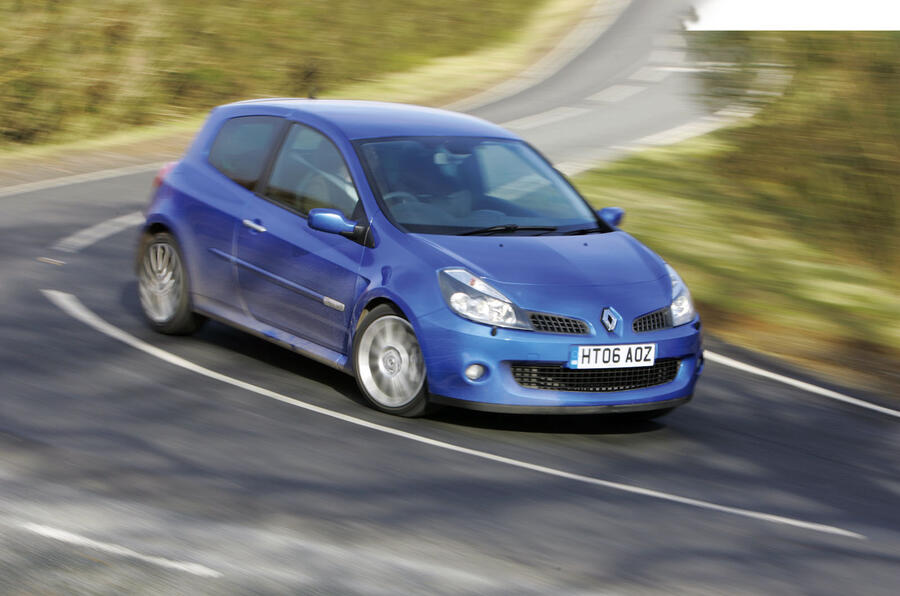 Now the good news. At launch in 2006 the Clio 197 cost just £15,995, so it's no surprise that prices of used examples are so attractive today. In the wake of its brilliant predecessor, the 182, expectations were high. The 197 didn't disappoint. It used a more powerful version of the same eager 2.0-litre naturally aspirated engine, which has since proved reliable with regular servicing. Standard kit included Brembo brakes, a rear diffuser and dedicated Continental tyres.