Many companies have called on Cosworth over the years to tap into its expertise in motorsport and fast road cars.
That's because it has a track record of delivering the goods – and boy did it do just that in the 1980s when Mercedes came knocking.
The result was one of the German marque's most sought-after models: the 190E 2.3-16 and its successor, the 2.5-16. The rear-wheel-drive 190E 2.3 was originally intended to be a rally car but the arrival of the Audi Quattro, with its more technically advanced four-wheel drive, scuppered those plans.
So instead, the 190E 2.3 was redirected to the DTM German touring car series. DTM rules required there to be a road-going version and it wasn't long before the 190E 2.3-16 Cosworth was revealed at the 1983 Frankfurt motor show.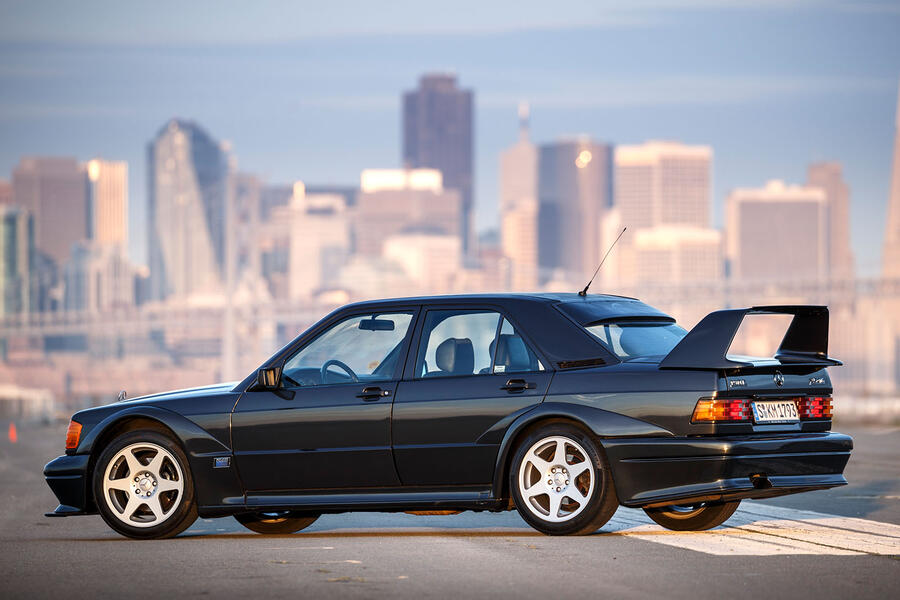 The standard 190E used a 2.3-litre four-cylinder engine that made an underwhelming 134bhp. But by the time Cosworth had finished reworking it, it could rev to 7000rpm and produce an impressive 182bhp and 174lb ft of torque.
These reserves enabled the car to accelerate to 62mph in 7.5sec and go on to a top speed of 143mph. The power was sent to the rear axle via a five-speed manual gearbox that had a racing shift pattern, with first on a dog leg, left and down from neutral.
Cosworth's magic dust wasn't just sprinkled on the drivetrain. It also worked closely with Mercedes' engineers on the suspension and handling components, the steering ratio was shortened and the steering wheel was made smaller. The handling and overall feel of the 190E 2.3 was fast and responsive.
It looked good too. The wider wheel arches, side skirts and a rear spoiler gave the 190E 2.3 a sleek but menacing demeanour.