Nothing turns up the heat on an old Focus RS like the arrival of a new one. Comparisons are drawn from which, fortunately, the Mk2 of 2009-2011 emerges head held high.
It has an involving front-wheel drive chassis, big reserves of tweakable power and – important, this – three doors, not five. If you've just spent £23,000 acquiring one, take a bow.
See Ford Focus RS for sale on PistonHeads
That's right: £23,000. You can spend a lot less, of course, or a bit more, but this is the going rate for an honest, late-plate Mk2 RS with Lux Pack 2. It's also about £4000 shy of what it cost new. At the cheap end, the RS's stubborn refusal to slip much below £19,000 is remarkable, given that of the 11,000 Ford made, 4000 were sold here in the UK. So it's not rare. A case of waiting to see who blinks first? Possibly, but a quick punt behind the wheel of one soon puts that theory to rest.
The Focus RS Mk2 hit showrooms in 2009, with 301bhp and 325lb ft from a comprehensively reworked version of the Focus ST's 2.5-litre five-cylinder turbo engine. It was no modern-day all-wheel driver; the Mk2 sent its power through the front wheels, reducing unruly torque steer with the aid of a Ford's so-called RevoKnuckle front suspension set-up plus a Quaife limited-slip diff and ESP. The extra control contributed to a 0-62mph time of 5.9sec (you can improve slightly on that by fitting a stiffer torque mount that restricts engine movement, helping to keep the front down). Top speed was 163mph. Just as important, the engine sounded glorious, popping, banging and generally showing off when it wasn't simply bumbling to the shops just like any other Focus.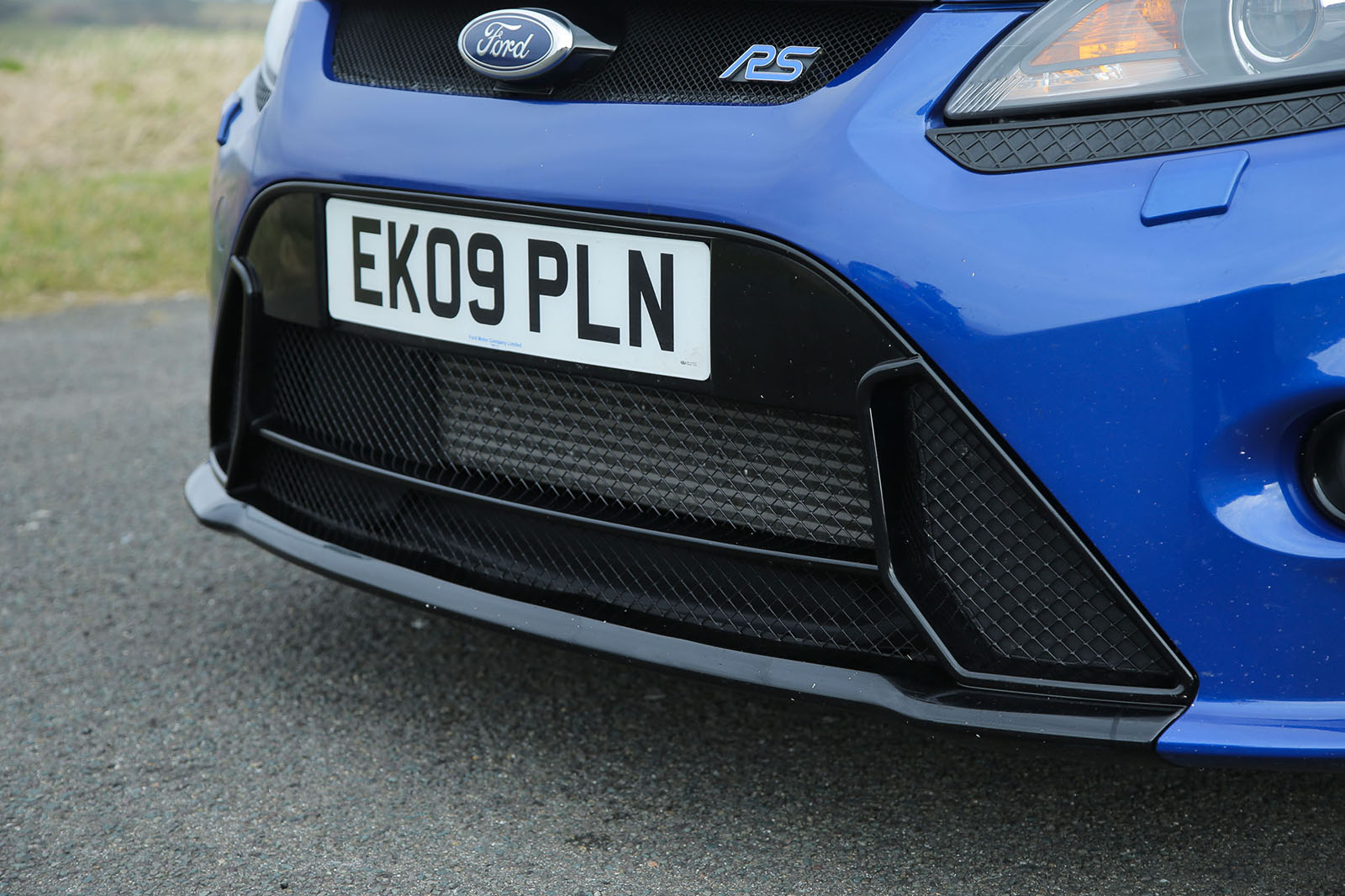 The three colour options – Frozen White, Ultimate Green and Performance Blue – caught the mood perfectly. Air conditioning was standard and the car was well equipped, but most people went for Luxury Pack 1, which brought dual-zone climate control, DAB radio and a six-disc CD player. Luxury Pack 2 added a touchscreen sat-nav and a rear-view camera.