Volkswagen says that its ID range of fully electric cars that go on sale in 2020 will "go as far as we can" with the technology – with the company planning to introduce full self-driving from 2025 onwards.
The firm has revealed three ID concepts so far – the ID hatch (pictured below), ID Crozz SUV (pictured above) and the Microbus-inspired ID Buzz. Production versions of the first two are due to go on sale in 2020, with the Buzz following in 2022. Volkswagen has targeted selling one million lithium battery-powered ID vehicles by 2025.
The all-new MEB electrical platform that the ID family of vehicles sit on features a revamped architecture, with a new electrical system designed to cope with the extra processing required for fully autonomous driving systems.
"The ID cars will be prepared to offer autonomous driving functions," ID Crozz product manager Jerome Kueppers told Autocar. "You make it ready for the future, and because electric cars have energy on board the whole time [through the battery], you can offer over-the-air software updates. Today, it's not that easy to update the systems on a car, because if it's parked you don't have energy. So e-mobility gives us more possibilities to play with in terms of electrical systems."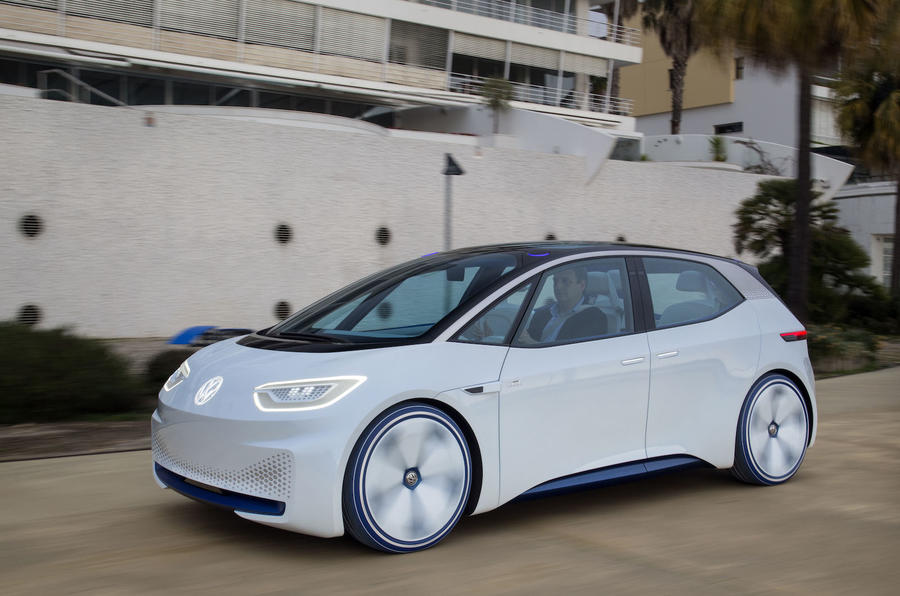 The revised ID Crozz 2 concept, first shown at the Frankfurt motor show, features four laser sensors on the roof, which are complemented with ultrasonic and radar sensors, as well as front and side cameras. The on-roof sensors glow blue when the system is in use as a signal to drivers in other cars that the vehicle is operating in autonomous mode.
Kueppers said it was unlikely the first production ID cars that go on sale will feature the full sensor set, which is more likely to feature in second-generation models. He added that the systems could be upgraded as technology developed, which could enable buyers of used ID cars to select upgrades their first owners did not have.
"There will be a time when you buy an ID as a used car, and then it might be [that] you can choose to have automatic cruise control or satellite navigation by activating it over the air," Kueppers said. "That's completely new for us."