Land Rover tuner Twisted has unveiled the NAS-E, a limited-run electric SUV based on Land Rover's original North American-specification (NAS) Defender.
Just 30 of the zero-emissions 4x4s will be built and are now available to order in the US. Two trim levels are offered: the standard NAS-E, at $185,000 (around £145,700), and the more powerful and exclusive NAS-E Plus, at $210,000 (£165,400).
Twisted has hinted that the car will eventually be sold globally, but it's unclear whether it will be coming to the UK.
The NAS-E sports a short wheelbase soft-top bodytype inspired by the original NAS Defender. Sold in the US between 1993 and 1997, that car is now a collector's item, with original examples regularly selling for more than £100,000.
The electric NAS-E is powered by a Remy BorgWarner electric motor, delivering more than 214bhp and 280lb ft of torque to all four wheels. For the NAS-E Plus, performance increases to 320bhp and 309bl ft of torque.
Supporting this is a distributed lithium nickel, cobalt and manganese battery pack with an energy storage system that uses four battery modules to maximise capacity. Range is 200 miles.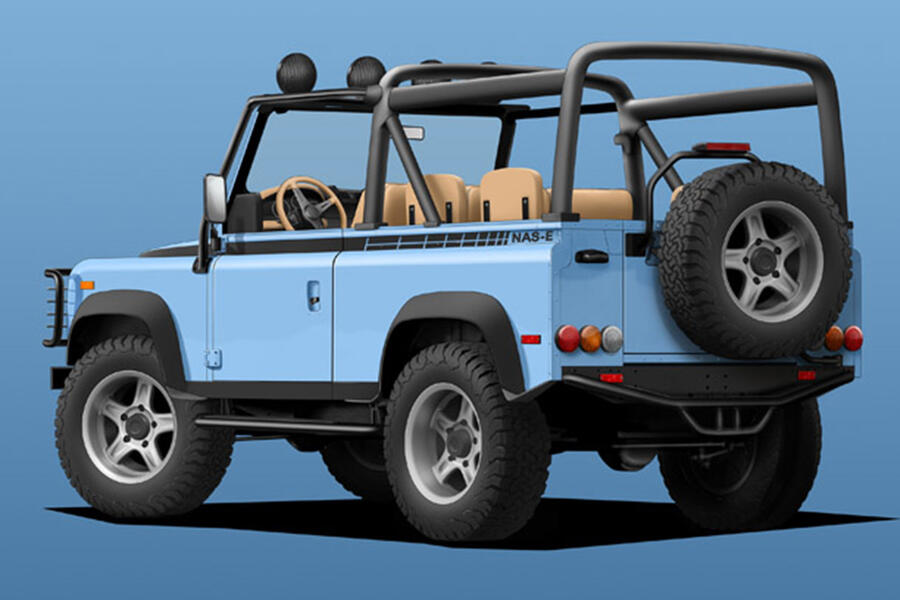 Buyers can choose from three colour options – Malibu Yellow, Yosemite Green and Tahloe Blue - each inspired by a California landscape. In the initial production run of 30 units, 10 will be produced in each colour.
The interior has been modernised with cream leather seats, a full infotainment system and a touchscreen for controlling the EV specifics, alongside a silver-finished Twisted sports steering wheel. A roll cage and Bimini hood are standard.