UK pricing for the Peugeot e-3008 has been announced, with the all-new electric car starting at £45,850.
It is the French brand's first model based on a radical new Stellantis architecture that will underpin up to two million cars per year.
Building on the huge success of today's second-generation 3008, which made a switch in bodystyle from the first generation, the new e-3008 takes on a bold fastback design inspired by the recent Peugeot 408.
The e-3008 is one of five new Peugeot EVs that will be launched between now and the end of 2024. It will be joined by new electric versions of the 308 and 308 SW, an electric 408 and an all-new e-5008.
The new 5008 will be moved further away in style and purpose from the current model to provide greater distance to the e-3008.
The larger car will put greater focus on its spacious family credentials and the e-3008 will be Peugeot's more stylish and dynamic offering in the C-segment crossover class. The e-3008 "is the start of our C-segment offensive", Peugeot product boss Jérôme Micheron told Autocar.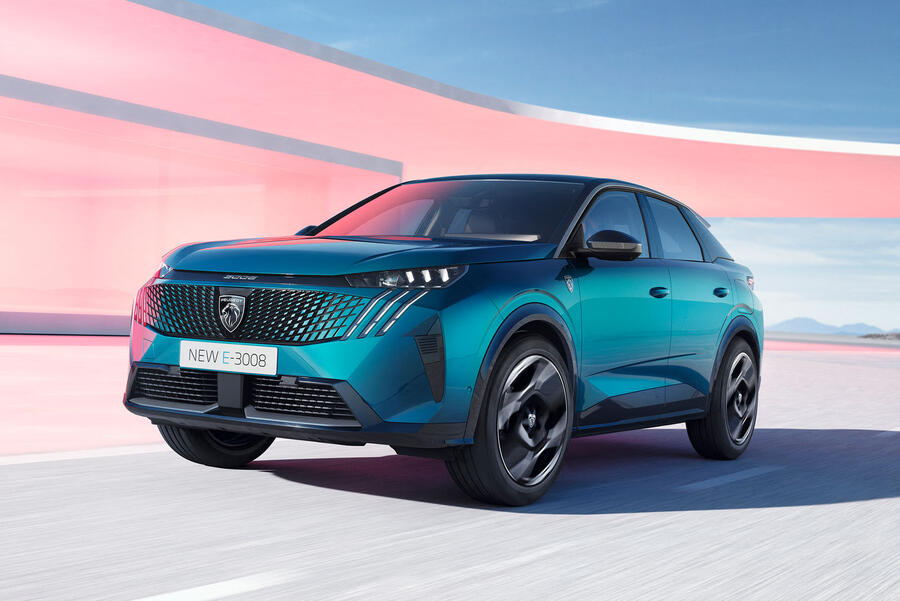 "The growth of the EV market is in the C-segment and this is a focused offensive on top of our success in the B-segment [with the e-208 and e-2008]," Micheron added.
The new STLA Medium 400V architecture on which it is based is designed primarily for EVs but can accommodate hybrid and PHEV powertrains.
STLA Medium is natively front-wheel drive and the standard single-motor version of the e-3008 produces 207bhp and 251lb ft for 0-62mph in 8.7sec and a top speed of 106mph.
Peugeot claims a range of 326 miles from the model's 73kWh (usable capacity) battery. A Long Range version ups power to 227bhp and touts a 435-mile range courtesy of its larger, 98kWh battery, the biggest that will be offered on STLA Medium models. Peugeot will also offer a dual-motor version for four-wheel drive with a combined output of 316bhp and a 326-mile range.