Nissan has revealed a new winter-inspired electric van concept with a range of bespoke driving and cabin features.
Based on the Nissan Nissan e-NV200 Combi electric production van, the concept, dubbed e-NV200 Winter Camper, has been designed to tackle "winter expeditions", according to Nissan.
To negotiate difficult terrain, the e-NV200 Winter Camper receives a series of upgrades including premium off-road tyres, increased ride height and a pair of 5400-Lumens spotlights to offer "maximum visibility".
On the outside, front and rear mudguards, door-entry guards and side bars are fitted to provide protection when camping off-road, while on the inside the concept features an integrated kitchen, with a fridge, folding beds and insulated glass to "maximise comfort and versatility for self-sufficient living in the wild".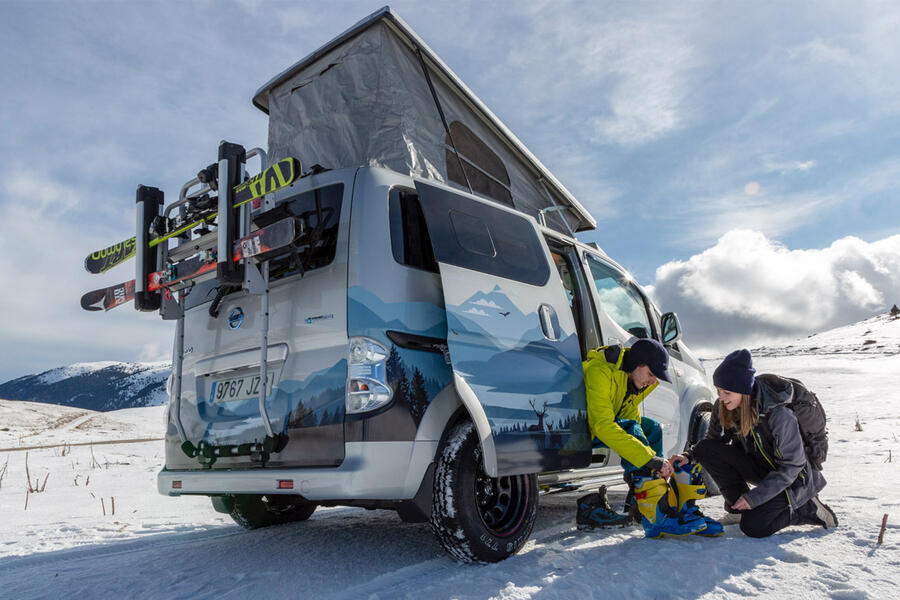 The e-NV200 Winter Camper is powered by the same 40kWh electric battery as the e-NV200 Combi, which can recharge to 80% from empty in 40-60 minutes, and a 107bhp electric motor good for 0-62mph in 14.0sec and a 76mph top speed.
Thanks to a range of energy-saving features, including regenerative braking and an Eco driving mode, it also has an extended electric range of between 124 and 187 miles in line with the latest e-NV200 Combi.
Nissan manager Dmitry Busurkin said: "This vision, and the innovative set of accessories available with the standard e-NV200 models, will get drivers and outdoor enthusiasts alike excited for the adventures we're all craving in the future."
The e-NV200 Winter Camper is currently a stand-alone concept, but some of its stand-out features could be adapted into a future production model or made available as accessories for the e-NV200.